Instawork Reviews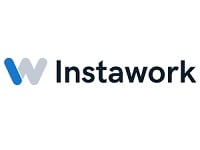 Instawork is staffing company that states it has over 1 million pre-vetted hourly workers ready to connect with businesses in need of hospitably and general labor workers.
How Does Instawork Work?
Instawork is a staffing company that helps businesses quickly find both temporary and permanent employees, scanning the most qualified professionals in the local area.
As a result, new opportunities are created every day for both professionals and local businesses.
Instawork is based out of San Francisco and Bangalore, with major investors like Spark Capital, Benchmark, Y Combinator, SV Angel, and more.
Businesses begin the process by posting shifts for positions that they have open and ready to be filled. Then, qualified professionals can book shifts that work well with their schedules. Instawork will handle everything, from billing to payments to insurance.
You can download the Instawork app on your Apple or Android device. From there, you can view jobs in your area and apply to the ones that best fit your schedule.
Currently, Instawork is available in several major locations in the United States - the San Francisco Bay Area, San Diego, Los Angeles, Chicago, Phoenix, and Boston.
Cost and Price Plans
To get paid, Instawork direct deposits your weekly earnings into the bank account you provide at sign up. Payments are offered on Tuesdays for work completed the prior Monday through Sunday.
As an employer, you can link your credit card or bank account information for automatic payments.
Competitors and Alternatives
There are other platforms similar to Instawork, including BlueCrew, Ladders, and OneWire.
BlueCrew, like Instawork, offers only temporary and seasonal jobs in settings like data entry, moving, customer service, warehousing, driving, and events management.
This company is rapidly growing and offers jobs in Chicago, Miami, Detroit, Phoenix, and Minneapolis.
Ladders, on the other hand, has a longer-standing reputation as one of the most comprehensive career resources. This service is currently used by over 8 million professionals and 100,000 employers around the globe.
It's a bit different from Instawork and other sites in that it offers job postings, but does not pay through the system. It's for professional career-seekers only and also offers career advice, news, and tools.
Finally, OneWire is a Saas-based recruiting and sourcing platform that provides career management services in the financial realm.
A great source for finance professionals looking for jobs, it's geared more toward that specific industry than the hospitality industry, as Instawork is.
Online Customer Reviews & Complaints
One of the nicest features of Instawork - and something that businesses particularly appreciate - is the ability of Instawork to monitor its own workforce. The company has several set policies to ensure that workers remain professional at all times.
For example, the cancellation policy is quite stringent. If workers cancel more often than two jobs within 30 days, that will result in a 14-day account suspension.
A cancellation within 24 hours of a gig results in account suspension until review, while a subsequent under 24-hour cancel within the same 30-day period can result in account deactivation.
Late arrivals and no-shows are also monitored, with no-shows punishable by permanent deactivation.
The company also has policies on cell phone usage, inappropriate attire, punctuality, and more.
Instawork also requests that companies post their specific needs if they are asking workers to arrive with certain skills, such as elaborate drink making skills at a bartending gig.
As a worker, you might be wondering - is Instawork legit? Hundreds of reviews from workers and businesses alike say yes.
There are some worker complaints who say that it is difficult to get started as a worker because it's hard to find jobs in all areas. However, since Instawork is relatively new as a San Francisco-based start-up, it's only expected to grow into other major areas.
Customer Service
Have a problem or question and need to get in touch with someone at Instawork? The customer service team is easy to get ahold of.
You can email them via the website contact form, which is available live Monday through Friday from 7 am-8 pm.
Alternatively, you can email with media-related questions at [email protected] or general questions at [email protected]
There is no phone number listed on the company's website, but you can find them on Facebook, Instagram, or Twitter. You can also chat with helpful representatives via the app.
Where Can I Sign Up for Instawork?
To become an Instawork professional, you must go through a stringent vetting process to make sure you are qualified, including answering a few basic interview questions. There are no minimum hours per gig, with four-hour gigs being the most popular length.
You can sign up on the Instawork website and choose to become either an Instawork employee or a business partner.
Once you sign up on the website or via the app (available on Apple and Android devices), you can view available jobs and being the application process, or post jobs if you are a business.
If you become a W-2 professional, you will have access to all of the standard gigs in the app as well as gigs offered by new partners.
To be eligible, you just need to complete your paperwork in the app to sign up as a W-2 employee and come in for in-person verification.
As a W-2 professional, you enjoy all the same benefits as a 1099 worker with Instawork, but you will have access to more (and more higher-paying) gigs. Plus, all of your taxes will be withheld.
You can also work hard to be an Instawork Gold professional.
With Instawork Gold, you will receive early access to gigs along with access to additional monetary bonuses. You may also get invited to special events as well as a gold badge on your profile and even exclusive Instawork merchandise.
You can become an Instawork Gold member when you have completed 10 gigs, maintained an average of 4.5 star ratings or higher, and invited two friends to join the network.
The Bottom Line
Still not convinced that Instawork might be a good source of work for you? Head on over to the app or website, where you can view a sampling of the many jobs available.
This will give you a great picture of the options available to you - including temporary jobs that range from $15-$30 per hour and even full-time positions at salaries of more than $75,000 per year.
Working with Instawork is easy - all you have to do is provide your basic info, download the app, and apply to jobs. You can book gigs that fit your schedule and work when you want to - not when you have to.
It's a great option for people looking for occasional side hustles as well as those who want a more full-time gig. Consider signing up if you enjoy flexibility, high wages, and access to unique new opportunities.
If you have any experience with Instawork or their services, please leave your reviews below.
You may also be interested in
Instawork Customer Reviews

Mahogany M
Not good, I worked one day at PNC park. My next shift my phone stopped working. I didn't have a number to contact them. I needed internet access. I couldn't access my cash because I rely on my phone I don't carry cards.
They don't offer free parking. I show them pictures of a lawsuit I have against my phone company. I was first approved for my remaining shifts. But then they were removed from me. Both shifts had been cancelled because of the rain. If this happens I was supposed to get paid up until 4 hours. But I didn't because Instawork took my shifts.

Stephen J
If you ask him to do something and he agrees, consider it done and done well.
Mark Wright has done major handyman work for us over the years. We asked him to do a rehab on a flip house we bought and from total gutting to total remodel of this 1400 Sq. Ft. Home with a pool and carport, he redid the kitchen, bathrooms, bedrooms, in fact the entire home. new fixtures, new appliances, new lighting, windows, family room and all exterior needs other than painting the outside, which we did ourselves while he worked on the inside. We put the property on the market and it sold the first day at 4 times what we paid for it. Mark has also done numerous odd jobs in our home, Kitchen faucet replacement, ceiling fan/light replacements and more.

David
Instawork is a baseless contactless number pusher
I've worked with major event producers, as well as catering mgmt, and there are SO many BETTER staffing agencies in Los Angeles. They are poor with communication to their staff and poor with communication to their clients. Bottom of the barrel, big corp rip off