Inkfarm Reviews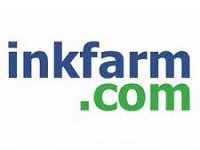 Inkfarm is a website that promises to provide both business and personal computer owners with everything they would want to meet all their printer ink and toner needs, at affordable prices.
How Does Inkfarm Work?
According to their website, the goal of Inkfarm.com is to be a "one stop shop" for all your printing needs, giving people the ability to save significant amounts of money on cartridges for all main brand printers, like HP, Canon, Epson, Dell, Kodak and Brother printers.
They do offer original equipment manufacturer (OEM) products, compatible ink, and remanufactured ink cartridges, which gives them the ability to satisfy not only everyone's printing needs, but also their budgetary needs.
Unlike other companies that offer cheap, affordable remanufactured ink products, however, Inkfarm.com promises that they stand behind their products offering customers warranties and refunds to protect their interests.
To find the products they offer which will meet your needs, customers can use their Ink and Toner Finder, a feature of their website that asks customers to choose their printer manufacturer, printer category, and printer model.
Once you have submitted that information, the website will bring up all the available products they have for your printer, and you can choose which will work best for your needs.
Cost & Price Plans
Using this website and their features is completely free for visitors.
Visitors will have all pricing information of the ink, toner, and other products clearly published before they choose to make their purchase, as well as a display of what they believe their price is discounted below traditional retail pricing.
The website also promises that all products will be shipped for a flat rate of $3.85.
Refund Policy
This website does provide their customers with a wide variety of return and refund options. Unopened OEM merchandise can be returned within 30 days of shipping for a refund, less a restocking fee of 25% of the original purchase price or $5.00, whichever is greater.
Unopened remanufactured and compatible inkjet and toner cartridges may be returned within 60 days of shipping for a full refund.
Defective remanufactured and compatible inkjet and toner cartridges may be exchanged, either for the same or different item within two years of purchase.
All merchandise being returned without defects must be in original, undamaged condition accompanied by an RMA number.
Customer Service Contact Info
Customers who wish to speak with Customer Service about their questions, concerns, or complaints can do so by phone at 800-465-3276 or by submitting them directly to their website using their Contact Us link.
Reputation
Unfortunately this company does have very mixed reviews, with some happy customers excited about the ability to get good quality products at affordable prices, but there are unhappy customers who have had very poor experiences with this company.
There is more than one customer who believes that poor quality ink and ink cartridges they received from this company actually damaged their printer, and other customers that simply detailed their beliefs about the very poor quality of their products.
That being said, hardly any of these unhappy customers explained their follow up experiences with the company – if Customer Service offered any help, if they had difficulty requesting refunds or assistance, etc.
This makes it more difficult for potential customers to determine whether or not they may want to purchase products from this website.
Competitors and Alternatives?
Ink and toner for printers can be notoriously expensive, so there are some other competitors that offer this same access to affordable products, including 1ink.com and many others.
If you have any experience with Inkfarm or their products, please leave your reviews below.
Inkfarm Customer Reviews