Infinitus Training Programs by Scott Oldford
Infinitus Training Programs by Scott Oldford Reviews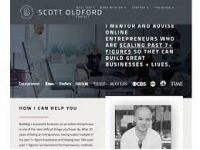 Infinitus Training Programs by Scott Oldford, found online at GoInfinitus.com, is a set of training programs designed to teach people how to be successful and improve their business using online marketing.
How Does It Work?
Scott Oldford named his series of training programs Infinitus, which is Latin for 'limitless,' and each program has been designed to help entrepreneurs use effective online marketing to "dramatically increase the number of qualified leads coming to their businesses."
Unfortunately it appears that the Infinitus Training Programs have recently been slimmed down to a single option, called LeadCraft. This training program says that it is a proven way to "confidently create and deploy marketing funnels that attract qualified leads" and help increase your business' impact.
This program says that whether you already have experience in this industry or are brand new to online marketing, LeadCraft will work for you because it is a step-by-step process designed entirely to turn people into loyal customers and fans of your products and services. &nbsp
&nbsp
This training program begins by teaching people the theories behind online marketing before showing you exactly how to build your marketing funnel and to launch it upon completion of your training.
Cost/Price Plans
GoInfinitus.com actually offers a variety of free resources, including their blog, so customers who are unsure whether they want to commit to a paid training program may want to start there to evaluate the types of information this company offers.
Customers who are interested in committing to the full LeadCraft training program will be given the option to pay a single payment of $1997 or four payments of $597 each. Customers will also be given access to their Exclusive Online Community for 16 weeks and after that continued access to that community will cost $99 per month.
Refund Policy
This company says that they provide their customers with a 45 Day Guarantee, which states that any customer who is not happy with the money they are making after 45 days of using this program your money will be refunded.
However, the website says that part of being a "success-minded business owner" is really getting into the dirt with the systems and programs you need to be successful. So this Refund Policy requires being able to prove that you "spent the time, did the work, and got help when you needed it."
If you are unable to adequately prove this to Scott Oldford and his team, then you will not get a refund. Unfortunately, this website provides no information whatsoever regarding how you will be able to prove this to their company and successfully get your refund. When you are discussing a purchase of nearly $2000, customers should be able to get a full explanation of how they will be able to successfully get a refund before they make this investment, not afterward.
Customer Service Contact Info
Customers who would like to contact Customer Service with any questions, concerns, or complaints can do so by email at [email protected]
Reputation
There are not that many reviews of this program available at this time, making it extremely difficult for prospective customers to know whether or not this program is worth it.
The reality is that when a program is that expensive and offers their customers a Refund Policy that is that vague, customers should nervous. Reassuring your customers that you have a Refund Policy they can take advantage of if they are unhappy with your program, and then saying that they will have to "prove" to you that they worked really hard before that refund will be honored is worse than simply not providing a Refund Policy at all.
Customers who are interested in this program may want to begin with many of the more affordable materials, like Scott Oldford's books, before investing in this program, and if you do decide this program is for you, you should contact their Customer Service team and receive a full description of how their Refund Policy works.
Competitors and Alternatives?
There are many different online marketing training programs available at many different price ranges, but customers will always need to be careful about doing their own due diligence because many of these types of programs are simply not worth the money. In addition, there are many free resources available online that customers should take advantage of before investing in an expensive training program.
If you have experience with this company or their products, please leave your Infinitus Training Programs by Scott Oldford reviews below.
Infinitus Training Programs by Scott Oldford Customer Reviews