InfinitiKloud Reviews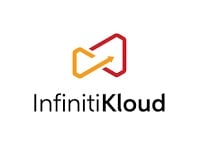 InfinitiKloud is a company that markets a line of USB and SD backup drives and accompanying mobile App which the company states can allow users to back-up their computer or mobile devices with one-click.
How Does InfinitiKloud Work?
The product can be purchased in several options. The Make Your Own Option allows you to convert any memory stick you already have to a 32GB InfinitiKloud.
The 64GB is an even better option, allowing you to not only make your own InfinitiKloud but also to receive a free USB micro adapter and USB C adapter with your purchase.
The final option is the 128 GB backup device. Offering an unparalleled level of storage, this smart USB stick comes with all the same features of the 64GB option but comes with two separate sticks.
Depending on the type of file you are storing, the 64GB product can hold a ton of data - up to 45,000 photos in most cases, which is much more than your average photo stick.
This product has a few problems, with a backup taking very little time to complete. The standard model of the InfinitiKloud can download at speeds up to 60 MB per second. Upgraded models work even faster.
What's nice about this option as compared to a standard USB stick is that it will not transfer viruses, malicious software, or other unwanted programs onto your InfinitiKloud.
Cost and Price Plans
The Stark Pack, which comes with one device, has a price that starts at $29.97. You can also purchase the 64GB option, known as Tony's Pack, for $49.97.
The final purchasing option is the Iron Man Pack, which gives you 128 GB of storage and starts at $69.97.
Online Customer Reviews/Complaints
Customer reviews of InfinitiKloud are relatively difficult to find since this is such a new product. However, they are, for the most part, overwhelmingly positive.
Customers particularly appreciate that you can continue working while you are backing up your files. The device saves a copy of each updated file version, which you can view from the tab called My Files. You can even backup multiple devices at once!
Backups don't need to be completed more often than once a month in most cases - although if you tend to do a lot of work on your computer, you may want to back up more often than that.
One of the biggest complaints about InfinitiKloud is that it does not currently work for iPhone phone backup or any other iOS operating systems. It can back up any PC or Mac, however.
It's also a good option for Android mobile phone users. You can download the compatible app from the Google Play store.
Another complaint is that it does not work on any windows operating systems before Windows 7.
Customer Service
All purchases are backed by a 30-day guarantee - if you aren't happy with your purchase, you can simply ship your product back. You will, however, have to pay return shipping and handling.
If you need to get ahold of customer service whether to initiate a return or for any other concerns, this is easy to do. You can contact their team by calling the toll free customer service phone number at (855) 622-2097.
You can also email at [email protected]. The unit is manufactured by Strong Current Enterprises Limited, an organization based out of the Netherlands.
Where to Buy?
You can purchase directly from the seller at www.InfinitiKloud.com or on Amazon.
Competitors and Alternatives
There are several alternatives to this product that you should be aware of. One is the photo backup stick by Paraben Consumer Software.
This stick can be used on all kinds of systems, from Windows to Macs and Android and Apple devices. It comes with a heftier price tag than the InfinitiKloud, but it has excellent customer reviews.
Another option for you is ThePhotoStick 128 by Prairie IT. This USB stick is unfortunately only for photos - but it works extremely quickly, offering up to 128 GB of storage. It is also more expensive than InfinitiKloud.
A final alternative is the Simkar USB Flash Drive Photo Stick. This flash drive can be used for more than just photos - you can also use it for music, files, and even videos. It works with just about any kind of device, including Apple products.
The Bottom Line
Privacy is hard to come by - and if you are looking for a way to store and support your files without having to worry about your personal security and privacy, then the InfinitiKloud is the way to go.
This product stores your data securely - without requiring the use of the Internet - so that your information will always be there when you need it.
It's better than a standard USB drive, and at a price that's much lower than most hard drives, it's definitely a product worth considering.
If you have any experience with InfinitiKloud or their products, please leave your reviews below.
You may also be interested in
InfinitiKloud Customer Reviews

Phil
Poor Customer Service & No Technical Support
I reached out to customer service when the memory stick failed to launch. I called customer service; they assigned a technician who responded that they could not find the record of my purchase. I found my order number XXXXX7808 and the order date xx/xx/2021 and provided it to another customer service rep who established another case number. Unfortunately, I received the same response from a technician. I even offered to submit my order paperwork but never heard back. I did receive one correspondence from someone in customer service asking if the issue was resolved. I said no but never heard back from them.
Unbelievable with the documentation that I'm able to provide that they seem to be totally unresponsive.

Allison W
InfinitiKloud will not refund cancellations
I ordered an InfinitiKloud 2 months ago. A month went by, and I had to figure out another solution. I then cancelled my order a month ago, and I cannot get my money refunded. I have interacted with customer service over 20 times about this issue, and I get the runaround repeatedly.

Ann
AWFUL! Horrible product with no customer service to be reached. Have tried TWO products. All attempts resulted in vague 'errors' and I am back at square one, except for the money they got from me. Total scam!

Penny K
I Purchased 3 dongles & Micro SD Cards in March 2021. Have never been able to get them to work. App on Android Phone just locks up everytime I insert the dongle with error messages. No phone numbers to call for support so I have send messages via the link on website, but the only response I get are the auto generated responses and messages to ask if my issue has been resolved. Almost 12 months later, I have still not had any response from any technical support person. My next step will be to ask for a refund of my money.

Tom W
If It Doesn't Work, Too Bad. You are stuck
I received the InfinitiKloud SD as a gift. I tried to install it per the instructions. Nothing. Called Customer Service, was told it was defective. Received another one (after 2 month wait). This one doesn't work either..( My computer is an HP with Windows 10) Other flash drives work great with my computer. Plug in and they are recognized immediately and work fine. Plug in the InfinitiKloud and ... nothing.
Computer does not react at all in any way. Customer Service told me to try in another "device" . I want to save photos that are on my desktop, not "another device". Was told basically (too bad, we can't do anything). I asked to speak to a supervisor. After a wait, the person said "we are sorry, but there is nothing we can do."
So, I have 2 InfinitiKloud SD that do not work and the company says "Too Bad"... Do not waste your money.

J. W
I bought the InfinitiKloud 3/2/20. It arrived about 3 months later, probably floating around in the post office. There is little or no customer service and NO product support. I was told today that the product is for Windows 10. I didn't even own a Windows 10 at the time of purchase and would not have bought it. The first time I tried to use it, a pop-up menu came up to tell me that there was an update with a choice of "now" or "later'. I clicked on later and it wiped out all the software on the device for Windows. Two phone calls and I got zero support. Don't buy this POS!

Pagan S
Don't Buy the Infinity Cloud stick. Failed after 2 months. The worst Customer Service. Phone number very hard to find and then no answer ever. Save your money the Infinity Kloud stick is a piece of garbage made by a RIP OFF Company. Owned by ThinkTech who is just as bad.

Doug L
useless device, customer service non-existant, no physical address for returns
5/20/20
I purchased two devices online direct from Infinitikloud's website late April. When the products arrived, I could not make either of them work on both my PCs. I figured it was operator error on my part so had my son come by and he finally figured out that the device wouldn't work without inserting the SD card that came with the purchase. (The instructions never mention the SD card requirement) Once inserted, the device came up on my PC but required a product number (along with a password I had not created). No product number had been given in any of the packaging, instructions, or e-mails. I called the customer service number twice and both times got put on infinite hold. I recently sent two e-mails seeking a product number or some way to open the program with no response. I'm still waiting...
So, I decided to send the units back for a refund. Reading the refund process in the small print of the instructions, I discover they only will give you "store credit". I figured I'd just send the units back and deal with the credit issue through my credit card company, And then I discover (so far, anyway) I cannot locate a physical address to send the returned items to. I've searched the web and cannot locate a physical address. These guys have a great Internet presence for marketing but good luck finding a physical location for returns or other reasons to reach out and touch someone!
To anyone considering this product, make sure you use a credit card so you can dispute the purchase if the product comes and you cannot open it. And before you purchase, know how you'll be able to return the items if you are unhappy. I note on Amazon they currently won't allow reviews on the product (By non Amazon purchasers; I ordered direct from the Infinitikloud website) due to "unusual activity") I can only guess what that's about!
Buyer Beware!!
D. Laubach