Imperfect Foods Reviews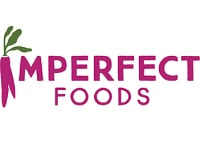 Imperfect Foods ( formerly Imperfect Produce ) is a company that aims to reduce wasted food and efforts by getting grocery-rejected 'imperfect' produce and delivering them to customers, for a price lower than at the grocery store.
The company came from the idea of seeking to reduce food waste in university cafeterias, the Food Recovery Network, and Imperfect Foods is the result of expanding on that idea.
Products
Imperfect Foods's subscription box is an affordable and convenient way to get fruit and vegetable produce straight to your door for a much lower price than you would get at a supermarket.
Statistically speaking, more than 20% of produce end up getting rejected by groceries because they don't meet their standards of beauty. Only 'perfect' looking fruits and vegetables find their way into the shelves and are then sold for high prices.
Imperfect Foods aims to get those Imperfect Foods, which are no less nutritious and delicious than their more 'perfect' counterparts, to consumer's doorsteps.
The beauty in this system is that no produce is rejected and what you do get from them comes 30-50% cheaper. Plus, you don't have to make the trip to the grocery store to get it.
How Does It Work?
Imperfect Foods sources their produce from a long list of farms and farmers who work hard to provide fruits and vegetables to groceries.
However, because of the nature of the market that only seeks to sell the most 'beautiful' products that's up to their standards, a sizeable chunk of fruits and vegetables end up in the reject pile.
"Imperfect" is, of course, just a term to refer to the produce that's not up to par with the appearance standards of groceries. Otherwise, they are just as edible and nutritious.
Rejected produce is often tossed aside simply because:
Their size and/or color doesn't fit well with the average ones
They look differently shaped
They have too many markings on the skin
They are a surplus to the standard number that the groceries need
Imperfect Foods takes these rejects and puts them in their 'Imperfect box.' Their produce are both organic and traditional and come from both local and distant sources in order to truly stand with their mission of following the waste and seeking to help farmers save on energy and resources.
No matter what, they deliver products of only the highest quality and are still as fresh and delicious as the ones in the grocery store's produce section.
These food products also go through multiple stages of inspection and storage to ensure that only the best quality ends up getting delivered to your home.
Customization is one of their best features, allowing customers to pick the contents of their boxes that come in a personalized schedule that best fits your lifestyle. Even the box size can be chosen, depending on what is most convenient for your needs.

You'll be informed what produce is available for that week and you are able to choose which ones you want in your box and they'll pack and deliver it to you. Besides that, you are also able to purchase a 'surprise box.'
Cost and Price Plans
The pricing varies depending on the box size, preference of contents (organic vs. traditional) as well as frequency of delivery. That being said, expect a price range of around $15-$50, depending on your customization options.
Customer Service
Imperfect Foods can be contacted through their different email addresses, but their support email is [email protected] They are very receptive to inquiries regarding their products.
On the other hand, if you want to cancel your subscription for whatever reason, you are able to do so without any penalties. However, you do have to make sure that you cancel before your upcoming order.
Online Reviews & Complaints
Many customers are satisfied with Imperfect Foods's services and the quality of their produce.
However, there are also some who experienced delayed deliveries, bad quality produce as well as a lack of invoices to indicate what they should be expecting in the box.
That being said, people commend the zero-waste quality that Imperfect Foods advocates and how the deliveries also come with practically zero wastes.
Competitors and Alternatives
Ungraded Produce offers similar services that challenge typical aesthetic standards of marketable produce. Their online produce delivery services are limited to the NC Triangle area only, though.
Charlie's Fruits Online has an "Ugly Box" product that contains Grade 2 quality produce for delivery. It's excluded from their 7-day freshness guarantee for this reason.
Grower's Organic also has a "Pretty Ugly Box" that contains 1 weeks' worth of "ugly" produce to help reduce food waste. In addition, with every purchase, $1 is donated to a non-profit organization called "We Don't Waste."
Where to Buy?
Imperfect Foods subscriptions can be purchased on their website, www.imperfectproduce.com and you are able to customize your orders from there as well.
The Bottom Line
Imperfect Foods challenges the beauty standards of the food products that get sold and sources the ones that usually end up being scrapped in order to reduce food, energy and resource waste.
Their mission to help hardworking farmers who farm these produces also helps to encourage these growers that even the "reject pile" can still be sold and sourced from them. If their movement is something you support, you should definitely check them out.
If you have any experience with Imperfect Foods or their products, please leave your reviews below.
You may also be interested in
Imperfect Foods Customer Reviews

Danielle
Driver was extremely rude
The driver was very rude! I will NEVER suggest this company to anyone! I only gave you a one star because I couldn't give a zero, which is what I would of given!

bummed o
sooo disappointed. missing items in order. more packaging than product, and produce was more than imperfect! some was already beginning to spoil, and some was ridiculously small and unripe. I got tiny avocados that were rock hard and never ripened, they just rotted.
I ordered a pound of yellow potatoes, and got four golf ball sized potatoes, definitely not a pound. if you doubt me, go ahead and order for yourself! the prices were high, but I was hopeful I was doing some good for the world... mega let down.
Oh and BTW I cancelled my subscription within 1 hour of receiving my 4th and last box, and they told me they had already started my next box and I would have to pay for it and receive it, but since I cancelled I was no longer able to customize the box, and so I will be paying for whatever they decide to send, regardless of whether I want those items. BOOOO

John J
Pay two to three times the amount you would normally in the grocery store for nice looking fruit but expect a good part of it to be rotten or beginning to mold by the time you receive it. My daughter decided that it would be a good idea for us to order from imperfect foods during the covid-19 "shelter in place". The first box arrived with us paying about three times the grocery store price. Most of the produce was eatable. The second box arrived with broccoli that was flowering, celery that was molding, an overripe pineapple with the top missing, must have fallen off, and part of the order we paid for, missing. This will be the last box we order from this company.

Mad H
Imperfect service to match the food
I was very excited about IP, because most delivery services give you a set amount of product in the box, some of which you may not want. I liked that I could customize my order.
My first order was supposed to arrive on Wed, but I got an email on Wed morning that it was delayed and would arrive on Saturday. The same email said my next delivery would be in two weeks, instead of the following week. However, on Friday, I got an email that my order for next week was ready to be customized, so I guess it *is* coming next week.
Saturday arrived, and I saw the delivery driver come up and leave the box at my gate, so I raced over to pick it up. I was excited to see what was in the box!
First thing I noticed was that everything had been thrown in the box with no consideration as to its fragility. Two boxes of cereal and a box of crackers were in there, along with a jar of coconut oil. The cereal and cracker boxes were soggy and falling apart, from having been sitting with the fruit and veg. Luckily, the product was inside wax bags inside. The fruit and veg was bruised from being banged around with a jar of coconut oil. One of the veggies was split open.
Next thing I noticed was that one of the three blood oranges was rotten. It had white fungus growing on its peel and was black and soft. The rest of the produce looked okay, albeit a lot worse for wear after the trip. I had to immediately cut up and freeze quite a bit of it, because it was bruised or scraped up too much to save.
The box of crackers and the one cookie I bought were basically just crumbs in a package.
The butternut squash, advertised as "between 1.5-2.5 pounds" was .89 pounds.
I went through the inventory and realized that they had charged me for three items on one order but had sent me only one. They also charged me for red onions but had sent none.
I have sent them an email about the order, and we will see what happens. Either way, if next week's order is similar, I will cancel my subscription. It is a great concept, and I would love to participate in such a program, but this was pretty much flushing my money down the drain.

Kori K
I've now rage quit on Imperfect Produce twice
Let me start by saying I LOVE what this company stands for. I'm a full-time volunteer for Americorps and love everything this company does for food waste. I also have never received a bad piece of food from Imperfect Produce.
The reason why it sucks so hard, however, has entirely to do with its website. First off, I serve for $4/hr. I live on food stamps. I cannot afford a weekly or biweekly subscription. While it's true that you can skip weeks, you have to constantly be logging in to do that. Multiple times I forgot to do so and found myself with deliveries of random food I didn't want and definitely could not afford. This could be remedied with one of two easy solutions: either don't make the weekly/biweekly thing mandatory, or provide more text alerts to notify when a delivery is about to be sent out so that there's still time to cancel!
Secondly, my reason for quitting the second time is that I can't seem to find the customize button ANYWHERE. I have called them. I have emailed them. There is a help page specifically for this issue, but it references fictional buttons and links that do not exist on my account page, regardless of whether I use my phone or computer to search for it.
Like I said, I want SO badly to promote this company because the food is good and the cause is GREAT. Yet how can do so when I'm essentially throwing money at a company that won't tell me what I'm paying for?

Deanna N
I got my first box and was very pleased with the produce.
Everything was super fresh. This produce looked like Farmer's Market produce. The sweet potatoes were small and thin, but were very fresh and firm. The kale looked like expensive Whole Foods produce. Cucumbers were curved, but we're very fresh. I am a single, so I liked getting smaller produce. It makes for less waste.
I was interested in this company because of the produce arriving without plastic bags. I had been unable to find celery without plastic bags, so I had been substituting in recipes to avoid plastic.
There were some missing add on items, but that was OK. No biggie. Just about 3 things that sounded interesting to try. I called customer service and they deducted the items and gave me a coupon for next time.
I liked the recyclable paper/cardboard "bumper pads" in the box. The only thing I didn't like were the ice bags. I didn't understand why a 24 hour FedEx trip to central Wisconsin, in January, required 2 ice bags. Although, I do understand that there were a lot of people in hotter areas who were screaming about bad produce, so they kind of had to add the ice bags.
Over all, a pretty good experience. I know that they are expanding rapidly, so there are a few glitches in the system. I like the principle of "ugly produce," and hope that this will help with the problem.
I will definitely order again!

C S
Four emails, One message through Facebook! No Response from Imperfect Foods except for automated emails. I have paid for food that was to be delivered January 3. It is 6:54 pm on January 7. No Response! I tried to call, and even though it was during their business hours, they were not answering the phone and do not have a voicemail. I have now paid for spoiled food. Is this a scam? I'm beginning to think so.

Ana R
I just received my first box today. I signed up for a medium organic box. It cost me about $23 for an 11 lbs. mixed organic fruits and vegetables. My box contained 3 peaches, 1 was rotten. My tomatoes were moldy and the 2 sweet potatoes had tons of holes, it appeared that worms went thru it. I complained right away, took pictures and sent it to their customer service. They told me that they will credit me back the cost of the tomatoes, sweet potatoes and the peaches. I'm trying to do my part to have zero waste. But my gosh, the fruits that came with it was either too sour, unripe and in the verge of throwing out. It is such a disappointment. They apologized and since they are new in NJ, I'm giving them a second chance. Stay tuned.

Leah M
We've had a great experience so far..
Imperfect Produce is now delivering to the East side of downtown Houston! I love their revolving selection of organic produce, and the produce seems to be sourced from local places around Texas. I also get to pick what produce I want that week, their website makes it so easy to customize my box. SNAP recipients get a nice discount, so it has been pretty affordable for me and my son. I usually get a nice box of organic food every other Tuesday for about 20$, I usually freeze what I get and add to various recipes throughout the week, we are always cooking at my house, we hardly eat out. We are a vegetarian household and tend to go through so much produce. Since it's getting hotter, I would suggest that you pick the latest delivery time slot, 4pm-8pm. If you have any issues, customer service is quick to respond. I've only had one issue, and they handled it ASAP. You can skip a week if you like, and there is no problem if you need to cancel your subscription. If you send a pic to their social media account of a dish you've cooked with the produce they sent you, they will donate food to a food bank in your area. I love this company and everything they do for the community, check it out!!

Kerstin M
I ordered from IP only one carrot was bruised and going bad. However, I priced the items compared to my neighborhood grocery store and the IP were more expensive up to twice as much and I paid for delivery.

The P
Pay to waste money AND food!!!
When Imperfect Produce came into my area I was excited as I've used produce deliver/CSAs before, but my location was a little slower in making them available. IP, came around and I decided it was worth the try as I attempt to buy based on sustainability and the concept of helping to receive the food that would otherwise go bad was perfect for being able to help that goal.
It was all easy enough until I received my box. 100% of the food was rotten beyond saving. Mold was growing on all the vegetables and most where bruised beyond being able to even turn them into a soup or sauce. I took a picture and told Imperfect Perfection and they refunded me the amount for the box with an explanation that it happens (supposedly rarely) and that they would make sure to adjust delivery times.
I figured I would give them a try again and kept the next order open. When it came in same thing...ever bit of produce either rotten, moldy, or looked like it was put though a rock tumbler.
I called the customer service who again was friendly, apologetic, and refunded my amount but this time I told them that until they can make sure their food was edible I couldn't order anymore. They assured me they would and then offered a free delivery to prove it. I agreed and waited for the next one. It came and the very first thing I took out (spinach) was covered in slime from rot and half black. I didn't even bother to call again, I made sure to unsubscribe and haven't looked back.
I've heard plenty of positive stories about Imperfect, but I've also heard just as many bad. I've also notice a high amount of bloggers who have reviewed the product with makes me nervous as that typically means they get the product or free or at least have more incentive to be receiving good products to ensure the marketing goes better. It also may be dependent on region as it is local produce and delivery operations so I'm not completely blaming IP. But when your entire premise is to save food from waste and then you go on to continue wasting food (while taking customers money in the process) it leaves a really bad tastes in the mouth and really puts the business in question. I hope it improves in my area but until then I absolutely can't recommend it.