iMemories Reviews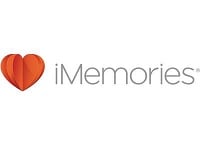 iMemories is a company which offers users a way to digitize home movies and photos and manage a collection of photos.
Many homes are filled with family memorabilia that spans a variety of mediums, some of which might not be accessible anymore unless you've managed to maintain decades old devices.
iMemories claims that their service can convert and consolidate these keepsakes, providing you with a digitized final product that can be easily shared and safely stored on modern devices.
Below we take a closer look at how this company works, analyze customer reviews, and let you know if you should trust them with your irreplaceable memorabilia.
How Does iMemories Work?
The company states that their proprietary process can digitize virtually any medium and even enhance old movies and photos.
iMemories can accept the following formats:


Super 8
16mm
Betamax
VHS
VHS-C

8mm/Hi8
MiniDV
Photo Prints
Slides
Negatives

The process starts with ordering their SafeShip Kit, which is a specially designed shipping package that comes with several features to ensure your photos and videos are not harmed during shipping.
The SafeShip Kit includes a crush proof box, waterproof bags and shock resistant cushions. You will also get a Fed-Ex prepaid label and customer card to track your belongings.
After iMemories receives your photos and videos they will send you the final quote for converting your items into a digital format. After their work is done they will send back all originals to you for safekeeping or disposal.
Customers have several options when it comes to receiving their final products. You will be able to download all digitized memories as part of your total price.
You can then choose to have them place these files on a custom DVD, a USB Thumb Drive, or store the data on their cloud for an extra fee.
Once online you can access your files and manage them how you like. Furthermore the final products will be compatible with all modern TVs, desktops, tablets, and smartphones.
There is also a free iMemories App that you can download which gives you cloud based access to all files and lets you upload current videos and images from your phone to the cloud.
In regards to the safekeeping of materials, iMemories states they employ security cameras that capture the receiving of materials to help employees and customers verify what was sent in.
Cost & Price Plans
iMemories is currently running some 50% off promotions for their services. The costs are as follows:
$14.99 to order the SafeShip Kit
$14.99 per VHS Tape conversion
$14.99 per 50ft of Film conversion
$0.49 per Photo conversion
Extra Options for final products:
$19.99 per Custom DVD
$39.99 for up to 8gb on a USB Thumb Drive
$7.99 per month or $49.99 per year for iMemories Cloud Storage
Customer Service
If you have any issues with your orders or have further questions you can reach a representative by phone at 800-845-7986 or via email at [email protected].
iMemories is located at:
9160 E. Del Camino Drive,
Suite B1
Scottsdale, AZ 85258
Return Policy
iMemories states that their services are not eligible for a refund. However, their website states that if a customer is not satisfied with the service, they will try to redo it to achieve better quality result.
Customer Reviews & Complaints
iMemories has mostly positive customer reviews. The company itself states they have over 1 million satisfied customers and claims to never have lost or mishandled a customer's property.
There are plenty of customer reviews to back up those statements, with customers generally stating that iMemories provides great quality products and they were very happy with how their property was handled.
However, there is also some negative feedback and complaints for iMemories. These negative reviews range from poor customer service, shipping and handling, or simply unsatisfactory results.
Some customers reported that they had difficulty dealing with their customer service team when things were not done how or when they expected them to be.
Negative reviews commonly come from customers who wanted more communication throughout the process and were left feeling unsure if their tapes were lost or misplaced due to prolonged transfer times.
iMemories representatives have responded to these types of postings stating that during the pandemic they became overwhelmed with requests as a wave of homebound people began requesting their services.
Some other customer complaints described having technical difficulties playing videos that they received, or not being able to copy the digital materials from the iMemories cloud. However, those reviews were posted many years ago and it doesn't appear that these issues are relevant today.
Other minor complaints that customers mentioned was that they received back digitized items in a different order than they were sent in.


Note: Some customer reviews mentioned that home tapes were rejected for conversion due to their contents. iMemories terms state that they cannot process media that has copyright materials on it. For instance, as one reviewer found out, a local news feature mentioning a family member could not be processed.
When looking at reviews of iMemories by photography blogs or websites, you will see generally very positive reviews, especially in regards to the high quality equipment iMemories uses to convert old photos and videos.
However, some reviewers had concerns regarding that iMemories charges higher fees than some competitors.
At this time iMemories is not accredited by the BBB but has an A+ rating there and a customer score of 4.73/5 from 317 reviews.
Competitors and Alternatives
Since most videos and photos have become digitized, there is a wide variety of services that promise to help store, share, print, combine, and edit your photos and videos.
The most similar service to iMemories is LegacyBox. LegacyBox employs a similar business model where users send in their tapes, film, photos, and audio recordings to be converted. The company offers very similar conversion options.
LegacyBox is slightly more affordable, however they also have slightly worse customer reviews with more complaints and a lower rating from the BBB.
ScanCafe and YesVideo are two other companies offering similar services. They also have lower prices than iMemories but overall mixed customer reviews.
Finally, you can try your local Costco store as they also offer conversion services but not the mail-in convenience that these other companies provide.
Is iMemories Worth It?
If you do not have a local option that you trust for this kind of digitization service then iMemories may be worth a shot.
They have the best online reviews among competing services but also come at a higher price point and try to convert users into long-term paying customers through the use of their cloud storage.
Customers may also feel uncomfortable about sending away what are often irreplaceable family records in the mail. For this reason we recommend meticulously labeling and recording everything that goes in your iMemories Box.
Overall digital conversion companies are thriving due to the fact that analog records have a limited lifespan and it will only become more difficult to view their contents as time goes on.
If you have any experience with iMemories or their services, please leave your reviews below.
iMemories Customer Reviews