Ikaria Beauty Reviews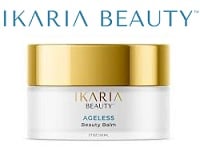 Ikaria Beauty is a California-based company that markets a line of anti-aging skincare products.
The name 'Ikaria' was inspired by the Greek Island of Ikaria, recognized for the youth and health of its inhabitants.
While the apparent fountain of youth on the island has been attributed to the diet and lifestyle, Ikaria Beauty founder and television personality Debbie Matenopoulos states she aims to provide these results via skincare products.
What Products Does Ikaria Beauty Make?
Ikaria Beauty markets a number of products mainly intended to improve an maintain healthy skin on the face.

Their most popular product is the Ageless Beauty Balm.
The full list of their products and prices is:


Ageless Beauty Balm - $89
Transform Skin Renewing Youth Elixir - $72
Renew Daytime Fytó Retinol Serum - $96
Reveal Multi-acid Resurfacing Mask - $68
Protect Antioxidant Glow Facial Mist - $54
Restore Skin Reviving Beauty Tea - $72
Ageless Beauty Balm
When choosing an expensive face cream, it's essential to understand the ingredients and their benefits for your skin.
The ingredients listed in the face cream include a mix of botanicals, clinical ingredients, and natural oils.
Ikaria Beauty founder Debbie Matenopoulos cites studies that tested the efficacy of purple coneflower, one of the primary ingredients in the Ageless Beauty Balm.
Results of the study showed that natural purple coneflower extract led to a 44% increase in skin elasticity and drastically reduced the appearance of fine lines and wrinkles.
Health experts agree that purple coneflower may have anti-aging benefits.
Here's a brief overview of some of the key ingredients in Ageless Beauty Balm and their safety or effectiveness:


Water - The most common base ingredient for many cosmetic products and acts as a solvent to dissolve other ingredients.



Caprylic/Capric Triglyceride - Derived from coconut oil and glycerin, this ingredient is an emollient and skin-repairing agent.



It is considered safe and effective for moisturizing and conditioning the skin and helping prevent moisture loss.



Olea Europaea (Olive) Fruit Oil - Olive oil is known for its moisturizing, antioxidant (Vitamin E), and anti-inflammatory properties.

This oil helps to nourish and protect the skin from environmental damage. It is safe and effective for use in skincare products.


Glycerin - Glycerin is a humectant that helps retain moisture in the skin, making it a common and safe ingredient in skincare products. It attracts and retains moisture, keeping the skin hydrated and plump



Hydrogenated Castor Oil - A moisturizing emollient derived from castor oil also used as thickening agent that helps to improve the texture of the cream and provide a smooth application.

It is generally considered safe.


Polyglyceryl-4 Diisostearate/Polyhydroxystearate/Sebacate - An emulsifier that helps mix water and oil-based ingredients and creates a stable formulation.



Beeswax - A natural wax that acts as a thickening agent and emollient, providing a protective barrier on the skin that helps to lock in moisture. It is also antiseptic and contains vitamin A.

It is considered safe for use in cosmetics.



Propanediol - A corn or petroleum-derived humectant and solvent that enhances the absorption of other ingredients. It can also soften the skin and boost the properties of preservatives.

It is considered safe and effective for moisturizing the skin.



Magnesium Sulfate - Commonly known as Epsom salt, magnesium sulfate is a non-reactive and non-irritating salt used as a stabilizer and emulsifier to thicken products or dilute other solids.

It also provides some soothing properties to the skin and is considered safe for use in cosmetics.



Echinacea Purpurea Extract - An herbal extract with anti-inflammatory and antioxidant properties that may help soothe irritated skin and promote healing.

It has anti-inflammatory and antioxidant properties and is considered safe and potentially beneficial for skin health.



Oryza Sativa (Rice) Bran Extract - Rich in antioxidants, polysaccharides, and omega-3 fatty acids, this extract helps to nourish, moisturize, and protect the skin.



It is considered safe and beneficial for skincare products.



Honey & Royal Jelly - Both ingredients are known for their antimicrobial, soothing, and moisturizing properties. They aid in wound healing and help rejuvenate the skin.

They are considered safe and effective in skincare products.



Ocimum Sanctum (Basil) Leaf Extract - An antioxidant and anti-inflammatory ingredient that may help to calm, brighten, and soothe the skin.



Rosmarinus Officinalis (Rosemary) Leaf Extract - An antioxidant that helps to protect the skin from environmental damage, and may help soothe skin conditions like eczema and acne



Helianthus Annuus (Sunflower) Extract - Rich in antioxidants, Vitamin E, fatty acids, and moisturizing properties. It is considered safe for use in cosmetics.



Tocopherol - Also known as Vitamin E, tocopherol is an antioxidant that helps protect the skin from environmental damage and provides some UV protection.



It is considered safe and beneficial in skincare products.

Ethylhexylglycerin - Commonly used as a preservative and and skin softener in cosmetics and is considered safe when used in appropriate concentrations.


Phenoxyethanol - A common preservative used to maintain the product's stability and prevent the growth of bacteria and fungi.


The remaining ingredients are mostly fragrances, emulsifiers, and solvents, which are generally considered safe for use in cosmetics when used in appropriate concentrations.
However, some individuals may be sensitive to certain fragrances or essential oils, so it is always best to patch-test any new skincare product before applying it to the entire face.
Customer Service
If you have questions about their products or have issues with your order, you can contact their customer service department by calling 888-309-0205 or e-mailing [email protected].
Customer Reviews & Complaints
Ikaria Beauty gets mixed reviews from customers, with some stating that they feel their skin feels more youthful and renewed, while others state that they had no reaction or even a negative one.
There are also some complaints regarding customer service and return shipping issues.
The FDA does not approve cosmetics in the same way it approves drugs and does not have a pre-market approval system for cosmetics.
As a result, companies are largely responsible for ensuring the safety and proper labeling of their products.
To gain the trust of their customers a company may undergo third-party testing or certification to verify their safety, quality, and ingredient claims.
Look for certifications from organizations like NSF International, ECOCERT, or COSMOS, which have strict standards for ingredients, manufacturing processes, and labeling.
The company may also be open about their manufacturing practices, and commitment to safety and quality.
Companies that are transparent about their processes and prioritize safety are more likely to produce trustworthy products.
We are not aware that Ikaria Beauty has undertaken any of these measures regarding their products.
The Bottom Line
Ikaria Beauty is a fairly new brand with mixed customer reviews that markets a line of beauty products that are relatively expensive.
It's always a good idea to consult a dermatologist or skincare expert for personalized advice and recommendations based on your skin type and concerns.
It's also a good idea to patch-test a new skincare product before applying it to your entire face, as individual skin sensitivities can vary.
If you have any experience with Ikaria Beauty or their products, please leave your reviews below.
You may also be interested in
Ikaria Beauty Customer Reviews

Disappointed
Too Heavy, bad absorption… 90 day return problematic.
Ikaria Ageless cream..Horrible cream, very heavy, does not absorb well into your skin leaving your face oily… Also 90 days money back guarantee…Not true they start counting from the day they ship the product, so it is not 90 days… How about if the mail is backed up and it takes 6 to 10 days to get to you… It my case I am stuck with a cream that I will not be using… Very disappointed and dissatisfied with the company and the product..

J.
I watched an infomercial on Facebook touting that it is so natural, good, etc. so I bought some bottles of the Ageless Beauty Balm. When I saw it had a warning that it is poisonous (if ingested, but anything you put on your skin is absorbed as well), I called to say their advertising is deceptive and I would not have purchased. I asked for a return label, and they said I have to pay for the return of the product. Not good customer service.

Vicki H
Do not have customer's best interest at heart
I placed an order on FB for 2 jars....and received 6 (3 separate orders) Maybe because of a glitch? I just know I didn't place 3 orders. Ikaria doesn't pay for return shipping, and that's fine. But due to the circumstances, the rep credited me $20 on my order to cover the shipping for the return of the 4 extra jars.
Unfortunately, the product didn't work out for me so I had to return the last 2 jars at my expense of $15 shipping. Again.....that's OK. But when received, Ikaria credited me back only $29.97 instead of $49.97. They took out that $20 credit originally given for the return shipping of the 4 jars. I kept going round and round with them. It fell on deaf ears and I got nowhere.
So it cost me $35 return shipping all in all. They gypped me out of $20. I am so angry. I don't agree with the saying that "the customer is always right." But, I'm in business myself and work with the public all the time.
And depending on the issue, a happy customer is a must, even if you don't always agree. Because a happy and satisfied customer leads to many other sales. Was holding onto my $20 really worth it to this company? Obviously they need it more than I do.

Raven
My face is beet red after just 2 days of use. Is this normal? I look like I have sunburn. My face is warm to the touch and feels a bit swollen.

Smo
Love...Love....Love the Beauty Balm....just opened my third jar this morning! I am 64 years young and have tried many products.....I added the balm a couple of months ago to my firming serum that I have used for a long time.....wow....the balm kicked up the results!
In fact, my husband said yesterday morning.....your skin color looks really good.....:) I think he meant smoother......:)

Sherylynn
Meh, 8 weeks on the elixer and no results.
Meh. I bought two containers of the Ikaria Youth Elixer, and have been using it for 8 weeks. I do not see any visible results. I came here to see how long do I have to drink the stuff before I see any visible results. Four or five containers worth?
Some products take 5 bottles to see results and that's what I was willing to commit to. I have to note that I am a very young 64 y.o. Most people think I'm 40, and that was due to taking care of my skin and body at 19 with Chambre' cosmetics that, unfortunately, are not around anymore.
I got lucky and had a German neighbor teach me how to take care of my skin. It isn't through special creams or potions, just being religious to keeping it clean and moisturized, staying out of the sun, and drinking 2 liters of water everyday. No drugs or alcohol, or smoking.
I'm considering one more container of the powder elixer, but I don't think it's worth it.

Kelli B
Noticeable results after 2 weeks!!
So far I am extremely impressed!! I bought one jar of the transformation powder that you drink daily. I am 54 and sincerely just started looking into surgical options for my neck, I was beyond mortified at the loose skin and wrinkling I had.
I have been a Sun worshiper my entire life and I was paying the price for that. I'm starting on week 3 and I've seen incredible results in my neck and skin overall. I'm hoping the results continue to build, I just ordered 2 more jars and at this time I'm thinking this will be something I continue to make a part of my daily routine.
I have not mixed it with water so I can't comment on the taste I do mix it with some juice every morning and like the taste of it mixed with juice. I sincerely never expected to see any results yet alone so danged quickly. My husband of 25 years asked what I did because he noticed the results as well.

Caroline B
Ikaria Beauty Transform Skin Renewing Youth Elixir really does work !!!
I have finished one container of the Ikaria Beauty Transform Skin Renewing Youth Elixir and I can say that my skin on my face is glowing and I feel it is much improved with this product.

Mary A
I have been using this product for about a week now, and have followed the application instructions exactly as recommended. My skin feels greasy after I use it, and no matter how long I leave it on, or how long i massage and tap, it does not go away. If I am doing this wrong, please let me know.

Stephanie K
I never write reviews, but this…. The fountain of youth. That is the best way to describe Ikaria. I have only been using this product for 2 weeks. My skin is the smoothest I think it's ever been.
The saggy skin on my neck and jowls is tight and my crows feet are getting smoother day by day. This truly is an amazing product. The taste is different but you get use to it especially since the results are totally worth it!