iConsumer Reviews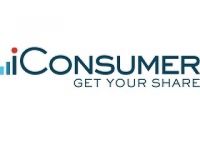 iConsumer, found online at iConsumer.com, is a company that says they want to provide their customers with the ability to not only get cash back when they shop online, but also to have an important investment opportunity.
How Does It Work?
According to their website, the creators of iConsumer wanted to provide their customers with not just a way to get cash back while shopping online, but to provide to their customers with a shopping experience they could really invest in. Literally.
To do this, they have created their "Mini IPO." This offer means that anyone who signs up to become an iConsumer customer will be given 100 shares of their company just for signing up as one of their members.
Once you have signed up, you will be able to shop at more than 1,700 different online stores where you will be given access to deals and coupons each time you shop and will get cash back with each and every purchase.
Mobile Options
Currently this mobile application is available for iOS and Android smart phones and tablets, and can be used from laptops and desktops.
Cost/Price Plans
This mobile application is free to download and to use, and their website says that the IPO shares they are providing to their new customers are not being given in exchange for cash.
Instead, these shares are provided as a bonus to customers when they initially sign up for the iConsumer service, whenever they use this service to complete their online shopping, and whenever they refer a friend to join this service as well.
Refund Policy
When customers shop through this company, the money they spend is not actually going to goods or services provided by iConsumer.
Instead, their website sends you to the third party retailer where you will purchase your products directly, meaning that any customer hoping for a refund will have to deal with the retailer who sold them their item and will need to adhere to the policies that they have in place.
That being said, once the company that provided your cash back has to refund you all your cash, you will be responsible for returning the cash back to iConsumer as well.
Customer Service Contact Info
Customers who would like to contact Customer Service with any questions, concerns, or complaints can do so by submitting them directly to their website through their Contact Us link.
Reputation
The main concern of this company is of course the stock options.
Many of their customers verify that this company does indeed provide their customers with the cash back that they promise, which is always one of the most important criteria for evaluating one of these companies.
The stock options, on the other hand, are a different and interesting twist on an otherwise standard business. At this point in time, there doesn't appear to be any information on whether the investment side of this venture will pay off for any of their customers.
However, since this company is providing shares whenever you shop through their service and is not asking people to pay them upfront amounts of money, it seems that many prospective customers may not care about this particular feature.
Competitors and Alternatives?
Certainly there are many, many different companies, websites, and mobile applications which offer their customers "cash back" shopping opportunities at this time, including Ebates, Shop.com, iBotta, and many others.
If you have any experience with iConsumer or their products, please leave your reviews below.
You may also be interested in
iConsumer Customer Reviews

Frederick C
Love the Concept of Shopping and Earn Shares
iConsumer has great potential. I've shopped at many of the sites, received discounts and shares. Love the concept.

Ryan
Highest rebates, beats every other cash back site. Friendly and reliable. Potential for huge gains with the stock rebate and bitcoin option.