HydroNova by Dr. Vonda Wright
HydroNova by Dr. Vonda Wright Reviews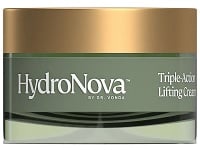 Reviewopedia is supported by our readers. This page contains links through which we may earn a small commission for purchases.
HydroNova by Dr. Vonda Wright is a skincare line that includes a Sculpting Serum, Lifting Cream, and Body Oil.
The company states that the products are based on Dr. Vonda's work as a team doctor to elite athletes and years of prolific research on aging.
The products are intended to promote younger and better feeling skin by using clinically proven ingredients.
Below we take a closer look at HydroNova to see if this brand lives up to its claims and can help achieve the promised results.
Who is Dr. Vonda Wright?
Dr. Vonda is a certified orthopedic surgeon, researcher, and author. Her surgical practice, based in Orlando, has focused on providing minimally invasive procedures for the treatment of hip, shoulder, and knee injuries.
Wright also specializes in reconstruction, restoration, orthobiologics, injury prevention, and performance optimization.
In addition to treating professional athletes, her work in medical research and the publication of several books landed her a number of television and media appearances.
She has made appearances on popular health programs such as "Dr. Oz" and "The Doctors", along with many other popular network programs.
Her books include:
Fitness After 40: How to Stay Strong at Any Age
Guide to THRIVE: 4 steps to Body, Brains & Bliss
Younger in 8 Weeks
Fitness After 40: How to Stay Strong at 40, 50, 60 and beyond
A Parent's Playbook for Raising Healthy Athletes
Masterful Care of the Aging Athlete
Much of her work has centered around athletes and active aging, which lead to the creation of HydraNova, a skincare product line that Wright states "embraces aging and makes functional products to nourish your skin with high-quality, lab-tested ingredients."
How Does HydroNova Work?
On DrVonda.com the company states that their formulas
Are not tested on animals
Contain no cheap fillers
Use no harsh ingredients
Only rely on real science
They go on to state that with the use of HydroNova customers can achieve:
A reduction in fine lines and wrinkles
A brighter, more even complexion
Better collagen production
Hydrated skin
Stronger skin firmness & elasticity
Improved skin barrier
Decrease in visible sun damage
Glowing and smooth skin
Products and Ingredients
HydroNova Triple Action Lifting Cream is the company's main product and one that you've most likely seen advertisements for.
The ads themselves follow a familiar format used by many "celebrity doctors", in which an advertorial is used in conjunction with a prolonged continually playing video.
These are very effective sales techniques as they keep visitors engaged with graphics and simplified scientific illustrations.
The ads state that the Triple Action Lifting Cream is good for anyone dealing with fine lines and wrinkles and saggy skin in the cheeks, jowls, and neck areas.
HydroNova primary ingredients include:
Retinol (Vitamin A) - A common ingredient in many skin creams and sun blocks and has a lot of research supporting its use. [1]
While you can obtain Vitamin A through diet, the topical form works directly to provide many potential benefits to the skin.
For example, retinol can increase the production of collagen and elastin in the deeper layers of the skin. This may reduce the appearance of lines and wrinkles can smooth out skin.
Retinol has also been used to treat acne and has properties that help clear pores and exfoliate the skin. [2] [3]


PolyPeptide Blend - Polypeptides are compounds consisting of short-chain amino acids which are the building blocks of protein. They're used in skincare products because they can stimulate collagen production and hydration. [4]
The theory behind their use in skin care products is that they essentially convince your body that it needs to produce more collagen and elastin. While this theory makes sense, many experts agree that more research is needed in regards to their effectiveness.
Further, buying peptide based skincare products is tricky as that is a broad term covering many different kinds of peptides with varying skincare efficacies.
The ones in HydroNova Triple Action Lifting Cream are Palmitoyl Oligopeptide and Palmitoyl Tetrapeptide-3, both found in many cosmetic products.


Bioactive Ceramides - Ceramides are lipids that make up close to half of the skin and are found in the upper layers. They are critical to keeping your skin barrier healthy and maintaining moisture levels. [5]
Age and various environmental factors play a role in breaking down your skin barrier which is why ceramides are used in skincare products.
The moisture locking properties may present themselves as anti-aging effects since dry skin exposes lines and wrinkles.


HydroNova Triple Action Lifting Cream full ingredient list:
Water, Aloe Barbadensis Leaf Juice, Isopopyl Palmitate, Glycerin, Carthamus Tinctorius (Safflower seed oil), Cetyl Alcohol, Glyceryl Stearate, Peg-100 Stearate, Stearic Acid, Butyrospermum Parkii (Shea Butter), Butylene Glycol, Carbomer, Polysorbate-20, Plamitoyl Oligopeptide, Palmitoyl tetrapeptide-3, Phenoxyethanol, Benzoic Acid, Ethylhexglycerin, Glycereth-2, Cocoate, Acrylates/C10-30 alkyl Acrylate Crosspolymer, Xanathan Gum, Squalane, Ceramide EOP, Cermaide NS, Ceramide NP, Ceramide AS, Ceramide AP, Cholesterol, Hydrogenated Lecithin, Glyceryl Stearate, Sucrose Distearate, Propylen Glycol, Sodium Hyaluronate, Tocopherol, Retinol, Caprylic/Capric Triglycerides, Sodium PCA, Allantoin
Side Effects
For the most part, the HydroNova formula makes use of common skin care ingredients that can be found in a variety of creams, moisturizers, and anti-wrinkle serums.
One concern comes with the use of retinol, which should not be used by those who are pregnant or lactating.
Some people may also experience minor side effects to retinol such as:
redness
itchiness
peeling skin
Less common but more serious side effects may include:
Acne
Eczema flare up
Skin discoloration
Blistering
Stinging
Swelling
Photosensitivity to UV light
HydroNova states that they use a low dose of Retinol (0.1%) but still caution to start treatment at only 2-3x per week and with gradual increase in use.
One common concern is whether it is ok to mix retinol with the other active ingredients in this formula, such as Peptides. Our research of expert opinions suggests that there should be no issues with these combinations.
If you have a negative reaction to HydroNova you should discontinue its use and speak with a dermatologist or your primary care physician.
Cost and Price Plans
One jar of HydroNova Triple Action Lifting Cream sells for $79.99. You can save 10% on your order by signing up for a monthly subscription of the product.
Dr. Vonda Total Rewind Sculpting Serum and Skin-Smoothing Body Oil cost $49.99 for one jar.
Customer Service
If you have any issues or questions you can reach out to the company via email at [email protected]. They also have a live chat feature that you can take advantage of during working hours.
Their website states that Dr. Vonda products come with a 60-day money back guarantee. If you are unsatisfied with HydroNova then reach out to customer service to begin the return process.
To obtain a refund you must send back any unused portion of your order, have the return approved, and pay shipping costs. Email customer support or call 562-620-7239 for returns.
Customer Reviews & Complaints
At this time, outside of the company's own testimonials there is not much online feedback. This is a new product so be on the lookout for customer feedback as more time passes.
There are customer reviews for Dr. Vonda's clinical practice and for some of her books that were listed on Amazon, with both being fairly positive.
Competitors and Alternatives
There are many skincare brands to choose from and finding the right product for you can be very overwhelming.
You can shop by specific issues that you are targeting or based on unique ingredients that you've researched and feel will work well with your skin.
One good alternative to HydraNova is the EltaMD PM Therapy Facial Moisturizer Lotion
This formula makes use of Moisturizers like Hyaluronic Acid and a blend of Peptides and Ceramides but without the Retinol. It is oil-free, fragrance-free, non comedogenic and safe for sensitive skin.

It has an impressive rating of 4.7/5 on Amazon from 4,900+ reviews. It's also an 'Amazon Choice' product and sells for $39.99 on Amazon.
Is HydroNova by Dr. Vonda Worth It?
Overall HydroNova Triple Action Lifting Cream seems like a quality product that comes from a reputable Doctor.
While the current lack of customer reviews make it more difficult to assess, the ingredients used in this cream are straightforward and have enough research support.
There is also an established return policy that makes trying a new product easier. Time will tell if the customer service team does a good job of dealing with issues and taking care of customers.
The only real downside is that regardless of whether the product works or gives you a bad reaction you won't know which ingredient is the culprit. If this is a concern you may want to try skincare products featuring only a single key ingredient.
If you have any experience with HydroNova Triple Action Lifting Cream or other Dr. Vonda products, please leave your reviews below.
You may also be interested in
HydroNova by Dr. Vonda Wright Customer Reviews