Hydrant Drink Reviews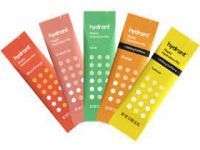 Did you know that 75% of Americans are dehydrated? Dehydration might not seem like a big deal - especially if you're just sitting in your office and not languishing in the middle of the Sahara Desert - but it is. It causes a whole host of side effects, such as poor skin, broken sleep, and extreme fatigue during the day.
Hydrant looks to reverse those statistics by offering a unique new beverage that not only tastes good, but is good for you, too. Oh, and it will also keep you incredibly well-hydrated.
How Does Hydrant Drink Work?
Hydrant is a unique new beverage that is designed to be stirred into water. As a powder, all you need to do is pour a single packet into an eight to sixteen ounce glass of water - this depends, of course, on how strong you want your drink to be. You can pour the packet into cold or warm water, but the company recommends cold water for better taste. Stir or shake the mixture until all the powder has dissolved, and drink up!
Hydrant is unique because it offers a system of delivering powerful internal energy that produces no sugar high, no jitters, and no weird side effects. If you are looking for an alternative to cola or your morning cup of coffee, Hydrant is the perfect solution.&nbsp
&nbsp
The Hydrant drink was created by an Oxford Scientist and is based on the World Health Organization's guidelines for rehydration. The Hydrant electrolyte mix has simple ingredients that effectively hydrate you while also improve cellular uptake - the water will go exactly where you need it to be.
The Rapid Hydration Mix comes in several different sizes and three flavors - lime, grapefruit, and blood oranges. It is flavored lightly - giving you just enough taste - with real fruit juice. There is nothing artificial in this mixture, which contains three times the electrolytes of the average sports drink and eighty percent less sugar.
Hydrant is FDA-compliant and made in the United States. A vegan product, is has no artificial flavors, sweeteners, or colors, and is packed to the brim with helpful electrolytes. Although the ingredients vary slightly depending on which flavor you purchase, all ingredients are recognizable and published on the company's website.
Cost and Price Plans
When you purchase the Hydrant energy drink, you will have several packaging options. You can choose a pack of 30, 60, 90, or 120. The price per pack is based on one dollar - so if you want a pack of 30, you'll pay $30. Buy 60, and you will receive a slight discount, paying only $56 (or $93 per drink). 90 drinks is $0.87 per drink or $78 per package, and 120 is $.80 per pack for a total of $96.
This pricing is based on a subscribe and save model. If you want to make a one-time purchase, you'll pay up to $16 more.
Competitors and Alternatives
Feeling thirsty? Don't worry. Hydrant isn't the only drink for you to choose from. Besides plain old water, you should also consider Liquid Iv, Drip Drop, and the good ole-fashioned alternative - Gatorade.
When comparing Hydrant vs. Liquid IV, the first thing to know is that Liquid IV is packaged in a similar fashion to Hydrant. It comes in portable tubes with multiple flavors available. It's also packed to the brim with electrolytes and certain vitamins that can help you avoid muscle cramps. It's particularly effective if you are an athlete. Unfortunately, some customers report an unpleasant aftertaste that just isn't there with Hydrant.
Next, let's compare Hydrant vs. Drip Drop. Drip Drop is a competitor to Hydrant that claims to offer targeted dehydration relief. Designed by a doctor, this product is sold in stores and can be consumed hot or cold. It contains several different types of sugars and is sold in packets. It's quite pricey, though, with a full dose costing $2.50.
Finally, the classic - when you are considering purchasing Hydrant, you are probably naturally going to compare it vs. Gatorade. While Gatorade now offers multiple flavors and products - you can even purchase organic Gatorade! - its flavor leaves something to be desired. It is either too sweet or not sweet enough, and it can be high in added sugars and calories.
Online Customer Reviews/Complaints
Research shows that being well hydrated can improve your focus, your energy levels, and your mood. Customers love drinking Hydrant both before and after a tough workout, as well as after sleep. In fact, the manufacturer recommends drinking Hydrant when you first wake up - it replenishes the water you lost through sweat overnight.
Reviews of Hydrant also mention the flavor. While drinking a half a gallon of water each day is challenging, Hydrant makes it easy to optimize your boyd's hydration. Plus, each serving is only 20 calories - much less than the average sports drink! Some customers have complained about the sodium content of the packets - although it's minimal, it can impact the flavors if not mixed properly.
Customer Service
Need to contact the customer service at Hydrant? Not a problem. The company has an email address that you can message with any inquiries - [email protected] There is also a contact form on the website, beneath which you can choose to sign up for the Hydration Newsletter. The company does not have a phone number published on its website, but it does have active social media channels on Facebook, Twitter, and Instagram. You can even join the Text Club!
Where to Buy?
Right now, you can purchase Hydrant directly from the manufacturer. Although it is not available in stores, it is also sold on Amazon. The company has a generous refund policy in the form of a 14-day money back guarantee. If you are unhappy with your purchase for any reason at all, all you need to do is email the company at [email protected]
Is Hydrant Worth It?
Are you ready to be more productive and better equipped to tackle the challenges of the day? Drink Hydrant! It's the perfect beverage to drink before or after a tough workout, when you first wake up - or even as a drinking aid to help remedy a hangover. It will deliver the fortified blend of electrolytes to your body exactly where your cells need them most, hydrating you and energizing you in the process.
You may also be interested in
Hydrant Drink Customer Reviews

Adrian K
Good product but low QC and or manufacturing standards
I have been a customer for I think since they launched. While it is a good product it seem to suffer from manufacturing issues with varying quality and taste even between packets. I have even gotten packets label as one flavor but are actually another. So I am considering switching to a competitor.