Home Chef Meal Kits Reviews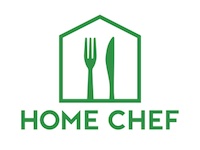 Home Chef meal delivery service is one of the leading companies in the meal kit business today. They have built a very efficient network and consistently produce high quality meals. They are also one of the largest companies having delivered over 1 million meals and employing over 300 people.
As with most meal delivery companies their goal is to make home cooking easy, fun, and healthy. They provide you with all the tools necessary to feed yourself or a family while saving time.
How Does it Work?
Customers can simply log in to HomeChef.com and start piecing together their perfect menu.
You start by letting them know which proteins you prefer, you can also opt for vegetarian meals. In the next step you list items you wish to avoid, such as pork, dairy, soy, etc and you follow that up with a diet option of low carb or low calorie.&nbsp
&nbsp
In this manner you can piece together a custom menu that adheres to Paleo or other diets. Finally you select how many people you will be cooking for and how many times per week. You then pick your food delivery date and you're all set.
Once your account is created you can make a variety of changes as needed. You can edit your taste profile to substitute meals, skip deliveries, and add breakfast options. You have a lot of leeway with your account provided all changes are saved and submitted before the cutoff time.
Each Monday Home Chef sends out an email with their weekly recipes of over 20 meal options. Based on those options you can select and modify based on your needs or preferences. You have until Friday 12pm CST to finalize your selections.
When your meal kit arrives you'll follow the recipe cards and use the pre-portioned ingredients to craft the meal.
If you need to manage your delivery preferences go to account settings in the my account section of the website. There you can choose to skip a week or fully cancel your Home Chef subscription.
Home Chef also claims to use eco friendly packaging, stating that you can recycle and compost the bulk of your shipment.
Home Chef meals start at $6.99 per serving. Shipping price will vary depending on your meal plan. You will see your shipping cost at the end of the sign up process. If you have any questions, reach out to customer support.
Cost and Price Plans
Home Chef meals are priced at $6.99 per serving. Packages are shipped in refrigerated boxes so food stays fresh even if you're not home when it arrives. Delivery is free for orders over $40. Shipping is $9.99 for orders less than $40.
They also offer many promotional codes and coupons through various social media outlets. You can also earn $35 in Home Chef credit by referring friends or family (from different households) to the service.
Customer Service
If you need to cancel, pause, or reactivate your account you can login to your profile and go to the account settings tab.
If you have any questions or issues you can reach someone at [email protected], through their online contact form, or by phone at 872-225-2433.
Online Customer Reviews/Complaints
The reviews for HomeChef.com online are very positive with food, fitness, and health bloggers weighing in on how much they enjoyed the meals. Customers also left positive reviews stating that they were amazed that Home Chef is able to make such tasty low calorie and low carb meals.
As with many meal delivery services some of the most common complaints come from people who didn't feel fully satisfied from the meals, something that's going to happen especially when you are selecting healthy low calorie options.
Other complaints stem from issues with shipping/deliveries and order quality/consistency. There are instances where customers claim that the meal kits were missing certain ingredients. With deliveries the bulk of complaints regard orders that arrived when customers weren't expecting them or thought they had canceled.
Some of these shipping issues led to food arriving spoiled or at room temperature, making it unsafe to use.
Home Chef has a 4 out of 5 score from 2,900 customer ratings on another leading review website.
Competitors and Alternatives
There are many meal delivery services that cater to a variety of diets and needs. Some companies cater specifically to Paleo dieters such as Green Chef and Trifecta Nutrition; other bigger companies include Freshly and PlateJoy.
Where to Buy?
You can sign up directly at HomeChef.com, or now you can also buy their meal kits from select Kroger grocery stores. Use their website to find a participating location near you.
Are Home Chef Meal Kits Worth It?
The company has been in business for a while and has amassed an overall positive reputation. While there will always be individual issues with shipping or small order mistakes it seems that the company's customer service team tries to address all posted online customer reviews.
If you're concerned about whether you'll enjoy the meals or not, we recommend picking one up locally for a taste test.

If you have any experience with Home Chef Meal Kits, please leave your reviews below.
You may also be interested in
Home Chef Meal Kits Customer Reviews

Janet R
I was sent an email that a friend had suggested me for a free meal. Not exactly free, but I did signup . I had signed up for every 2 weeks. My account showed meals that I did not order or want. Well before friday deadline, I marked listed meals as omit. Reviewed to make sure my account showed that. But today, a box arrived. Took me a long time to find a number to call. Finally got a rep on phone. Unsatisfied. They did issue 1/2 credit and "paused" my account so I receive no future order. Make sure you want a long time commitment, with an awkward process to change.
I do a lot of online shopping and have experienced an amazing level of support . Zappos and Amazon set the bar high. Home chef doesn't make the cut.

Merrie B
Disappointed--Poor Quality Produce
I have had several shipments from Home Chef and there has been poor quality produce in every box. At first I thought maybe it was just that the shipping service had mishandled the package. But that turned out not to be the case.
I have been sent cauliflower that had a strong odor and turning brown, bruised pablano peppers, damaged zucchini on two occasions, and wilted, browning green onions.
It's really a shame because the other ingredients and recipes are of good quality.
The first occasion that I received bad produce, I called customer service and received very generous credits to my account and was hoping that future shipments would be better.
I started avoid ordering the produce that I had issues with. But most of the produce I received from Home Chef was of poor quality and I have decided that it's just not worth the cost.

Sandi H
Their ad promised meals for $7.99 but once I signed up, the total for 3 meals came to over $56.00. After finding out there is no way to cancel your account, I contacted "Support" who promised my information would be deleted so that my account would effectively be cancelled.
Imagine my surprise this morning when, even though I didn't place an order or even put anything in the shopping cart, there is a mysterious charge for $29.80 on my credit card. No one at Home Chef will even acknowledge my attempts to contact them so I've contacted my bank about this unauthorized charge. If there's still no response by Monday, I'll be filing a police report for theft.
My account is still open although I've demanded they close it.
Maybe they'll respond to negative reviews.
So yes, they lied and then they stole from me.

Christine l
I got as a Christmas gift, but be warned, they are charging future orders without your consent, and very hard to stop.

Tracy K
I have been a subscriber to Home Chef for a couple months now and I am completely satisfied. The cost is reasonable and everything arrives fresh and neatly cold packed. They have a good menu variety to choose from. I will definitely be with Home Chef for a while.

James B
Don't do this. I had orders skipped until I return from vacation. They will send you meals whether you order them or not. Their site is very confusing which is likely the intent. An order was processed that I did not make. I had five weeks in a row skipped. It is set for delivery Friday. I called today (Monday) and told them I did not place this order. They refused to cancel or credit me. I am leaving for vacation Thursday. I will have rotting, decomposed food awaiting me on my doorstep when I return.
Be careful. Be very, very careful.

Lori
I tried to sign up for this to get a few meals and possibly try some new meals. The site would not allow me to get past the preference selection step. The company seems to supply nothing but meat dishes, nothing for vegetarian/vegan shoppers. With more and more people becoming aware of he benefits of eating healthy and sustainably, one would think that companies like this would not lag behind. Shame on you Home Chef for not considering your customers needs.