HobbyTron Reviews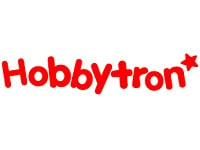 HobbyTron is an online retailer which promises their customers access to a wide variety of hobby and recreational items, saying that their website is the place "where awesome happens."
How Does HobbyTron Work?
Like any other online retailer, customers are welcome to go to their website and search for specific items they are interested in using their search feature, or customers can go through their inventory by category, including Airsoft Guns, Remote Control Helicopters, Remote Control Drones, Remote Control Vehicles, Toys, and Deals.
Customers are able to then filter their results by brand, type, and price to better find the specific item they want.
Cost/Price Plans
With such a wide range of products to choose from, there is really no way to quote a single price range or a static price range. It will change depending on the types of products you are looking for, as well as whether or not a sale or promotion is taking place at the time you are shopping.
However, this website does provide a Best Price Policy, which states that they will meet or beat any verified advertised price of in-stock items (meaning they are in-stock at both HobbyTron.com and the competing website) in order to make sure they are the retailer that gives you the lowest price at the highest quality.
Refund Policy
Because this company does sell such a wide variety of items, some products will have special or limited Refund or Return Policies. However, they do also offer a general Refund Policy that customers can follow.
Unopened items can be returned within the first 30 days of purchase as long as they are new, unopened, and unused, though there will be a 20% restocking fee charged on any item returned for a refund instead of an exchange.
Items which have been opened and found to be defective can be returned in order to be repaired, replaced, or returned for an in-store credit to be used at a future date.
All returns of any kind must be submitted in advance to their Customer Service team by using their RMA form, which can be found on their website, but customers should know upfront that they cannot return any Magic items, Transmitter Kits, Robot Kits, Airsoft BBs or Nitro Fuel.
Customer Service Contact Info
Customers who wish to contact Customer Service with questions, concerns, or complaints can do so by phone at 818-675-9000, through their website's Live Chat feature when available, or by submitting them directly to their website through their Contact Us link.
Reputation
This company does have some fairly serious and common complaints that should be considered by new or potential customers.
What seems like the most troublesome and common complaint is the issue with their Return and Refund Policies. Since any item which has been opened and taken out of the box becomes automatically ineligible for refund, many customers who have purchased defective and damaged items have been very unhappy with what they feel is a lack of Customer Service.
The other issue is with their RMA form, which customers are supposed to fill out and submit to their website before returning any item. The Customer Service team is then supposed to contact customers by email and explain the appropriate return instructions.
But many customers say that they never received any instructions, and were unable to get in contact with Customer Service at all before the 30 day window was past, and then the company refused to help them at all.
Competitors and Alternatives?
Since this company sells a very specific type of product, if you aren't finding what you need at this website or are hoping to look someplace else, it will be important to consider what kind of products and goods you are looking for and then searching for another retailer that specializes in that area.
If you have any experience with HobbyTron or their products, please leave your reviews below.
HobbyTron Customer Reviews

Judith G
Just buy it on Amazon! At least you will be able to return it. Of course you will want to open the product and install batteries before Christmas, and of course test to see if all is in order before presenting these toys to your kids at Christmas. Not one of the 3 flying things I ordered worked as described. One looked like it had previously been opened and didn't even make it off the ground! The stuff they are peddling is pure crap! Not even worth whatever it would cost to ship it back. Not that you'd get a refund anyway. Don't waste your money.

Wendy B
Horrible company to buy from!
I bought 5 flying Spiderman helicopters for my grandkids. After I got them, I decided they would be too hard for my grandkids to fly them. I looked up the return policy, and it said to e-mail them. I never got a response from them.
So I called them. There was a message saying they weren't taking phone calls...to e-mail them. I ended up giving the Spiderman helicopters to my husband and son-in-laws for Christmas. They are garbage! You can't steer them, and it's hard to even get them flying. Don't buy from this company!!!

Joanne
Stay away from them. I purchased a toy the first of May from a video the company posted and the toy was so tiny, nothing like the video showed. I emailed them complaining that it was false advertising and I was promised a full refund on June 24th.
I have never received the refund all I received are excuses and promises. I notified my credit card company and forwarded my correspondence to them and my credit card company said they are charging the company back and crediting my account the amount that is due to me.