Hired.com Reviews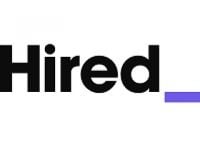 Hired.com is an updated version of a company that was originally called DeveloperAuction, and which states that their goal is make technology companies, and eventually all companies, compete to hire you.
How Does Hired.com Work?
Both companies must apply to use this website as a hiring tool, filling out a simple form that describes what they are looking and a general understanding of what they are willing to offer job candidates.
Users that are looking for jobs can sign up and create a profile through LinkedIn or by creating a new, unique profile. Companies will then bid on candidates, who get to compare company's offers before deciding which interviews to accept. If hired, companies must honor their highest offer.
Currently this company only works with Engineers, Data Scientists, Designers and Product Managers but is hoping to expand into other markets soon.
Cost/Price Plans
This website and service is completely free for job candidates to use. Companies that use this website for their hiring process will pay them a fee once they have successfully found and hired a candidate.
Refund Policy
Since their website is free for users, they do not publish nor offer a general Refund Policy.
Customer Service Contact Info
Customers who would like to contact their Customer Service team with questions, concerns, or complaints is to do so by phone at 415-813-4987, by traditional mail at 42 Decatur St, San Francisco, CA 94103, or by submitting them directly to their website through the Contact Us link.
Reputation
This company seems to have a very positive reputation from independent reviewers that like the change they are bringing to the recruitment industry for technology and eventually other markets.
Competitors and Alternatives?
This service is fairly unique in what it offers to their users, because it is not a traditional job finder or recruitment service.
If you have any experience with Hired.com or their services, please leave your reviews below.
You may also be interested in
Hired.com Customer Reviews

Ben W
Will sell your contact info to spammers
Hired.com sold my email address to spammers. When I was recruited through them to work at Amazon in 2018 I provided them with a single-use email address which began receiving junk email for designer handbags and such this month. I have not received any data breach disclosures from them, so I have to assume the sold my contact information.

Chogo
Hired generally sucks for people that needs a service like this.
It's only good if you are currently a mid-level or senior level engineer. If you are trying to change professions, if you have been out of work for awhile forget about it. I even wasted my time doing 5 of their assessments and scored 97%-100% and still nothing. They even confirmed it in an email. They only care about the people that already can easily get an interview

Mehmet G
Be very careful using them...
They have shown my profile to my current employer as their blocking functionality is not functional beyond exact string matches. Not acceptable... Users beware and do check who has seen your profile, it'll explain odd things happening at work...

DC H
After you spend around 30-45 minutes uploading your resume, add samples of your work/portfolio and detailed information, they will have a "Curration" Dept. to determine if your skillset is "Hot" or "Not" at the moment. And they also want you to invite your friends.
I found the company was deceptive and more interested in leads They should have been clear & upfront at the beginning about exactly who they are looking for.

Andrew
Recently, I had the opportunity to test out the Hired service. Within about a week, I had several offers in front of me, all from very interesting companies (mostly start ups).
In my situation, I think I was able to use the platform successfully because I did an excellent job of communicating my intentions to the companies inspecting my profile. In this service, profile is everything so its smart to make sure you check out your profile multiple times beforehand.

Rob
They deny your resume if you don't match what they have. Then you are supposed to go back and keep asking for approval. I know there are matches because I can see them on Craigslist. I ended up deleting my account.