Hempvana Pain Cream Reviews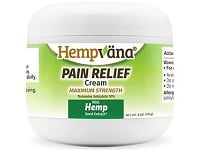 Hempvana is a topical cream infused with oil from the seeds of the cannabis sativa seeds, which the company states can delivers fast-acting pain relief.
The cream does not include actual THC, the psychoactive compound for which recreational cannabis is known, nor does it contain CBD, another chemical in cannabis that has medicinal purposes.
How Does it Work?
The cream's ingredients list is comprised solely of cannabis sativa seeds, believed to help block nerve transmissions that result in your stiffness, pain, and swelling.
You can use the cream anywhere on the body and it will absorb quickly, producing minimal side effects and creating no unpleasant chemical-like odors.
Cannabis-related products have received a lot of media attention in the last few years, and to be fair, Hempvana is an as-seen-on-tv product, too.
But why? CBD in particular has proven to be a promising option for lasting pain relief, particularly when it comes to conditions like multiple sclerosis and arthritis.
While there's not a lot of scientific evidence pointing to the overall effectiveness of hemp oil, there's good reason to believe that it would work in a similar fashion - which is what Hempvana claims.
There are no major side effects related to the use of this cream, as you might find with similar over-the-counter treatments - like ibuprofen or acetaminophen.
In addition to the main ingredient, cannabis sativa seed oil, Hempvana also contains trolamine salicylate, which is believed to assist in short-term pain reduction as well.
Does Hempvana Pain Cream Work?
There is quite a bit of clinical research to suggest that trolamine salicylate, one of the main active ingredients in Hempvana Pain Cream, can help relieve your pain.
Although it's not a prescription-grade pain cream, coming in at a concentration of only 10%, it can provide temporary, quick relief.
Customer reviews/complaints/feedback on Amazon and other retail websites claim that the cream is not greasy and unscented, allowing it to go on easy without feeling too heavy.
It produces no hallucinogenic or euphoric effects - you won't get high, as this product does not contain THC or CBD. While it might not work for everyone, some customers claim that this cream was the "silver bullet" needed to get rid of their pain.
Customer Service
Hempvana is manufactured by Bulbhead, an online retailer that sells a variety of "as seen on TV" products.
Owned by Telebrands corporation, the business has been around since 1983 and has a positive rating with the Better Business Bureau.
You can contact Customer Service by calling 1-800-715-0695.
You can also contact customer support at hempvanapain.com/Contact-Us or visit the company's social media pages on Facebook, Instagram, Twitter, YouTube, or Pinterest.
Hempvana offers a 30-day money back guarantee.
However, items that have been opened cannot be returned, so it's important to know that if you try Hempvana and simply don't like it, you won't be able to get your money back.
You will also be required to pay any return shipping fees if you decide to initiate a return for any reason.
Competitors and Alternatives


Mind Body Matrix - An all-natural, opiate-free cream that combines herbs, energetic frequencies, and essential oils to realign the body and mind.

It targets the source of physical pain and is registered with the FDA. This cream also has excellent reviews and you can get a free sample from the manufacturer just by paying shipping and handling.
Aspercreme - A very popular over-the-counter pain relief cream that uses maximum strength lidocaine to target pain receptors.
It is not all-natural, but it is significantly more affordable than either product we've mentioned. Plus, it's available readily in stores.
Hemp Freeze Cream - manufactured by BluMix, this cream contains hemp oil and menthol and claims to be three times more effective at calming your pain than other treatments.
It comes at a steep price tag though - just one jar will cost nearly $28.
The Bottom Line
Although Hempvana does not contain any CBD or THC, this product could provide some pain relief when you apply it directly to the skin.
The active ingredient mentioned in the as-seen-on-tv commercials, trolamine salicylate, is additionally beneficial when it comes to pain relief.
If you have any experience with Hempvana Pain Cream, please leave your reviews below.
You may also be interested in
Hempvana Pain Cream Customer Reviews

Jenny
I purchased the hempvana maximum strength pain relieve original cream..It doesn't do a thing to relieve my foot pain..would not waste my money again.

Monica T
First, the cream is a joke!!!!! Next, I will do everything I can to get this sick commercial banned from TV. The big bully looking guy is being very influential with his slaughter guns!!!!!!!
Something we do not need to see these days!!!!!!!! And what do the slaughter guns have to do with fake pain relief cream????

Robert R
I used a whole jar on my hand that has a lot of Arthritis is did nothing. A whole Jar. Back to looking for something that works

Peter W
This product is not very good and provides little relief. I went back to my old Muscle Rub cream which works a lot better and is cheaper.

K C
Save Your Money! Buy Generic Trolamine salicylate as in Aspercream
Save your money!! Trolamine salicylate, the active ingredient in Aspercreme, is another salicylate used in topical pain-relief medications. Old product in an expense new package. Ad Hype.

Del S
Hempvana the greatest thing!
I'm an old hippie, your company is just using "Hemp" to sell fancy Ben Gay! You people are hurting the effort to legalize real products , I.E. Pot, for your own selfish needs! Shame on you all!