HeatWell Heater Reviews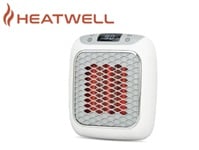 Reviewopedia is supported by our readers. This page contains links through which we may earn a small commission for purchases.
The HeatWell Heater is a simple plug-in ceramic convection device which, the manufacturer's claim, can quickly and efficiently heat up a mid-sized room.
With the costs of energy rising, many people turn to small portable heaters as a means to isolate their energy usage to one room. There are a variety of devices on the market to help with this strategy including cadet heaters, baseboard heaters, and a number of different space heaters.
Below we take a closer look at the HeatWell unit to see how it works, if it lives up to the company's claims, and analyze real customer reviews.
How Does the HeatWell Heater Work?
Convection space heaters work by generating heat and adding it directly to the air, this warm air is usually spread around the room with the aid of a fan, as is the case with the HeatWell.
More specifically in a ceramic heater electricity runs through metal coils heating up the ceramic plates to which they're attached to. In turn these ceramic plates heat up the air around them which the fan then blows into the room.
The benefits of these types of Ceramic heaters are:
Small in size
Lightweight
Heat up quickly
Slow to cool providing residual heat after being turned off
Safe to the touch housing
Can come with their own thermostats
The advertising for the HeatWell states that it can heat up to 500sqft in 60 seconds. All you have to do is plug it in and set your desired temperature.
Some of the unit's other features include:
Antimicrobial filter
Timer
Safety turn off switch
Quiet fan
Auto-Shutoff Safeguard
ETL listed
The HeatWell also uses 800 watts of power and is rated at 120V. There are also some inconsistencies with its capabilities, where the ads say it can heat a 500sqft room but the FAQ for the product lists the heat coverage at 250sqft.
Cost and Price Plans
The HeatWell sells for $59.99. The company encourages you to buy more than one unit by providing extra discounts for more units ordered.
Customer Service
If you have any questions about this product you can contact a support member by phone at 877-232-5950 or via email at [email protected]
The parent company for the HeatWell heater is Ontel Products Corporation located at:
21 Law Drive,
Fairfield, NJ 07004
Their website states that the company offers a 60 day money back guarantee for the HeatWell. Returned items must be in unused condition and returned in the original packaging. Customers will be responsible for shipping of returned items.
Make sure to contact support prior to sending back items to ensure they are tracked and sent back to the correct facility.
Online Customer Reviews/Complaints
At this time there is not much legitimate feedback for the HeatWell. Google searches for customer reviews come up with hundreds of sites claiming to have reviewed the product but really are just covert advertisements for it.
These sites will earn a commission for any sale of the HeatWell that is made through their links. Those reviews should not be viewed as unbiased endorsements of this device.
You can find reviews for the parent company OnTel, as they are listed with the BBB. On that site they have a B rating, are not accredited, and have a customer score of 1.11/5 from 141 customer reviews.
There the majority of customers complain about poor product quality and difficulties in obtaining refunds. To their credit OnTel representatives reply to reviews and appear to facilitate refunds for those who have complained.
You can also find online reviews for OnTel's other products which are often found on Amazon. They generally get mixed reviews.
Of note, is that in their product catalog is a device called the Handy Heater. This space heater appears to be very similar to the HeatWell in design and specifications. That heater scores a 4 out of 5 from 1,880 reviews on Amazon.
Competitors and Alternatives
It's always a safe bet to stick with established brands that have been manufacturing these types of products for years.
Some of the leading options for ceramic heaters include Lasko and Vornado, both of which make more powerful and long lasting products.
These options are also available from major retailers with proven customer satisfaction records.
The Vornado AVH10 Vortex Heater is one popular option.
This efficient but powerful heater is a New York Times top pick and an Amazon's choice selection. It has the latest safety & comfort features and is reasonably priced as well.
Is the HeatWell Heater Worth It?
In general OnTel products fall into the "As Seen On Tv" category of devices. They are usually competitively priced and offered as affordable alternatives to big name products.
There are a lot of scams surrounding personal electronics, with many companies simply ordering wholesale products from overseas and rebranding them for use in one time media campaigns.
Unlike those shady marketers, OnTel lists their address, has a phone number, provides at least some level of customer service, and has been in business for over twenty years.
One thing that concerns us is the wording of the return policy. In their terms and conditions they state that " Product must be in brand new condition, unused/unworn and in its original packaging."
So it's unclear how you're supposed to try out the HeatWell and decide if it's good enough to keep.
Ultimately this may be a good space heater but these days there are many better options available with better customer service.
For example, for just $4 more you can get the Dreo 1500w space heater that is an "Amazon's Choice" selection, has an impressive 4.5/5 rating from 5,000+ reviews, and comes with a clear return policy if you're unsatisfied.
If you have any experience with the HeatWell Heater, please leave your reviews below.
You may also be interested in
HeatWell Heater Customer Reviews