NewsMax Health Radar Report
NewsMax Health Radar Report Reviews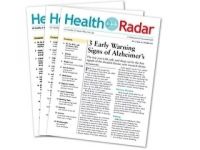 The Health Radar newsletter, found online at NewsMax.com, is a health newsletter from Newsmax Health that promises to help people get a real understanding of the health tips they need to live their best lives.
How Does It Work?
According to their website, the creators of NMX Health Radar say that it can be incredibly difficult to keep up on all the information you need to really stay healthy.
It seems as though information about what is good or bad for you can change on a nearly daily basis, and hardly anyone has the time to investigate every single health claim or advice they come across.
The goal of Health Radar is to do all this work for you so you don't have to, but you still reap the benefits of knowing which health information is best for you and your needs.
Health Radar will keep track of all "the latest studies, updates, and medical advances in conventional and alternative medicine" and provide this information in easy-to-read and easy-to-apply strategies.
Subscribers of this newsletter will be able to get information on serious health conditions like cancer, heart disease, Parkinson's and Alzheimer's, as well as more common daily conditions like arthritis, depression, and allergies.
Customers will also be able to submit questions to guest medical experts, and get access to recipes for meals that will help you meet your health goals while still being delicious.
Cost & Price Plans
Customers who are interested in subscribing to this newsletter will have two options: digital or print. Regardless of which option you choose, a twelve month subscription to this newsletter will cost $39.95.
Once your subscription is ready to expire, you will be notified that your subscription is about to automatically re-new. If you do not want to continue your subscription, you will have to cancel your enrollment at that time.
Refund Policy
Because the Newsmax organization sells such a wide variety of newsletters, reports, and subscriptions, their Terms and Conditions states that customers will need to refer to the sales page of the specific product they are hoping to purchase to see what kind of Cancellation or Refund Policy is in place.
For the Health Radar, their sales page states that any customers who cancel within the first thirty days of their subscription will receive a full refund, and anyone who cancels within the first six months will be eligible for a full refund of the unused portion of your subscription.
So a customer who cancelled three months after enrolling would be eligible to receive a refund of around $29.95.
Customer Service Contact Info
Customers who wish to speak with Customer Service about their questions, concerns, or complaints can do so by phone at 800-485-4350 or by email at [email protected]
Reputation
At this time, the Health Radar newsletter does not really appear to have any reviews for their specific report, but there are many reviews for their parent company, Newsmax Health, most of which are poor and negative reviews, mostly because of the way that Newsmax handles their billing practices.
Newsmax sells subscriptions to a huge number of newsletters, and often when you subscribe to one newsletter, you will automatically be enrolled in trial subscriptions of other newsletters they offer.
Many customers don't realize that they are even receiving these newsletters, and trials turn into subscriptions which cost more than $100 each.
In addition, many people have detailed the serious difficulty they have had with successfully cancelling Newsmax subscriptions, saying that they were getting recurring monthly charges over and over again before they were able to cancel all the reports that the company had them signed up for.
While some reviewers did point out that they were able to get refunds, they were frustrated that it was such a hassle and something they had to be so on top of.
Unethical billing practices are obviously not a good sign when dealing with any company, and having the parent company of the Health Radar associated with such bad practices is not reassuring for their customers and prospective customers.
Competitors and Alternatives?
As mentioned above, Newsmax Health offers a large variety of newsletters and reports, including the Simple Heart Test and many others.
If you have any experience with the Health Radar Newsletter, please leave your reviews below.
You may also be interested in
NewsMax Health Radar Report Customer Reviews