Harvest Hosts Reviews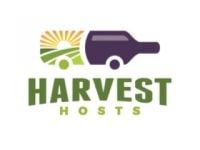 Harvest Hosts helps to connect RVers with their network of thousands of golf courses, attractions, farms, breweries, wineries, and more to help support local businesses.
Members will have unlimited access to any of the locations. Harvest Hosts only asks that the members consider buying products from the Host whenever they stay at the location. Host locations are available all around the country. There is an app available on the App Store, as well as the Google Play store. This makes it possible for members to find the information they need while they are on the go. You can also visit the site on your desktop.
Rules of Harvest Host
There are certain requirements for joining the program. The member must have a self-contained RV that has a toilet, water tank, and inside cooking facilities. They do not allow tents of any kind, and traditional pop-up campers are prohibited. Most of the Harvest Hosts can accept vehicles of any length. The site allows you to filter the locations by the sizes that are allowed.
Do Harvest Hosts have hookups? Members will find that most of the Hosts do not have hookups. This is because they are typically farms, wineries, museums, breweries, etc. They have space available but no hookups. There are some Hosts, however, that will have hookups for water or electricity. This information can be found on the Host information page. Members should keep in mind that any hookups will often require an added charge.&nbsp
&nbsp
It is possible to use a generator with the RV in many cases. However, members should always ask the Host first. The host can often provide a space where the generator's sound will not disturb anyone.
Members will need to call the Host's phone number to let the Host know that they will be arriving. After setting up the visit, the member should call to confirm on the day they will arrive. Since the Hosts are not traditional campgrounds, they will not have a reservation system. Members will not be able to reserve a location ahead of time.
The maximum stay at a Host is 24 hours. The Host can offer to allow the member to stay for another night or two, but the member should never be the one to ask. Most of the Hosts will allow dogs to be on a leash at your vehicle. However, Hosts can vary. Check their information page to determine their rules and requirements. Do not allow your pet to run free.
When Are the Hosts Open?
Members will find that most of the Hosts will be open all year long. However, there may be seasonal operations at some of the locations. Those that are in locations where winter weather can cause problems may be closed during certain parts of the year, as well. The Hosts all have an information page that will provide their hours of operation for the members to peruse. The page should also have any information on COVID regulations at the properties.
Become a Host
Becoming a Harvest Host is free, and it can be a great marketing option that will not cost the business anything. The hosts can share products with new customers in exchange for an overnight stay. The members of Harvest Host spend millions of dollars while visiting these locations each year.
Do Harvest Hosts get paid? This is a common question for those who are considering becoming a host. The hosts are sharing properties and introducing members to their products and way of life. The hosts can make money when members who visit the site purchase one of the products or services.
What is the Cost of Becoming a Member of Harvest Host?
Currently, there are two options for becoming a member of Harvest Host. Each of these options has different price points and features.
Harvest Hosts Classic will provide members with access to 1813 locations. It comes with unlimited overnight stays and no camping fees. Members can choose from 600 wineries, 268 breweries and distilleries, 567 farms, and 378 museums and attractions. The price for the classic membership is $99 per year, renewed annually.
The second option is Harvest Hosts + Golf, which could be ideal for those who like to go golfing. It includes everything that the classic package offers. However, it also offers 400 golf courses and country clubs, as well as access to spa facilities and restaurants. This membership costs $139 per year and is renewed annually. There is not a lifetime membership currently.
There is no trial for the membership, but there is a 3-month money-back guarantee available for those who become members. You can receive a refund if you are not happy with the service.
Online Customer Reviews/Complaints
Most customers are thrilled with the experience that Harvest Hosts can offer. Even when members pay for products or services at the Host's property, it is far cheaper than the cost of getting a campground.
Harvest Hosts vs. Boondockers Welcome
When comparing Harvest Hosts vs. Boondockers Welcome, though, you will notice that the membership price is less. However, they do charge their hosts, which is something that Harvest Hosts does not do. Also, Boondockers Welcome offers more overall hosts worldwide.
Customer Service
There are a couple of ways to contact Harvest Hosts. There is a form on their site that members can fill out and submit. There is also the option of contacting the company by directly emailing them at [email protected]
Is Becoming a Member of Harvest Hosts Worth It?
Given the sheer number of options that are available in terms of the Hosts, it could be a good option for those who love to go RVing, but who do not like the expense of campgrounds. The money-back guarantee also helps to make trying Harvest Hosts worth it.
0 'Harvest Hosts ' Reviews