Happy Socks Reviews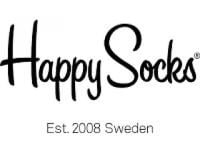 You may also be interested in
Happy Socks Customer Reviews

Foivi M
Unacceptable behavior and no delivery
Their service is unacceptable. I have ordered my parcel since the 26th of November and they didn't send me any confirmation email nor a shipping confirmation telling me the system was down. Now 3 weeks are gone by and they are still telling me to wait and look in my spam for the confirmation as if I am stupid and asking them about it before I even checked.
And I am saying this because I repeatedly asked them to send me my confirmation and they repeatedly answer me the same. I don't know what is going on with them but either they are a fraud or I will NEVER shop from them again. Unacceptable.

CHRISTOPHER
Terrible customer Service. Avoid
Avoid avoid avoid. Their products are not displayed accurately on the website so they can be a very different colour to what you expected. Their returns policy is awful and done in such away to make very difficult to return.
Complaints are done through an AI bot who has set replies. Finally escalated it to a real person via email who told me the website colour was wrong but that is just my bad luck.
Refuse to accept responsibility and refuse to pay returns for their mistakes.
There are better socks out there made by companies who actually care about their customers and not just their profit.

Jake J
Beautiful, good-quality socks
As an extrovert, I really like the fact that I can have many fun-looking socks to represent my mood that day.
They're by no means cheap, but I really love them, so.. : - D

Mon
Ordered 4 pair last November 25th online and still have not received any of them. There's no answer when you try to contact them.
Not a serious company so beware, at least in their online shop.

Ed F
WARNING! When you do business with Happy Socks from the United States, your credit card company will charge you an outrageous "foreign transaction fee."
Even though you are being charged in US dollars, you're going to find out, long after the purchase, about this exorbitant fee.
Happy Socks gives you NO WARNING ABOUT THIS FEE when you place your order. It just shows up on your credit card statement.

Midge
I got three pairs of Happy Socks as a gift, and I just love them! The patterns and colors are fun, but best of all the socks are good quality, the stretchy fabric won't sag, and they're very comfortable to wear. Highly recommended.