Habitat Botanicals Reviews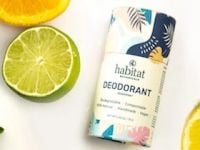 Habitat Botanicals offers a range of products, including deodorant, that are cruelty-free and vegan. The products from the company can replace many of the products you currently use, which may contain harmful ingredients.
The founders of Habitat Botanicals state that they believe healthy hair and skin should never come at the expense of the planet and wildlife habitats. The company is part of the Pela family, who have a goal of stopping one billion pounds of plastic from entering the waste system.
Products and Ingredients
The company offers a wide range of products with natural ingredients. Some of the most popular include the aloe shampoo bar, deodorant, conditioner bar, lip balm, loofahs, hand sanitizer, and body wash bars.
The deodorant has a wide range of scents available. You can choose from coconut vanilla, lavender, fresh citrus, cucumber mint, eucalyptus mint, grapefruit sandalwood, and lemon thyme. It's free from aluminum, parabens, sulfates, preservatives, gluten, phthalates, palm oil, triclosan, formaldehyde, and formaldehyde-releasing agents.&nbsp
&nbsp
For the body wash bar, there are options for unscented, fresh citrus, eucalyptus mint, and tea tree scents. You will find quite a range of options when it comes to the types of products that are offered through Habitat Botanicals.
Cost and Price Plans
The prices for the products are somewhat higher than what you might pay for products from other companies that aren't using natural ingredients. However, since these are natural and do not have side effects, many feel they are well worth the price. Although the company doesn't offer bedding, they are currently offering biodegradable face masks.
The Habitat Botanicals deodorant, for example, is $12 each, but you can get a discount when you buy five or more. The shampoo and conditioner bars are $14 each, the lip balm is $8, the loofahs are $12, and body wash bars are $14. They also have packs and combination kits available.
In addition to buying the products individually, you have the option of membership. You can opt for a subscription that can provide you with some nice discounts on the products that you want. They have 20% off subscriptions and 20% off all future renewals.
It can provide early access to new releases, and you can often test new items. They will send you products through the mail, and you can skip months or swap for different items if you aren't happy with what you get. There is no trial, but you can cancel the subscription at any time.
How to Use Habitat Botanicals Deodorant and Other Products
You will find that using the products is just as easy as using other similar products that you've been using for years. Of course, you will want to follow any directions that may be included with the product to ensure you are using it correctly.
Where To Buy?
You can find these products directly through the company's website. They have an easy-to-peruse shop, where you can add items to your car and check out quickly and easily. You also have the option of using various retail sites or Amazon, which often have these products in stock.
Customer Support
Customer support from Habitat Botanicals is easy to access. You will have two options available and accessible through the site. You can opt for the live chat feature, which can be accessed through a button on the lower right corner of the website. This can put you into contact with the company quickly. You also have the option of emailing [email protected] They do not have a phone number listed on their site.
Return Policy
Habitat Botanicals has a generous return policy. The 100% Happiness Guarantee makes it fast and easy for you to make a return or an exchange. You will have 90 days from the date of purchase to make your return or exchange.
When you are contacting the customer service department, you will want to make sure that you have your order number and your postal code ready. There is a link on the site with the steps you need to take to make a return or an exchange. Once it's processed, the company will send you an email letting you know that the refund, gift card, or new product is on the way.
Refunds are processed immediately but could take one to three days to show up. In some cases, it could take up to 10 days.
If you bought the products through a retail store or Amazon, you could return or exchange them directly with them. You also have the option of contacting [email protected] Keep in mind that you won't be able to use the Habitat Botanicals return portal for items bought through a retail store or Amazon.
If you have any experience with Habitat Botanicals or thier products, please leave your reviews below.
You may also be interested in
Habitat Botanicals Customer Reviews