Gusto Payroll Reviews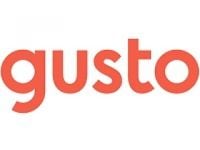 Gusto Payroll, found online at Gusto.com, is a type of software which helps businesses handle many of their human resources needs, with the promise to provide their clients they with payroll and benefits services
How Does Gusto Payroll Work?
According to their website, the goal of Gusto Payroll is to provide small and medium scale employers with a simple but effective way of managing all their payroll and benefit needs with the use of a single product and without any unnecessary paperwork.
Gusto does not provide their clients with time clocks for their employees, but they provide seamless integrations with time and attendance partners so that employers will never need to manually enter payroll hours.
They also integrate with accounting software like Xero, Freshbooks, Quickbooks, and more to make all your services even simpler and more efficient.
In addition, Gusto provides all necessary services for worker's comp and health benefits, including helping your business pick a health plan that perfectly suits your team, and then they will assist all employees with signing up and consequently automate all deductions.
Cost & Price Plans
Gusto Payroll emphasizes their simple and transparent pricing system, saying that they only charge $29 per month plus $6 per employee.
This includes all features of their service, including direct deposit, unlimited payroll runs, year-end W-2s and 1099's, new hire reporting for both employees and contractors and more.
The website says that there is no additional cost for employees in multiple states, and you are only charged for the number of employees that you have active at that time, which means that you'll never be charged for contractors that aren't working that month.
The website says there are never any hidden or extra charges, and that all customers are provided the first two months of service for free to try their services for themselves. Once your initial two months are up, you will automatically begin being charged.
Refund Policy
Gusto Payroll does not ask or require their clients to sign up for long term contracts, instead allowing them to pay for their service on a month-to-month basis as they use it and providing them with the ability to cancel their service at any time it no longer meets their needs.
Because of this, it does not appear as though they provide their customers with any sort of a standardized Refund Policy, especially because they also provide customers with two months' worth of service for free to start their membership.
Customer Service Contact Info
Customers who would like to speak to their Customer Service team about their questions, concerns, or complaints can do so by phone at 800-936-0383.
Reputation
At this time, it appears that Gusto Payroll and their previous incarnation, ZenPayroll, both have excellent reputations within the industry and are considered a high quality product that companies can use for their payroll and benefits needs.
The one complaint that appeared to be mentioned more than once had to do with issuing checks. While this company seems to meet all needs for direct deposit employees, some companies did mention that this service does not provide enough customization options for businesses dealing with employees that will need checks printed and delivered.
It's important to note, however, that companies that made this observation in their reviews still thought highly of this service and would recommend it to others.
Competitors and Alternatives?
Certainly there are many other payroll processors available for companies who feel that their needs won't be met by Gusto Payroll, including ADP, Newtek Business Services, and others.
If you have any experience with Gusto Payroll or their services, please leave your reviews below.
You may also be interested in
Gusto Payroll Customer Reviews

Man C
I signed up with Gusto about a year ago. The worst company I have ever dealt with. Many promises , none delivered on. Speak to customer service? Someone in India who doesn't understand. Speak to a manager? Get on a call list and they might return your call in a week if you are lucky. Stay far away from this group!

Jim G
Customer support provides ZERO customer support
I have been trying to get Gusto configured to run payroll since early Dec 2020, I'm writing this review the last week of Jan 2021. I am a single person LLC and have had an abysmal experience with Gusto - principally working with their customer support.
I have not yet been able to run payroll through Gusto. The first issue was confirmation of me as signatory for the account; the online confirmation failed multiple times. After a week I had not received a response to my e-mail submission regarding this and eventually got someone on the phone after waiting 20 minutes. They suggested I upload my DL and Social Security Card which I did. The issue did not get resolved.
A week later I submitted another email to support indicating I uploaded my requested IDs for signatory confirmation, A couple days later I got an e-mail stating the issue had been resolved. Logged on to Gusto to run Payroll and was prompted to e-sign another document, form 8655. Attempted to e-sign and an error msg came up indicating I needed to fix the error in the highlighted field below - there was one field, it was not highlighted, and it contained my name.
Multiple attempts with different permutations of my name and still no success. I spent at least an hour composing an e-mail to support that had 6 different screenshots with the error messages as well as a description of my experience to date with Gusto.
Later that afternoon after not getting a response from Gusto I was able to get a support rep on the phone and spent 30 minutes with him. He was able to view my e-mail with the screen shots and description of the problem. He was not able to resolve the problem and in the end the said the best way to resolve this was to download form 8655, sign it, scan it, and upload to Gusto which I did.
A week later the issue has not been resolved. I sent another e-mail to support regarding the form 8655 issue, got a response 3 days later stating that the signatory issue is resolved and I need to logon and sign form 8655. THEY DID NOT EVEN READ MY EMAIL as the outstanding document to sign was 8655 and they already had a signed 8655 that had been uploaded per the support rep's request - the current issue preventing me from running payroll.
In addition to all of the above, their support line is only open from 11AM to 6PM Eastern Time. I live on the east coast and these support hours clearly don't support the needs of their customers living in Eastern time zone.
My son uses Gusto for his company and is happy with them; however, he has not experienced any problems. Two different problems getting up and running with Gusto and they provide unacceptable, lazy, support. I still do not have a resolution to this form 8655 issue and need to wait 2 hours to call support as they are closed at 9AM, then wait in a queue to speak with someone, and attempt to get this issue resolved.
I've worked in the software industry providing on-site and remote support to customers for over 30 years and Gusto's support fails in every customer support category. No customer support reference/ticket number, no follow-up, unacceptably long response times for a company trying to run payroll, closing issue without confirmation from customer, phone support hours not aligning with customer business hours.

Karen Z
This is a scam organization!
Gusto is a scam organization that will ask you for power of attorney over your bank account and purposely miscalculates your payroll taxes in an effort to justify removing money from your bank account to make corrections. Do not give them power of attorney over your account as they then can steal your money from your account.
They make miscalculations on your FICA taxes and other areas so they have an excuse to clean out your account and charge you for trying to fix the figures to be accurate. These are not complicated formulas on which they purposely mess up. This company is also Zen payroll and they have a D- BBB rating. Please read all the negative reviews in the BBB!!! The government has even had many fraud complaints. Do not use this company. We are now using EZPayCheck with no problems.

Susan T
Excellent Payroll Service
Gusto takes care of all of my small business payroll needs. I like the online new employee onboarding, payroll tax deductions and reporting, and the price is affordable. My employees appreciate the efficient direct deposits and communications.

Sandra V
Payroll reports and earnings records are not easy to read. Took several days to respond about a recording problem and in the meantime filed our W-2's, so one of them required a correction. Almost every issue I have searched for an answer for turns up with zero articles. Account mappings won't save, new payroll item will not save, etc. I will likely be switching back to Intuit. What a huge pain in the rear!

DJ V
Scammers, plain and simple
I signed up with them for payroll, and I cancelled within 1 week because they were incompetent. Yet, they continue to withdraw money from my checking account for monthly fees!
I am filing formal charges with their bank and the police. It's only $90 so far, but it's the bald nature of their scam that's annoying. Look for reviews and you'll find many others who have been victimized this way.