Gundry MD Primal Plants Reviews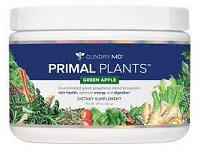 Gundry MD Primal Plants is a dietary supplement from GundryMD.com, which aims to help people improve their daily levels of energy, their digestive health, and the appearance of their skin.
How Does Primal Plants Work?
Dr. Steven Gundry, creator of GundryMd.com and Primal Plants, is a heart surgeon who created his line of supplements and products in order to bring people back to a state of great health and wellness, and all his supplements focus on what he calls "Holobiotics."
A simple explanation of Holobiotics is that they are the diet and lifestyle choices that people must make in order to bring their body's different systems of natural microbes back into balance.
The Primal Plants by Gundry MD is a "soy-free, sugar-free, artificial sweetener-free, and lectin-free" combination of some of nature's most powerful polyphenols.
The website says that polyphenols are natural energy boosters with antioxidant properties that play a huge role in keeping your body healthy.
In fact, Dr. Gundry says they are the most important nutrient most people are missing in their diet, because of the huge number of fruits and vegetables they would have to be eating every day to get them.
By mixing one scoop of Primal Plants powder into any beverage and drinking it, once each day, customers will experience long lasting energy, improved digestive health, and younger, healthier looking skin.
Ingredients and Side Effects
The Gundry MD website (not the Inner Skin Fix promotional website) does provide their customers with a full list of the included ingredients, but with more than 20 total ingredients throughout five different formulaic areas their full list of ingredients can't be printed here.
However, they do say that these ingredients are 100% natural and safe, and have all been tested for safety, quality, and purity at an independent, 3rd-party facility.
These tests showed no reported side effects at all, however Dr. Gundry always encourages people to speak to their doctors before they begin any new supplement program, especially if you are already taking any existing medication.
Cost & Price Plans
Currently a single bottle of Primal Plants is priced at $99, but customers have the option to purchase this product in larger volumes in order to get a discount off the per bottle price.
A three bottle order is now priced at $284.97, and a six bottle order is priced at $539.94, both with free shipping at this time.
Refund Policy
The website sales page claims that they offer a 90 Day Refund Policy, where customers can expect a refund of the purchase price in the first 90 days with "no questions, no hassle."
In the past, when Reviewopedia has reviewed Gundry MD products, the Refund Policy was one of the biggest issues, as the website's Terms & Conditions provided a different policy, saying that refunds were limited to just 30 days with a valid proof of purchase, and that any products that were attempted to be returned after 45 days would not be given a refund or exchange.
Thankfully it appears that they have corrected this discrepancy, and now the Terms & Conditions also clearly states that customers will be given 90 days from the date of purchase in which to contact their Customer Service team and arrange a return or exchange.
They still don't provide a full detailed policy, however, so customers will still want to contact Customer Service as soon as they believe they are considering a return.
Customer Service Contact Info
Customers who would like to contact Customer Service with any questions, concerns, or complaints can do so by phone at 800-852-0477, by email at [email protected], or by submitting them directly to their website through the Gundry MD website's Contact link.
Reputation
This product doesn't appear to have many reviews at this time, and those that are available appear to be really mixed in tone, with some customers truly loving this product and other customers clearly stating that they felt it didn't work for them at all, or worse, actually resulted in negative side effects.
However, this company does seem to have solved its issues with its Return Policies, so customers who are interested in trying this product for themselves should be comfortable using this product for the recommended thirty days, as long as they experience no negative side effects.
Competitors and Alternatives?
Gundry MD has a whole line of different supplements, all intended to boost your overall health and wellness, including PrebioThrive.
Customers who are looking for other supplements with high levels of polyphenols will want to speak to their local health food store about what options may be available.
If you have any experience with Gundry MD Primal Plants, please leave your reviews below.
You may also be interested in
Gundry MD Primal Plants Customer Reviews

Evelyn G
The small scoop serving is really beneficial for a post op patient that is unable to consume large volumes. The taste helps curve those sweet cravings.

Keith S
primal plants has certainly tamed my digestive problems, but any tips to help it dissolve better, use warmer water to mix, then chill, maybe?

Holly F
Primal plants is delicious!
Excellent taste and mixability.

Cheryl
Easy to add primal plants with our daily shake. Great product for my overall health!

Katherine
My husband and I have been drinking primal plants on and off for a couple months now. I feel like it helps with our energy levels and makes me feel like we're getting our daily nutrition without a ton of calories - or lectins! tasty flavor, although i'd love to see a variety of flavors in the future, and no unpleasant texture or aftertaste.