Gundry MD Energy Renew Reviews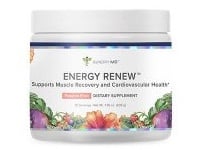 Gundry MD Energy Renew is a dietary supplement that's promised to give users more daily energy with a formula composed of all natural ingredients.
Gundry MD also hints that Energy Renew may make help users lose weight, improve skin quality, and increase focus, but those are listed as just the potential additional benefits of this elixir, not the main intended benefits.
Dr. Gundry is a pediatric heart surgeon, director of the International Heart and Lung Institute, Director of The Center for Restorative Medicine, and a best-selling author.
His company, Gundry MD, has been releasing a wide array of popular supplements and health products.
Below we take a look at the ingredient list for Energy Renew to give you a better idea of what it's capable of.
Product and Ingredients
Vitamin C - is found naturally in citrus fruits, potatoes, tomatoes, and leafy vegetables, just to name a few. Vitamin C is crucial for the maintenance of connective tissues, blood vessels, and muscles.
In addition, Vitamin C helps your body absorb the iron needed for the production of red blood cells and forming collagen.
Where Vitamin C comes into play specifically in energy is that it is necessary to metabolize carnitine. You may recognize carnitine from its use in a number of energy drinks – it's also included in this supplement.
Vitamin C deficiency has also been linked to a number of stress-related diseases. While the deficiency is not likely to be the source of the disease, it may yet have some relevance and impact on treating these diseases.
D-Ribose - is a kind of simple sugar – aka carbohydrate – that is produced by the body.
It's used as a supplement for conditions such as mental clarity, athletic performance, Chronic Fatigue Syndrome (CFS), and fibromyalgia, but there is not enough clinical data to support these claims.
What is known is that D-Ribose is an energy source that your body makes from food. You can get ribose directly from foods like mushrooms, beef, poultry, milk, eggs, and yogurt, but it wouldn't be enough to provide a therapeutic dose of D-Ribose.
N-Acetyl L-Carnitine - is an amino acid that your body produces naturally. It's been used for nerve pain, to increase energy levels, to improve mood, to improve memory in older adults with memory loss, and to lower blood sugar and cholesterol.
While research does suggest N-Acetyl L-Carnitine may improve tiredness and memory loss in older adults, there is not enough data to support the other claims.
Polyphenol Blend - Polyphenols are compounds naturally found in such foods as wine, tea, spices, dark chocolate, vegetables, and fruit.
They reportedly have both antioxidant and anti-inflammatory benefits, but despite abundant research the manner in which polyphenols affect your body is not widely understood.
Polyphenols do have some benefits to your body, but if you eat enough fruits and vegetables you may be getting enough of these compounds through your diet.
Beet Root - is naturally vitamin packed – it's a good source of B1, B2, B6, Vitamin A, and Vitamin C, as well as being full of fiber to support healthy bacteria in your gut.
Beet root does show promise in improving athletic performance in terms of aerobic activity and relieving muscle soreness after exercise.
More data is needed, though, to understand how beetroot benefits your body in this way and to provide a recommended dose of beetroot that is necessary to achieve this result.
Hibiscus Flower Extract - is the showy, tropical bloom you may have seen in gardens. It's been a popular addition to drinks and teas for several years.
Hibiscus flower is used as a treatment to lower high blood pressure and high cholesterol, and while hibiscus flower has shown some promise in this area, there isn't enough data to prove it would treat these issues.
The Polyphenol Blend also includes a number of berries, although the exact amount of each is unknown. These include, Acai, Acerola, Amla, Jaboticaba, Cranberry, Goji, Mangosteen, Maqui berry, Pomegranate, Strawberry, and Schisandra Berry.
Potential Side Effects
Vitamin C - may cause heartburn, nausea, diarrhea, upset stomach, and stomach cramps.
Talk to your physician before starting Vitamin C if you have kidney disease, a history of kidney stones, or hereditary iron overload disorder (also called hemochromatosis).
D-Ribose - Side effects of ribose may include diarrhea, stomach upset, nausea, and headache.
Don't take ribose if you are taking medication to lower your blood sugar as this may intensify the effect. Avoid ribose for at least two weeks before any planned surgical procedure.
N-Acetyl L-Carnitine - may cause vomiting, nausea, upset stomach, headache, restlessness, and dry mouth. It can also give a fishy odor to your breath, sweat, and urine.
Don't take N-Acetyl L-Carnitine if you have bipolar disorder as it may worsen symptoms. N-Acetyl L-Carnitine may worsen nerve damage in the hands and feet for those who have gone through a course of the chemotherapy drugs referred to as taxanes.
Don't take N-Acetyl L-Carnitine if you have an underactive thyroid or seizures. N-Acetyl L-Carnitine may interact with acenocoumarol, blood thinners, drugs that increase serotonin, and thyroid hormones.
Beet Root - can make your urine or stool red – though this isn't harmful.
Beet root may contribute to lower calcium levels and even kidney damage, although this has not been proven in clinical trials with humans. If you have kidney issues or lower calcium levels, check with your doctor before taking a beet root supplement.
Dosage and Use
One scoop of the powder is added to 8 ounces of water. You can drink it any time of the day. One jar has 30 servings.
There are no calories listed in the nutritional information, but it can't be determined if the powder has zero calories.
Cost and Price Plans
One jar costs $49.95. Three jars cost $134.85 with free shipping. Six jars cost $254.70 with free shipping. The company offers a subscription program that will save you 10% and give you free shipping on all orders.
The company also offers a 90-day, money-back guarantee.
Customer Service
You can contact customer service at 1-800-852-0477 or by emailing [email protected].
Customer service is available 7 days a week – Monday – Friday 6:00 AM to 5:00 PM PST and Saturday – Sunday 6:00 AM to 4:00 PM PST.
Online Customer Reviews & Complaints
The reviews on Amazon average 3.9 stars out of 5, based on 771 reviews. On the company website reviews average 4.84 stars out of 5, based on 145 reviews.
Gundry MD also maintains an A+ rating with the BBB, where they currently have a customer score of 4.32/5 stars from 3,076 customer reviews.
While you won't find any negative reviews of the product on their own website, if you do enough digging through 3rd party review sites you'll come across some complaints.
The most common complaints stated that the users experienced no noticeable difference in energy levels or weight loss after taking the supplement.
It's important to note that Energy Renew is not a stimulant based energy supplement like others on the market. So whatever effects it may have won't be immediately felt.
Where to Buy?
The product can be purchased from the company website.
Competitors and Alternatives
Country Farms Super Reds Energizing Polyphenol Superfood is a similar blend of polyphenols and vitamin, but without the added ribose and n-acetyl-carnitine.
It has 4.4 out of 5 stars on Amazon, taken from 3,956 ratings. It costs $17.10 per jar, with 20 servings per jar.
Does Energy Renew Really Work?
At fifty dollars a bottle, this is a pretty expensive supplement to try. While the ingredients seem promising, there isn't sufficient evidence to back all the claims this company makes.
While some of the ingredients may give you some energy, the ingredient list has been picked for the properties that each ingredient may have, rather than what has been found in laboratory testing.
With that said, Gundry MD does have a good money back guarantee so if you feel that you can benefit from this supplement a one bottle trial may be worth it.
If you have any experience with Energy Renew, please leave your reviews below.
You may also be interested in
Gundry MD Energy Renew Customer Reviews

Rick R
I take Gundry MD Energy Renew before a workout or before I go walking and do feel that energy surge, It works great, I am 67 years old.

Brown
I need Biosync to come out fast!!
Love it. Makes me feel really great, I missed getting Biosync when is it coming out again?

AK
Tasty, refreshing, and energizing. A great way to get a polyphenol blend. Makes it easy to start your day with water instead of coffee.

John D
My Wife and I start taking Energy Renew and it has really helped with digestion. I do feel like I have more energy. We are going to get a second order!

Mr. D
This product WORKS! I am 45 years old and work 10-11 hours a day and still have energy to run my three kiddos to soccer games/practices 8 days a week!! I am glad I found ENERGY RENEW!!! Easy to use, tastes great and it DEFINITELY WORKS!!!

Edgar G
The Best on Mitocondrial Support
I have used Energy Renew in my Lyme Disease Arsenal, and among Mitochondrial Support, very few things get close to this product.

Gina K
This product works very well and tastes great ! Perfect to mix with yogurt or in a smoothie.

DJ
Energy Renew renews my energy!
Great product. I have been taking Vital Reds for about 4 years and since trying this for the first time, I am switching to Energy Renew. I naturally haven't been drinking coffee since I've been taking Energy. I'm more focused and motivated to achieve what my daily life requires of me. Thank you Dr. Gundry!

Leanna B
It's a tasty afternoon beverage. I haven't noticed any special increase in energy. But I understand it has healthy ingredients, so I'm OK with it.

Karen H
I have to say I started to take energy renew because I was overall exhausted without being that physically challenged wasn't doing excersize or even walking the dog had no desire or any enthusiasm to bother and felt ground down
I now feel like I've got a bit of energy for sure and have started an excersize program and feel I want to walk the dog after my workout which I'm doing everyday now my energy levels definitely increased I feel awake all day and not struggling to get up out of bed in the morning overall I think it's down to this energy renew I am also taking another supplement too so i think together I have my bounce back and feel a bit more like looking forward and not being so overwhelmed by everything going on around me
Glad I came across this and gave it ago .

Sonya K
Energy Boost and Smooth BM
I look forward to this drink in the morning. I feel an instant energy boost. Not only that, it gets right to work on my circulation because right after I drink it, I have a smooth BM. Being someone who has had circulation issues, this drink is a Godsend.

Paul
I have to say that I am really impressed with Energy Renew. I have definitely benefited from my natural energy levels increasing. Such as waking up right away in the morning, having a far more productive day, then being able to ease into relaxation mode at night. No adrenal let down or exhaustion, no jitters at all, just a youthful exuberance. I highly recommend this product.