Golden Revive Plus Reviews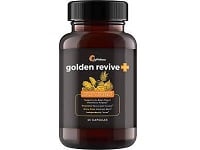 Golden Revive Plus is a physician-formulated combination of natural compounds that can is claimed to help users combat the side effects of chronic inflammation.
The company states this supplement contains safe, effective ingredients, such as turmeric, bromelain, boswellia, quercetin, magnesium, and piperine.
How Does it Work?
Founded by Dr. Joshua Levitt, this product is one of many marketed by his company, UpWellness.
UpWellness is all about nutrient-rich living, with products that are created with nutrition and herbal remedies in mind. Dr. Levitt uses these products in his practice, and offers them to consumers as a more natural way of treating common ailments.
If you suffer from chronic inflammation and are already taking the appropriate steps to combat inflammation in your body (such as getting plenty of sleep, managing stress, exercising, and eating a healthy diet), Golden Revive might be an option for you.
The product's six key ingredients are all-natural and work with your body - instead of against it - to cure what ails you.
Turmeric extract has been backed by scientists for years for its anti inflammatory benefits.
A perennial plant in the ginger family, the turmeric you see in your spice rack has been regarded as a "holy powder" for thousands of years, treating infections, wounds, and other health problems.
This spice is a powerful antioxidant, working more effectively than vitamin C to strengthen the immune system, fight off infections, and improve the health of the cell membrane.
The main ingredient in turmeric that promotes these benefits is curcumin, and while c urcumin essential oils have powerful effects, whole turmeric root contains only two percent curcumin by weight and cannot be consumed by itself, as it is poorly absorbed by the GI tract.
Therefore, Golden Revive is a supplement that contains BCM-95 curcumin - an herbal medicine revolution.
This 100 percent pure turmeric extract provides all the benefits of curcumin essential oils, producing beneficial effects on orthopedic, digestive, neurological, and cardiovascular health. Since curcumin cannot be consumed alone, this product also contains other necessary ingredients.
Bromelina is a healing nutrient found in pineapple, helping to reduce fibrosis and improve circulation. Boswellia (also known as frankincense) also works to decrease inflammation and pain, while quercetin is a plant-based bioflavonoid. It helps repair damage to DNA and prevent the growth of abnormal cells.
Magnesium is critical to human health, and while you can get the magnesium you need from your every day diet, most Americans aren't getting enough. It helps with relaxation, muscle tension, digestive regularity, and more.
Finally, piperine is a black pepper extract that makes it easier for your body to absorb all of these nutrients.
In addition to Golden Revive, the company that produces it, UpWellness, also offers several other health and wellness products.
You can purchase UpGreens, which help regulate fat burning and fill the gaps in your diet, or Wild Salmon Oil, which provides you with a good source of omega 3 fatty acids to boost your heart health.
UpZymes is another popular product, and it helps your body break down food in a more natural way.
Cost and Price Plans
Golden Revive has several purchasing options, all of which come with free shipping - a nice benefit.
You can purchase a one month supply for $57, or receive a ten dollar discount if you sign up for auto shipping.
A three month supply offers even steeper discounts, with a one-time purchase at $138 or auto-shipping for $120.
Customer Service
With free shipping and short delivery times, Golden Revive offers quality customer service. Most consumers receive their orders within three to five days, as long as they are within the continental United States.
The company is easy to get ahold of, with a mailing address, email, and phone number listed on their website. They also have a customer service support message form.
Online Reviews/Complaints
Because Golden Revive is a relatively new product, there are limited reviews on the Internet about the product's efficacy.
However, since the company claims that their products are backed by a 100 percent customer satisfaction guarantee, free shipping, and 24 hours customer support, these quality products will likely be rolling in positive reviews in the near future.
These supplements are not tested on animals and are entirely cruelty-free.
Competitors and Alternatives
Golden Revive isn't the only product on the market claiming to heal what ails you with the magical powers of turmeric. There are countless others, including Feel Good's Organic Turmeric Powder, Jiva Organics USDA Organic Turmeric Powder, and Organic Turmeric Root Powder by Organic Wise.
Of these products, none of them contain the additional ingredients found in Golden Revive that help support digestion and absorption of the nutrients. Feel Good's product is certified organic and completely raw, and contains no additives. Because it's a powder, it can be easily added to your smoothies or other recipes.
The same theory applies to Jiva Organic's product. This product is more potent, as it has higher cu rcumin content, but it is not processed in a turmeric-only facility, so you may be exposed to allergens. The final product, Organic Wise's Organic Turmeric Root Powder, is also an organic turmeric product, and it contains nearly seven percent curcumin, making it a good value.
However, most of the products available are either solely powders or capsules in form. This can be frustrating to someone who want s to receive the benefits of curcumin in a more digestible form - which is what Golden Revive Plus offers.
Where to Buy?
Right now, Golden Revive is only available on the retailer's website and cannot be purchased from a third party source. You can find more information about purchasing the product, as well as UpWellness's other nutrient-focused items, at Upwellness.com.
If you have any experience with Golden Revive Plus, please leave your reviews below.
You may also be interested in
Golden Revive Plus Customer Reviews