GlowBowl Reviews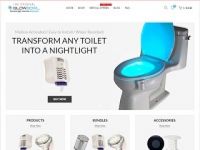 Going to the toilet at night is never an easy task for some of us. Either we sleepily trip on a misplaced toy, or we turn on the wrong switch and light up the whole hallway. Anything can go wrong in the darkness of the toilet at night.
However, the problem will last no more with GlowBowl! Their products will light up your toilet bowl, and you will never have to worry about having no night light in your toilet again!
From a small Kickstarter campaign, GlowBowl has now owned a business that encompasses myriad products. The company is based in Florida, but they have collaborated with several retailers to bring their products to more potential customers. They also have their own website through which you can order their products and ask any related questions.
GlowBowl Products
GlowBowl's products include a set of motion-activated LED system that makes your toilet bowl glow at night. This system is also light-sensitive, so as soon as there is light in the room, the LED will turn off to save battery life.&nbsp
&nbsp
It comes in 7 different colors for you to choose from (blue, yellow, purple, white, aqua, red, and green), and you can easily change the color by pushing a button. If you prefer a slideshow of many-colored lights, then there is also a carousel mode where the color automatically switches after 4 minutes.
If you are worried that the LED system is too big, or too small for your toilets, do not worry. Thanks to its flexible arm design, this system can fit into any toilet bowl, irrespective of the size.
For those eyes are sensitive to lights, the system has an integrated brightness control mechanism which allows you to adjust the brightness accordingly to 5 preset levels, ensuring that your eyes will not be dazzled by extreme light.
Other than glow toilet bowls, the brand also offers GlowShower and GlowSink LED attachments. These products will help your shower and your sink glow in accordance with water temperature.
This system can be installed easily and quickly under a minute, and you do not need any instruction for it! The attachments are made from corrosion-resistant and ultra-durable materials.
How Does GlowBowl Work?
The mechanism is very simple. Simply install the control box on your toilet bowl, put in some batteries, and you are good to go. Because the system is light-sensitive, there will be no need for an on-off switch. However, do take care to regularly change the battery, as the system might take up a lot of energy.
Cost and Price Plans
Individually, each GlowBowl system costs $14.99. If you buy a bundle of 2 GlowBowls or 3 GlowBowls, you can get discounted prices at $27.99 and $38.99. The GlowShower product is charged at $17.99, and GlowSink at $11.99. If you wish to remodel your entire toilet, opt for a full bundle with just $46.99 for all three products, and three extra batteries!
Customer Service
If you have any question about GlowBowl, shoot them a message through the online form on their website. If there is an urgent message relating to order statuses, warranties, or any customer service issue, email them directly at [email protected]
If you are in need of technical assistance, check out the FAQ section. There is a good chance that you will see your questions there, already answered.
For shipping, all GlowBowl orders are shipped within 48 hours from Monday to Friday, 8 A.M to 5 P.M. All orders are shipped from their base of operation in Florida. The shipping rate will vary depending on your location and the weight of the shipment.
If you are unhappy about GlowBowl's products, you can return your orders within 30 days of the purchase, but the items must not be altered or used in order to be qualified for refunds. Simply email to the company for a heads-up and return to their address at 135 Weston Road #169, Weston, FL 33326
Online Reviews/Complaints
GlowBowl products have great concepts and usability. They help you when you need them the most. Additionally, the price is not that expensive, and it certainly is much cheaper than getting a full motion-activated night light for the whole room.
However, the invention falls short in terms of durability and reliability. After the first few uses, the device will encounter flickers and bugs. Some people even claim that the color turns red for a long period of time, and then it is not working at all. The customer service also faces severe criticisms, as they fail to respond to emails on time and sometimes, at all.
Competitors and Alternatives
If GlowBowl Fresh is not your thing, you could consider other alternatives. The first one is Illumibowl, which essentially works the same as GlowBowl. However, vs Illumibowl, Glowbowl offers less freedom in customization, as Illumibowl has 9 different colors.
There is also Bowl Light, which is perfect for a child's bathroom thanks to its childish appearance. Finally, there is Kohler Nightlight. Instead of just one LED like in other products, it boasts 2, a guiding light, and a task light for improved accuracy. The only downside is that it is not cheap.
Where to Buy?
You can order any GlowBowl products on their websites. At present, they are working hard to make their products available in brick-and-mortar retail store chains.
Bottom Line
No one would ever have thought that a dark toilet at night can be such an annoyance, and even fewer people actually try to think of a solution for this problem. GlowBowl products, there is no need to fear the dark anymore, specifically the dreadful darkness of the toilet at night.
If you have experience with GlowBowl or their products, please leave your reviews below.
You may also be interested in
GlowBowl Customer Reviews

Christine M
I've been using GlowBowls for a year now in my two bathrooms and haven't had any problems with them. Usually if battery gets low the lighting will get dimmer before it needs replacing. Every home is different but I've replaced batteries 2x in each with no problem.
Not only is this product helpful at night but so many visitors have laughed and commented on what a great idea it is. I recommend Glowbowl and in fact may buy another for a family member.