GenoPalate Reviews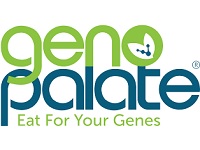 GenoPalate is a nutritional company that states it uses a proprietary database of personalized nutrition and food behaviors, as well as DNA analysis, to create a data-driven approach to changing user's food choices with the aim of maintaining optimal health.
How Does It Work?
When you get your GenoPalate report, you get a comprehensive list of the 85+ best foods that have a nutrition profile that is the ideal match for your personal genetics.
The company states it uses a DNA analyzer that discovers the ideal intake of carbohydrates, protein, fats, vitamins, and minerals that best suits an individual.
GenoPalate is transparent with exactly how it analyzes DNA to curate the best diet and meal plan for you.
Users can access the scientific algorithms that company uses to determine what foods your genes need to allow your body's tissues and organs to function properly. They also describe how the body processes this food over time.
GenoPalate reference single nucleotide polymorphisms (SNP's) and how they analyze 104 SNP's that directly impact how your body processes the food you choose to eat each and every day.
All GenoPalate needs from your end is your DNA and the rest is history. They offer products that allow you to test your DNA and pass all of the information that they need onwards to GenoPalate professionals.
Product
The GenoPalate site offers two distinct products that will get you on your way to leading a healthier lifestyle based on your specific gene report.
First, there is the GenoPalate Report. GenoPalate lays out a crash course in genetics and gets you up to speed on the science behind the data.
Using comprehensive data collection and analysis, GenoPalate reports will be able to take samples of your DNA and inform you on which vitamins an minerals your body may need more of, all based on your unique genes.
They'll even tell you when you may be at a higher or lower risk when it comes to metabolizing caffeine and alcohol and if you're sensitive to lactose and gluten.
GenoPalates goal is to address your health concerns and find the best optimal health outcomes for you by allocating positive impacts on health markers such as BMI, insulin sensitivity, and cholesterol levels as well as overall cardiovascular and metabolic health.
You have the unique ability to use GenoPalate to discover what exact fruits, vegetables, and meats are healthiest for you.
It doesn't matter whether you like or dislike the taste or smell of the food. It's all about what food optimizes your body in the best possible way so you can lead a healthier lifestyle filled with energy and life with the results you've been searching for from a proper diet.
GenoPalate also offered personalized menus and family dinners that are built just for you. You can handpick your breakfast, lunch and dinner options and their chefs will create a handcrafted personalized menu for your specific DNA report that best suits your diet.
They'll even create dinners for the whole family that uses every family member's GenoPalate results that's curated to fit everyone's genes so that the whole family can get in on the GenoPalate action and enjoy food that's made specifically to best fit their palate.
No matter if you're searching for a weight loss diet that gets the results that work best for you, or if you're just searching to maximize your energy throughout your work day, GenoPalate results provide with reports that analyzes DNA to fit your lifestyle.
Cost/Prices
GenoPalate offers a numerous amount of different recipes that will get you the results you need. You can purchase both their DNA Kit and Existing DNA at a discount.
All items are currently 30% off with the DNA Kit currently being offered at the low cost of $189.00 and allows you to discover the exact foods for you to eat that will optimize your health.
Existing DNA sells for $89.00 and uses 23andMe and AncestryDNA to combine all of your genetics results with thousands of nutritional variables. At a more affordable price than the DNA kit, this product can help you eat smarter and have you feeling like your best self.
GenoPalate's personalized menus come directly from their very own professional chefs and are built directly for your genes.
Purchase 3 completely catered meals for $29.99 or level up to 5 meals for $49.99. Trying to feed the whole family? No problem, GenoPalate offers Family Dinner menus that catered to your entire families genetic code for just $49.99.
Customer Service
GenoPalate offers a FAQ page on their website so that you can access the answers to frequently asked questions that they receive every day.
If you still have questions and need a hand, you can contact GenoPalate directly by email and they'll do their best to get back to you when they can in a timely manner.
They do not appear to have a phone number for you to call directly.
Online Reviews/Complaints
GenoPalate has listed a series of different reviews from high profile publications and organizations.
A writer from USA Today said, "Based on my DNA, for instance, I should be chomping daily on raspberries and turnip greens." The Academy of Nutrition and Dietetics says, "his exciting field is poised to become the future of dietetics."
Searching reviews through the Better Business Bureau, reviews were less impressive and believed some of the DNA results to be contradictory to what they believe was the best diet for them due to how certain foods already made them felt.
Others noted that signing up for the account to receive their first GenoPalate DNA test was really challenging and confusing.
Competitor and Alternatives
GenoPalate vs. Habit - Habit has partnered with organizations like AmazonFresh and Fitbit to help you shop for recipe ingredients and sync your activities with your technology. Habit also has videos and stories from customers stating that the product truly works.
They also only offer one product and that is the Habit Core, priced at $299. Unlike GenoPalate, they do not offer any meal plan kits or partner with 23andMe to collect data that may already exist.
To conclude, GenoPalate seems to offer more options to get started with DNA testing and nutrition and at an even more affordable price point.
Where to Buy?
You can visit the GenoPalate website directly and order their products straight from their website. I searched but was not able to find any other purchasing options online that seemed legit.
The Bottom Line
GenoPalate appears to be one of the freshest competitors entering the nutritional DNA testing race.
Using their products, I really felt as if it was a bit more affordable compared to Habit and offered numerous routes I could take to discovering what the best foods to eat for me were and how to optimize my daily health and energy.
The meal plans make it easy to keep yourself in check and curated family meals allow you to easily bring it all together when trying to maintain family style dinners.
If you have any experience with GenoPalate or their services, please leave your reviews below.
You may also be interested in
GenoPalate Customer Reviews

AngelaE
I was excited to learn about my DNA nutritional info but instead got a generalized list that aren't unique to me at all. It list several peppers - I hate CB peppers. But even that is not the worst. It seems all they really want is to sell more programs!! I didn't get my money's worth the first time!
No way I'm giving them another penny!! Waste of time and money. Could have gotten the same I for for free by googling "what foods are good for you"!!

Disappointed
I sent my DNA sample. Weeks later I tried to contact the company but could not reach it. I continue to try to contact it, but no response. I never heard from it even 3 months later. Buyer beware!

Mary D
The report listed canola oil as the best oil for my DNA. EVERYTHING I have read regarding canola oil has been a negative. Check it out further on www.draxe.com Why would GenoPalate recommend it? There is NO direct customer support.
SAVE YOUR MONEY!!!! I want my money back.

Nathan K
I got my report and it was not very helpful. It basically gives you recommendations that are good for every person. An example. My report said to stay away from gluten. One of the "best" suggestions for me was to eat a whole wheat bagel.
Another screwy recommendation was that grain fed steaks are better than grass fed ground meat.
Paying $39 for this report was a waste of money and put my dna into the hands of another company to use for advertising or marketing purposes.
I should pay another $50 for 5 recipes??? Are you kidding?

Mark A
I am active and focused on my health. I exercise daily and my diet was constructed by a nutritionist two years ago. Since that time, I have lost 29 lbs. and my a1c has dropped from 6 to 3.5. I wanted to use GenoPalate to validate some of the recommendation of the nutritionist. GenoPalate was very effective in helping me improve my discussion with the nutritionist. I learned things that I did not know by consulting the nutritionist. I had a smooth experience with GenoPalate. I got a comprehensive overview of the types of foods that are right/wrong for me based on my geneaology. I bought the kit via the holiday special for $143. That seems like a small price to pay to educate me about how my body responds to certain food types. Turnaround time was great and I am leveraging the information I receive to augment my diet. For anybody who wants to put in a little effort to improve their health, GenoPalate is a great option.

Lori
Gene Based Science....or maybe not
Things my genes showed as being at elevated at risk for were totally overlooked in this report in terms of nutrient recommendations. So how accurate is it? Why wouldn't they even notice?

Lynn
I received my test results, and I have to honestly say I am disappointed. First, a comment about the report itself. A star is used to indicate both gluten free (brown rice bread) and gluten containing foods (spelt, whole wheat pasta). Consistency would be best.
I think the results are very difficult to put into practice for the average person. There are no sample meal plans, but I can spend even more money to order recipes. I don't need recipes. The internet is full of them for free. What I need is a comprehensive list of foods to eat or not eat. There is an average of 5 foods per category, but someone in the Facebook group mentioned a list of 450 foods, which the moderator said is not available to us. That makes no sense. It should be determined whether a list of foods to eat or foods to avoid (my preference) would be shorter, and that should be provided in the results report. My vegetable list consists of 3 peppers, soybean sprouts, okra, water chestnuts, artichoke, and winter squash. Have you walked the produce aisle of your grocery store? How about some variety from the shelves? Many people seem to be under the impression that those few foods listed for each category are the only foods to be consumed. This should be clarified in the report.
What I think would be better for the average person (non-dietician or nutritionist) is to have the genetic report and the number of servings from each category per day (serving size clearly defined). For example, Beach Body's 21 Day Fix meal plan offers a wide variety of foods in each category, a clear serving size, and number of servings per day.
I do not find the Facebook group helpful. The information is very generic.
In conclusion, I am sorry I spent money on this test. I don't find the information helpful.

Jamie T
$29.99 for 3 Recipes ONLY
Thought I was purchasing 3 recipes (breakfast, lunch, dinner) for more than 1 day. $29.99 is really an entire cookbook. I'm still stunned and experiencing sticker shock. Additionally, I clearly indicated that I have a tree nut allergy (gave a complete list and named the exact nuts) only to have included a recipe for Hazelnut Vinaigrette. What in the world? The only recommendation I can give is to PASS.

Di M
Dont waste your $$, it's a scam
This is the biggest scam. In 2019 if you are still recommending low-fat anything you are late in the game. Please don't spend your nice earned $ on this, buy yourself a healthy item to eat or drink instead of flushing down the toilet with this.

Paul M
Don't waste your time or money
I just received my GenoPalate report. It basically contained information you could read in any health information about healthy eating. Low sodium, watch your fat intake. The suggestions of what I should eat were laughable if I hadn't felt ripped off. I should eat rabbit, bison, ostrich and elk!!! Ridiculous! It also told me I was lactose tolerant and don't have a gluten allergy. Things I already know. Don't waste your money.