Generark Solar Generator Reviews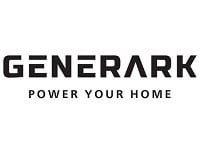 The Generark Solar Generator is designed to be an emergency backup power source that's marketed by Generark, a California based company.
How Does it Work?
The Generark generator uses solar panels to charge a battery supply. The battery will store the unused power for use during times of need.
Generark sells two separate items, which can be purchased individually or in a bundle.
HomePower ONE Backup Battery Power Station
SolarPower ONE Portable Solar Panel
The Generark can provide up to seven days of power to most electrical appliances. The HomePower 2 will soon be released to the public, offering even more power in solar generator form.
Cost and Price Plans
The cost of the Generark generator depends on the size of your home and home many people reside there. As an example, the following prices are associated with these products and sizes:
Generark Solar Generator (Battery Backup and Solar Panels):
1-2 People - $1,499
2-4 People - $2,998
3-5 People - $4,497
4-6 People - $5,996
6+ People - $7,495
These sizes and prices are based on the designated amount of people utilizing items in the home as usual.
If you limit operations to specific rooms, you will not require a larger size even with the same amount of people.
Generark Customer Service
Generark does not offer many forms of contact for customers on their company website. There is no phone number or app available.
The only communication channels they offer are a contact form and email - [email protected]
Additionally, you can follow them on many social media platforms: Facebook, Instagram, YouTube, & Twitter.
Their provided mailing address is:
3182 Campus Drive, Unit 266
San Mateo, CA 94403
There are very few independent review outlets that speak of the products that Generark sells. Therefore, it's difficult to gauge the feedback of customers that have purchased the products.
Generark Solar Generator Reviews
Although Generark has high ratings on Amazon for its products, no other independent review sites speak about the portable generator and its complementary products.
Amazon has a rating of over four stars for its backup generator, but some hefty concerns have come through from customers. One of which states that upon successfully installing the device, they hooked it up to their refrigerator to test it.
Upon plugging it into the battery backup, the appliance stopped working.
The homeowner replaced the fridge, tried to back up again, and had the same result. The repairman stated that it was due to faulty parts and the automatic transfer switch in the generator.
You can't find any third-party reviews online, and the company is not listed with the Better Business Bureau (BBB).
Competitors and Alternatives
Several products are similar to Generark in what they provide, including the following:
Generark vs. Jackery - Both products are similar in operation and size. However, Jackery is listed on several independent review sites and sells in popular retail chains with high ratings.
Generark vs. Ecoflow - The Ecoflow also has similar features to both the Generark and Jackery brands. Ecoflow has a wider variety of products available for sale, and they also sell through the large retailed REI.
Generark vs. Goal Zero - Goal Zero focuses on bringing power sources into camping environments and offers additional accessories to their product lines like lighting and power banks. Their products sell in popular chains like Best Buy and Home Depot.
Where To Buy?
You can purchase Generark products from their official website and on Amazon.
The Bottom Line
Many sizeable solar panel companies take on the full responsibility associated with installing and testing your solar panels and generator.
These companies are vetted and well-established in their field and come with insurance and extensive training.
When you purchase Generark, you are left to install the devices on your own. Although this is fine for some, for others, it can be challenging.
Additionally, if any issues arise, you don't have a technician to turn to for assistance.
Oddly, we do not see any third-party reviews or BBB profiles on the company, but there is a video cameo from Steve Wozniak applauding the efforts of Generark.
In the video, he states that he "just" looked at their website, and it appears that he is reviewing it for the first time on the video.
That odd Youtube video, as well as the lack of independent feedback and the unprofessional grammar and spelling errors on the website, leaves us a bit reticent to try out the device.
With so many established companies with high praises doing the same work, we think it would provide better peace of mind to go with them and acquire the trained technicians with the product.
If you have any experience with the Generark Solar Generator, please leave your reviews below.
You may also be interested in
Generark Solar Generator Customer Reviews

April K
This comes in handy for power outages. Very happy with the amount of outlets. Definitely going to keep using.

Bert
Proprietary connectors, terrible support
Useless customer support. Early supporter on Kisckstarter of their HomePower 2 unit. Still waiting, due to manufacturing delays. We have received the new solar panels, but can't test them yet as they use proprietary connectors.
Have been working with their support for almost 2 months, still no info available on getting my hands on any of the plugs or jacks to make my own converter cable.

Bob T
Does NOT work to their specification
I received my Generark and was excited to try it, it did not preform to their specifications. They say it has 1000W rated power and 2000W surge power, when I tried to run a 550W Skill saw the unit just shut off.
They have no phone number to contact them and when I Email them they don't respond. their money back policy is useless if you can't reach them.

VICTOR F
Bought to use for a Minnie heater if power went out in winter. After fully charged which by the way took close to 12 hours the generator ran the heater for about 1 hour.
Terrible return policy. Customer service is terrible as well. Generator is limited to charging small computers, cell phones, and single bulb lights. It's generally a waste of money to buy one.