Front Of The Pack Dog Food
Front Of The Pack Dog Food Reviews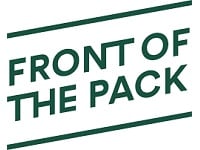 Front Of The Pack Dog Food is a line of powdered dietary supplements for dogs that the seller states use clinically-proven ingredients and patented technology.
Products
The founders of Front Of The Pack started the venture upon learning that canine health is in decline across the board. So many preventable issues with adequate diet and check-ups are spiking, and our beloved pets are suffering as a result.
To create the products, they compiled a team of biochemists, veterinarians, and dog lovers to develop and test supplements to increase the quality of life for canines.
Two of their popular products are:
Front Of The Pack The One - A supplement that includes eight different benefits for canine health, used for allergy purposes as well as overall health - it also has advantages similar to itching powder
Front Of The Pack Harmony - Used to alleviate anxiety and supports calmness in dogs, calms itching
Before each product goes out the door, it is subject to testing eight different times.
FOTP's website allows customers to input the product batch identification number and see the test results for their exact product.
How Does Front Of The Pack Work?
Each product that FOTP sells comes in powder form. The powder is created from a bone broth, giving it a taste that is appealing for dogs.
The amount that you serve your dog bases on their weight.
For both The One and Move products, the amount is set at:

Under 25 pounds: 1 scoop
25-50 pounds: 2 scoops
50+ pounds: 3 scoops
For Harmony, which sells in single-serving sticks, the dosage is as follows:

Under 25 pounds: 1 stick pack
25-50 pounds: 1-2 stick packs
50+ pounds: 2-3 stick packs
When giving the product to your pet, you just sprinkle it on their regular food during mealtime. The broth taste will blend naturally into your dog's food.
What Ingredients Are In Front Of The Pack?
The ingredients contained in the FOTP supplements are a blend of bioactive components that have been through rigorous testing. These elements include:
Glucosamine
Chondroitin
Curcumin
MSM
Prebiotic
Krill
Ashwagandha
L-Theanine
Green Tea Extract
Taurine
L-Carnitine
Postbiotic
Collagen Peptide
Magnolia Bark Extract
Combinations of these ingredients make up the compounds within The One, Harmony, and Move products.
Cost and Price Plans
All three products sold by Front Of The Pack retail for between $30-$40 per item. Each item comes in a tub (excluding Harmony, which is in stick packs) and is a two-month supply.
The One - $38.19
Harmony - $40.49
Move - $39.99
Buying the same product in higher quantities triggers a small discount of between 5-10% depending on the amount ordered. Additionally, the company offers subscription plans that reduce the price by an average of $10 per month.
Each purchase provides a donation to a non-profit of your choosing. Additionally, there is free shipping on all orders over $25 and a 90-day money-back guarantee.
Lastly, the company has a referral program that allows you to gift interested pet owners $20 off their order. Upon successful sign-up and purchase, you will also receive $20 for referring them.
Customer Service
FOTP.com offers various methods of contact via its website for customer service needs.
Email: [email protected]
Phone Number: 323-922-5737
They also offer an online chat feature and offer contact through their social media accounts.
There are many complaints on their Facebook business page regarding customers having issues with products and struggling to get a response. The business seems to respond to about 50% of the comments left on their profile, but admittedly, not all.
Customer Reviews & Complaints
Front Of The Pack is not widely sold on retail platforms, so the availability of their online dog supplement reviews is limited.
Other popular review sites do not have a listing for the brand, nor does the BBB. However, Facebook gives it a 3.9-star average rating. Amazon provides a 4.5-star rating, and My Subscription Addiction review site affords FOTP a 1.5-star rating.
Customers complain that the supplements, primarily in Move reviews, have a fishy smell, which is a deterrent to their pets.
Additionally, some have issues with receiving promotional prices that were offered to them but not honored.
Where To Buy?
Currently, FOTP only offers its products for sale through their company website and limited selections through Amazon. To receive the promotional offers, referral benefits, and subscription discounts, you must order through the company website.
At this time, FOTP.com does not have products for cats, nor do they sell in outlets such as Walmart, Petco, Chewy, or Target.
The Bottom Line
When we provide for our pets, who are entirely dependent on us, it is hard to know the best route to take. We cannot ask them what they are feeling, so we have to rely on professionals and observation.
Avoiding any health concerns is always a top priority, so turning to supplemental products is a natural step to accomplish that.
We appreciate the extensive testing that Front Of The Pack utilizes with their products. Additionally, we love the feature of checking the exact testing results for the product we have in our hands.
We do have some concerns with the negative reviews. However, hearing the feedback from customers gives us a front-row view of the experiences others have had.
We do think that the products FOTP.com offers can be beneficial to canines.
Although we would confer with our veterinarian before incorporating any of the products, we believe that Front Of The Pack is legit and worth it.
If you have any experience with Front Of The Pack Dog Food, please leave your reviews below.


You may also be interested in
Front Of The Pack Dog Food Customer Reviews

Ko's M
Less Anxious, More Focused Dog
My anxious dog is now able to relax and pay attention to commands. He is more focused. This was with The One supplement. Got Harmony too - he liked it at first and now isn't eating it as much. Harmony seemed to calm his anxiousness more and he is happier, doesn't have a constant nervous whine like he used to. He is NOT drowsy or "drugged up". Just not a bundle of nerves. 60+ pound German Shepherd/Husky mix stray rescue. Also, emailed customer service about mixing the two supplements - thought they didn't respond, but found, the email that I had missed in my inbox and the female rep was great.

Jackie B
The One - great supplement!
The One is a wonderful supplement that my Chihuahua, Annabel enjoys. I give her half a spoonful with her breakfast and half with her evening meal. She is 17-18 years old and, although doesn't move around outside much, when she does and the stiffness has worn off, she will give a hop, skip and jump, which I'm sure The One is giving her the energy to do.
My only grumble is with the discount codes periodically sent and my Referral Reward (DZVN44Z),for $20 off, which I did not get to use due to the automatic shipment, which I thought may come off automatically. Probably my fault!

Srtevei M
It's a great supplement especially for older dogs
It's a great supplement especially for older dogs

Julianne W
Best Itch Relief Ever for Dogs
Front of the pack has been wonderful for both our dogs, but especially for Charlotte, a 2 1/2 year old Mountain Cur who had an allergic reaction to a generic 2-in-1 Shampoo/Conditioner and then she continued to itch for a long time. The vet tried the normal medicine for itching as well as antibiotics to control the swelling and to prevent infection. None of this seemed to be working.
My husband read about Front of the Pack "The One" Supplement. We decided to give it a try. It is nice that we only have to sprinkle the recommended amount in their food in the A.M.
It took about a month, but Charlotte no longer scratches, bites, or licks herself . Since starting "The One," I have only seen her scratch herself once since starting this medicine, even when she comes in from the woods after a long walk, etc.
I am beyond happy with the results and have recommended it to not only my vet (who was happy to take the information since they see a lot of dogs with the same issue),but also a friend of ours with a dog with allergy issues as well.
If you have a dog with an undiagnosed or even a diagnosed allergy, I HIGHLY recommend giving this a try for about a month, since it takes time for it to work, before going with the prescriptions that many vets try first. You will not be disappointed.

LA P
I started with Harmony as my Chihuahua has been very anxious since her big sister passed away. It took about three weeks to see results but to us they were impressive. She began to instigate play, she jumped through the dog door she never would before and she also started using the footstool at the end of my bed to put herself to bed. These may seem like small instances, but to us they are huge and I feel allow her a better quality of life.
I did some reading on The One and thought that may be a better alternative to Harmony as she has some issues The One says it deals with. So after two months I switched to The One (I did receive the tub and plenty of product). First it has a fishy odor and my girls are not big fish fans. As long as I put it on their food they tolerated it but I did not see any positive changes with any itching in two months so when I was low I reordered Harmony and within three days of restarting my chihuahua on Harmony she was spunky and playful again.
Long story, longer, I will not be switching again. It is well worth a dollar a day to have her happy and playful again. I feel this product has made a huge difference in her quality of life and mine.

Carrie W
You don't get what you pay for
The products seem to work for my dog, but the customer service from this company is horrific. My first order arrived minus the tub they advertise. Okay, no biggie except that the small bag they shipped was not resealable so I immediately had to find another container to put it into.
$39 for a crappy bag is ridiculous. Each container/bag is supposed to contain a minimum of 60 scoops...so 1 month supply for my 50lb dog. My bag barely had 48 scoops. I contacted FOTP every possible way I could, and finally a week later they responded.
Their customer service rep, Mario, basically told me I was wrong and did nothing further. I already had a subscription in place that I received 10 days after I ran out. I videotaped myself opening this new bag and counting out the scoops. This bag had 51 scoops in it. Still not the minimum of 60. I sent the video to them, tried to call them (but they never answer), and emailed them. I still haven't had a single response.
So, while the products seem to work, the company IS absolutely ripping it's clients off and doesn't care about making things right.

Jeff
Fantastic product. Black stopped itching in 3 days!

ER
I ordered a tub of product and when it arrived I was highly disappointed!! There was no tub and only a very small bag smaller than a ziplock bag! Not worth the money!