Freshly Reviews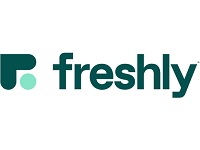 Freshly is a company which promises their members gourmet, ready-made meals delivered directly to their door so they can effortlessly have delicious, healthy meals.
How Does Freshly Work?
Freshly.com says their goal is to provide their members with meals made completely from the best, all natural ingredients which are free of gluten, artificial sweeteners, added sugars, and hormones. They look to provide their customers with healthy meals comprised of mostly proteins and nutrient dense vegetables.
Their ingredients are screened by doctors to make sure they meet Freshly standards, then approved ingredients are turned over to their team of chefs who create delicious meals out of them and add them to their menus.
The chefs can cook your customized orders, which are portioned to make sure you are satisfied all day long, and then delivered to your doorstep in a refrigerated box so your food is fresh.
There are two plans members are able to choose from. The Freshly Fit plan is designed by Dr. Comstock, a board-certified weight-loss specialist and the author of Anti-Aging 101, to help people meet their weight loss goals.
The website says customers on this plan report losing an average of 5-10 lbs in the first week and 15-25 lbs after four weeks on the program, and once users have met their goals, they can switch to the Freshly Flex plan.
The Freshly Flex plan allows their members to choose from an entire menu of breakfast, lunch, and dinner options to design their own weekly meal schedule which makes healthy eating very convenient.
Cost/Price Plans
The Freshly Fit meal plan costs $229 per week and is their most expensive option because it is completely all inclusive and provides members with 7 days of breakfast, lunch, and dinner, for a total of 21 meals per week, and also provides members with access to a Freshly Coach to help them meet all their weight loss goals.
The Freshly Flex plan has different prices, depending on how many meals you wish to have delivered. Members can have six meals delivered for $69 per week, nine meals delivered for $99 per week, and twelve meals delivered for $129 per week.
Regardless of which option you choose, members can create any combination of breakfast, lunch, or dinner menus that they want.
Refund Policy
Freshly.com does not provide a standard Refund Policy, as they offer a membership service which can be adjusted from week to week.
They do offer a 100% Customer Satisfaction Guarantee, which says that customers who contact them within seven days of a shipment they are unhappy with will have their meal replaced or credited at their expense, though they may require photo documentation of the meal you are unhappy with before they refund your money.
Members are also able to pause or cancel a plan anytime as long as you provide them with a minimum of 72 hours notice prior to your next scheduled delivery.
Customer Service Contact Info
Customers who wish to contact their Customer Service team with any questions, concerns, or complaints can do so by phone at 844-373-7459 or by email at [email protected]
Customer Reviews and Complaints
Customer reviews of Freshly are generally positive. The company is praised for their consistency of quality and timely delivery. Still, some customers complained about meal mix-ups and late deliveries, as well as the meals being prices too high relative to their quality.
Competitors and Alternatives?
Companies which provide healthy, ready made meals directly to your home – or at least everything necessary to easily prepare healthy meals – have grown in popularity in the last few years and include a wide variety of options, such as Blue Apron and many others.
If you have any experience with Freshly or their products, please leave your reviews below.
You may also be interested in
Freshly Customer Reviews

C.E.
Copywriters are better than their chefs. Sounds good, tastes bad.
As a solo senior, I hoped that Freshly would be a good option. But I fear that they have better copywriters than chefs. Of 12 meals over two weeks, I'd only eat one of them (shrimp) again, and that one costs a bit extra. Steak with peppercorns had pepper only on one part of the meat, which was very tough. The overall texture of the food was not pleasing, and the meals began to taste alike. I believe these may be marginally better than frozen grocery store meals, but not enough to keep me subscribing. Good delivery, intuitive ordering, but not-great food. Guess I'll keep looking

Cynthia M
I've tried them twice. Their customer service is terrible. Their food is slop. I won't give them even one star.

Maureen
Not Bad, I'd use them now and then
I thought it was pretty good. I got 9 meals for $49 including shipping. I've eaten 2 so far and they taste fine to me. I had no problems with them shipping out a next order. I went in and paused my subscription and then got an email back offering me $20 off my next order if I unpause. I don't know what the deal is with the reviewers saying the food is disgusting - maybe they usualy have personal chefs or something. I've had meatloaf and chicken parmigiana so far, and both were decent.

Oki
The $49 promo would be a good trial if it wasn't a scam. They make you sign up for the $99 plan in order to start it and then charge you for your 2nd week the day after you get your 1st shipment! No opportunity to try the food before you are committed to a 2nd week. Left a bad taste in my mouth before I ever tasted the food. The food tastes ok. Too salty.
Too bad because I really am lazy enough to pay someone else to make food for me every day.

Ang M
Worst Food Ever and NO refunds available for the terrible garbage
I placed an order hoping this would be a great meal option for me. My transmission recently went out so I'm in the process of replacing my car so grocery shopping was limited. The food arrived and tasted so disgusting I had to throw it away. They then automatically shipped me a second order that I never in a million years would have placed because I imagine dog food probably tastes better. When I called they said they would not refund me because they already shipped it. I explained that I didn't order so they sent me to a manager voicemail. I left several messages and emails but of course never received a response or a refund. When I first called they told me DO NOT ship back because it's perishable food that they would just throw away too. I hope this does not happen to someone else and you end up being out $55.00 on garbage that you could have used on a legit food delivery.

kh l
Unethical Business practice and horrible food!
They charged me for 2nd shipment within 24 hours of receiving the first shipment, before I even had a chance to taste the food. The food was awful. 3 salmon dishes smelled so bad, we could not eat it. Immediately went online to cancel my subscription and contacted the company the following day. They were incredibly rude - from the rep to the customer service manager Toby - and absolutely refused to refund... even for the inedible ones. They, instead, tried to preach me on the definition of 'subscription business model' and told me I should've known what I was getting into before singing up. Don't waste your time and money on this company. I will be contacting the state consumer affairs and BBB to file a complaint.

Cara R
I don't usually post negative reviews, but was astounded at how unappetizing this food is.
First meal was pork loin with carrots. Tons of carrots that did not cook through in the 1-2 minute microwave time suggested. (I did 2 mins.) Meat was ok but very dry. Threw over 1/2 of it away.
Second meal was beef and broccoli. Threw 1/2 away. Tasteless meat and soggy broccoli.
Third meal turkey lasagna. Ugh.
Fourth meal chicken stir-fry. Chicken was ok, big chunks of it but the combo was not tasty. Again threw 1/2 away.
Have two meals left that I'm not even going to attempt to eat.
I think the reason you lose 5-10 lbs in a week is that you throw most of the food away and have lost your appetite by then.