Foria Wellness Reviews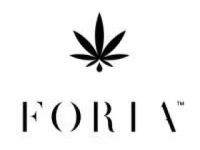 Everybody's talking about the many benefits of CBD oil. But it can be tough to figure out which products might be right for you. There are lots of oil products out there, but there are very few products that are approved for other uses.
Foria Wellness manufactures a wide variety of CBD products, such as vape materials, CBD pens, and even tampons! Keep reading to learn more about why this is the brand to be aware of.
How Does Foria Wellness Work?
Foria Wellness is a company that offers pioneer cannabis and hemp products that are designed to relieve pain, enhance pleasure, and improve overall wellness. The founder of the company has an eco-friendly philosophy that honors native expression and offers a variety of therapeutic products to reconnect consumers with nature.
All products are made out of a foundation of broad-spectrum CBD from sun-grown hemp. No matter your mood or your needs, these formulas are available in a wide variety of formats, from wellness elixirs to feminine suppositories and even an aromatic vaporizer.&nbsp
&nbsp
Those formulations may sound funny to you, but the company believes that sexual intimacy, general wellness, and pain relief are not separate concerns. Allowing yourself to be healthy and whole will allow you to live with greater enjoyment of your life.
Foria Wellness's most popular product is Awake. This is the first all-natural sensual enhancement oil, made out of a multi-cannabinoid formula legal across the United States. This oil allows women to epinerce the pleasure and healing abilities of cannabinoids. It combines kava kava root with CBD rich hemp and cocoa, plants all known for their aphrodisiac qualities.
Foria Flow is another popular product. It recognizes that vaporizing is the quickest way to receive the benefits of CBD, and it includes CBD-rich hemp extract and a mixture of organic botanicals that are selected for flavor and medicinal capabilities.
All ingredients are natural and organic, tested for purity and delivered in state-of-the-art glass and ceramic cores. Vaporizers are uniquely reusable, something you won't find in the average vape CBD pen.
There are also CBD tampons. These suppositories help deliver tension-relieving effects of CBD directly where it is needed. They help women relieve discomfort during their period, removing local inflammation.
Cost and Price Plans
Each product ranges in cost depending on its potency, type, and shipping.
The Basics Tonic, a common but basic CBD oil product, starts at $58. Suppositories start at $72 per box, while Awaken is $48. Flow will set you back $68. The company also offers a variety of store merchandise, like hats and shirts, for sale as well.
Competitors and Alternatives
Foria Wellness may not be the first company to offer CBD and CBD-enriched products, but they're certainly the first company to offer such a broad variety of products that are uniquely tailored to treating the whole person. Besides Foria Wellness, similar CBD companies include Medterra, cbdMD, and Green Roads World.
Medterra offers a variety of products made from hemp grown in the United States using CO2 extraction methods. This company adheres to the strictest processing guidelines and all products are THC free. They offer CBD oil, CBD for pets, and CBD topicals, but none of the unique sensual products offered by Foria Wellness.
cbdMD offers similar options. You can purchase CBD capsules, oil tinctures, vape oil, pet products, topicals, or gummies. There are also sleep aids and bath bombs but nothing like what For Wellness has to offer. These also do not contain THC.
Finally, Green Roads World offers a wide range of products like CBD oil in various strengths, daily dose CBD in different flavors, capsules, and topical ointments. Again, nothing like what Foria Wellness has to offer.
Online Customer Reviews/Complaints
Customers rave about the effectiveness of Foria Wellness' products. They claim that "everything felt incredible" and "I can feel my body relaxed and my mind slowing down with 30 minutes."
There are minimal complaints about any of the products offered by Foria Wellness. One common concern is that Awaken can cause some burning sensations. This is usually due to allergies, so it's important that you closely check the ingredients before using to make sure you are not allergic to any of them.
Customer Service
Foria Wellness makes it easy to get in touch with their customer service department. To reach someone, all you need to do is email [email protected] or reach out via Facebook, Instagram, Twitter, or YouTube.
You can also get ahold of customer service without any questions regarding the 14-day customer satisfaction guarantee or the specific products via their phone number. They can be reached at 1-844-69-FORIA. The company headquarters are located in Venice Beach, CA.
Where to Buy?
Currently, you can only buy products from Foria Wellness by visiting the online store. In addition, the THC formulas are available at dispensaries in California and Colorado, where it is legalized. Just make sure you call those places ahead to make sure the products are in stock.
Products can be shipped to all states, as well as most countries like the UK and France. There are some shipping restrictions to nations due to issues like bans and complicated customs processing.
Purchasing via the Foria Wellness website is the best choice. Sign up for the email newsletter, and you'll save 10% off your first order - plus you'll be privy to all the latest offers and discounts.
Is Foria Wellness Worth It?
If you're looking for CBD products that treat the whole person - instead of just your mood - it might be time to consider Foria Wellness. These products are unique in that they address other aspects of our daily living besides our mood, and with plenty to choose from and a liberal customer satisfaction guarantee, there's no reason not to give them a try.
You may also be interested in
Foria Wellness Customer Reviews