ForeverSpin Reviews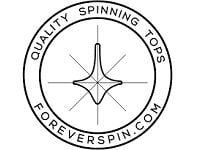 ForeverSpin Customer Reviews

All w
Bought one for myself to try it out and it was fun UNTIL THE BASE CRACKED. But had already ordered others for grandkids.
Victor would not stand behind his product. Service after the sale-NOT.
Save your money!
Allen

Buyer
Ridiculous the amount charged for the top. Tiny top, total rip-off. Then scammed to say no returns. Brilliant scam business. Buyer beware!

Michael S
PERFECT gift for brother's wedding and fast order updates
Absolutely fantastic product which made the perfect gift for my brother's wedding party. I bought a different kind for all of the groomsmen and with different densities of all tops, different weights, textures, and finishes, it was fun to see and compare them all. There was a bit of arguing after about why whichever person got which, with tungsten costing FAR FAR more than other tops, but it was nice to see everyone playing together and having a good time.
The shipping was super fast and the order was processed overnight with tracking sent the very next day. A little bit on the smaller side, but that's what gives it its unique elegance.
10/10 and already ordered another set for myself.

Thierry L
No complaints, nice for play and collection
I'd agree Foreverspin tops are a bit pricey, but I found no obvious cheaper alternative that wasn't made in the Far East. I ordered from them on three different occasions, every time with no complaints as to the delivery.
One was for Christmas (for me, ordered by my spouse) and was delivered promptly (their site promised as much pre-Christmas). Of the other two, one was maybe a bit slower than I'd thought, by a couple of weeks.
Now, they are located in Canada and so am I. I didn't check myself, but do they have premium delivery options that would work better for other countries? In any event, I do enjoy my tops, even the fact that spinning them all takes a bit of practice, especially when spinning several with different weights, one after the other.
They also make a nice decoration with their docks. I know a CNC technician and he thought these were very nice pieces of work.
You will receive what you order or not....
The product is nice but overpriced
After several order received this happened last time
International shipping and customer service is a joke.
I received my order after 2,5 month. After a 100$ order they want me to pay additional 80$ as clearance fee. After rejecting the product there is no any refund. B aware, don't order from Europe unless you want to waste of money !!
This is the answer I received:
==============================================
We will not receive your shipment back in Canada - what do you not understand about this fact? This shipping service does not have returns available. Instead, the package will be destroyed or discarded by customs when "travelling" in the reverse direction.
Best regards,
Viktor
ForeverSpin
203 - 260 Carlaw Avenue
Toronto, ON, M4M 3L1
1-855-922-SPIN
===============================================

Cult H
There may be problems with shipment
On November 30, I received a notification that the package was sent. Today is February 8th, I still haven't received anything. They say that the postal service has a tracking problem, refer to the high load on the USPS due to the high season. Gave them $ 400 UA444940776US.
Upd: in the end the company sent me a new shipment with two tops from a special series.

Steen K
Ordered, paid and was told the product was on its way. Delivery was at a company address and the parcel never arrived, in spite various confusing mails from what was presumably a DHL tracker. Calling DHL it turned out they had no recognition of having received anything. Confronting the company with this I was told that DHL couldn't deliver the package (which was not true...) which was supposedly my fault and the now returned package could not be found.
As compensation I was then offered to buy the product again with a discount.......Amazing and I really don't get how the company can still be allowed to operate

Wised
What you see is what you get
They are very well made tops made of different materials the perfect example of mass, density, volume momentum, plus, they spin extremely well once you find the appropriate technique which varies accordingly to the mass of each top. Magnesium the lightest is the easiest to spin though it lasts the least amount of time due to its lower angular momentum, tungsten is the polar opposite. Not only a great teaching tool also very cool!!! A little pricey but well worth it!
Excellent Qualtiy, a bit pricey.
Let me start by saying that I've seen many mixed reviews on the Foreverspin Tops.
In terms of payment and service, they are exactly what I expect from a small online retailer. They quickly accept payment and promptly ship your order. It took about 4 days for me to receive my order from payment to my door. I did not pay for rush processing or shipping.
First - A quick review.
These tops are simple and elegant. I purchased the Magnesium (Super light - easy to spin, but very difficult to get it perfectly centered due to the low spin times) and the Titanium (also easy to spin and as I can consistently get a nice perfectly centered spin as it is weightier than the magnesium). Both are beautifully machined and look virtually flawless.
Additionally, I purchased the large spinning base - which gives you a bit more area for learning to spin your tops. I think I would have been happy with the smaller base that doubles as a display for your desk, but occasionally I slip a spin and am happy for the added surface of the larger base.
The base is a very nice black silica glass, but I did notice that just spinning the top on the surface mars it up. This isn't from dropping the top onto the glass, but simply from slightly off-centered spins. It's not a big deal since it doesn't affect the smoothness of the glass - just something to be aware of when you purchase it. Additionally there is no lip on the base to keep your top on the glass, so do be careful about over-spinning your top and shooting it off the base
When you get a perfect spin, the tops are mesmerizing and look like they are just sitting there, perfectly still, on the spinning base. They really don't even look like they are spinning - it's a bit surreal the first time you witness it.
If your spin is a bit off, you are treated to a sort of humming from the vibration of the metal - each metal has a different tone and it's somewhat hypnotic to watch the spin and hear the vibrations.
Now - the criticism
If you're used to some of the larger, fancier, (and sometimes much pricier), tops out there that easily give you 10 minute spin times, you're not going to be happy with the Foreverspin. Contrary to the name, Foreverspin tops just aren't built for super high spin times.
If you don't have the patience to learn how to spin a Foreverspin - and each metal is slightly different - you're not going to be happy with the Foreverspin.
If you really think that these are going to be super collectible (they're not) - you're not going to be happy with the Foreverspin.
If you want easy to spin tops that will give you super high spin times (and some variants will be highly collectible) get a Lambda or Vorso with a ruby contact point - you won't be disappointed.
However - if you like the simple elegance of the Foreverspin shape and have the patience to learn to spin a Foreverspin properly, you will be as happy with these tops as I am.

Jack
I bought the miniMuseum collection as a present for my friend and I played around with it at first. Both I and my friend liked them. We are not professional spinners and these tops were the first after the childhood ones. In my opinion, a bit expensive for a top, but the feel of the metal, packaging and performance are excellent.
The website itself is very convenient, pictures are clear and descriptions are good. Recommend!

Richard
scam/no product delivered
My very first "investment" on Indiegogo was Forever Spin -- just some fancy metal spinning tops. But they convinced me that I wanted one. So I made my pledge and gave indiegogo my money. This happened back in February 2016. Now it's October 2016 and the indiegogo campaign shows Foreverspin's last update was THREE months ago. I have received NOTHING. I have emailed Forever Spin many times with NO RESPONSE. Now I see they are selling on Amazon and other places (and not getting the best reviews there either)
So I guess some people actually got the product, but I received NOTHING. Even complaining to Indiegogo got NO RESPONSE AT ALL.