Food52 Reviews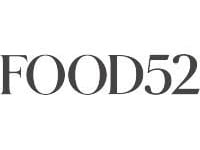 Food52 is an online community whose creators state is dedicated to helping people who love to cook and who love to eat come together in one place where they can find everything they need to eat and live better.
How Does Food52 Work?
According to their website, Food52 was established in order to bring cooks together from places all over the world in a single place where they could exchange recipes and ideas, and support each other in their endeavors in the kitchen.
Since then, they have expanded their community beyond just a place to discuss ideas, but also a place to find and get all the resources you need to make your food dreams and goals into a reality.
Their website now supports makers and artisans by selling their goods and crafts within their online Shop, because "great food isn't just about ingredients, it's about everything that makes a meal" including your cooking tools, your dishes, even the candles you burn on your table.
They also offer their members access to the Food52 Hotline, which is a forum where people can place their food questions or queries and receive responses from other members.
Currently they offer their visitors access to their Shop, Features, Recipes, Contests, and Hotline, as well as a free newsletter that can deliver recipes and inspiration directly to your inbox.
Cost/Price Plans
Because this company sells such a wide variety of products and maintains an inventory that is constantly changing with the addition of new products on a regular basis, there is no real way to quote a single price range for the products you will find on this website. Each product page of the item you are interested in will have a price clearly displayed before you finalize your order.
Refund Policy
Food52 says that, unfortunately, because many of their items are made to order by small artisans who can't afford to hold and store inventory, all sales are considered final.
That being said, if something arrives at your home that is broken or that you are otherwise unhappy with, they do ask that you contact them by email within 30 days of the date of delivery and they will "do everything in their power to make it better."
Whenever they are able to accept a return, refunds will be offered in the form of a Food52 credit, and some items may be subject to a 20% restocking fee, though the website says that they try to avoid that whenever possible.
Customer Service Contact Info
Customers who wish to contact their Customer Service team with any questions, concerns, or complaints can do so by email at [email protected] for shopping or product questions and at [email protected] for recipe questions.
Reputation
There are not very many reviews for this website and their products at this time, except for The Food52 Cookbook, which appears to have generally positive reviews and a number of happy customers online.
Since this company does provide the vast majority of their features and information completely for free, customers should certainly feel comfortable looking through their resources and taking part in their online community.
However, it is important to remember that if you decide to branch out and begin purchasing products from this website, that they do not offer a Refund Policy.
Competitors and Alternatives?
There are other websites, like Salted TV, which are dedicated to helping people find high quality recipes and foods and incorporating them into their lives, as well as a huge variety of books and magazines.
So if you believe that Food52 won't meet your needs for whatever reason, it is likely there are other resources out there that will.
If you have any experience with Food52 or their products, please leave your reviews below.
You may also be interested in
Food52 Customer Reviews

AJH
A gift gone south due to lack of gift card in package!
This was my first order from this company, and it will be the last. It was a gift for my mother. I specifically had a gift card message as it was noted on my order for her birthday. No message was sent.
Furthermore, my mom contacted the company to see who sent her the gift and all they told her was that it was a third party. I ordered 2 $100 outdoor lanterns and she said there wasn't even an operating manual included. Ugh.
Someone else mentioned before I ordered this that they too sent a gift with no gift card. That is such a bummer when a surprise as such goes bad due to lack of attention. Buyer beware if a gift!!!!

Susan B
SCAM, they LIE and products ordered NEVER ARRIVE. The Chat girl KATELYNNE just kept ignoring what I asked. NEVER AGAIN!

Jim P
DO NOT DO BUSINES WITH THIS COMPANY!
I am amazed at the complete lack of service I received as I tried to correct the address for an order I submitted. All I keep being sent is an automated message telling me they have no phone support and my order has been temporarily put on hold. I have sent 8 different e-mails asking for the address change (and asking if my package has even shipped anywhere) but only keep receiving a standard response telling me my order has been placed on hold. COMPLETELY UNRESPONSIVE to any of my concerns - I plan to never buy from them again and to as much as I can to publicize their incompetent level of service.
I still don't know if my gift has been shipped to the bride and groom as I go to their wedding this weekend. DO NOT DO BUSINESS WITH THIS COMPANY! (I am searching out as many review places to post this that I can to alert the world to their complete lack of caring about their customers).