Flex Glue Reviews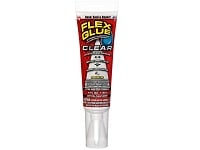 The Flex Seal Products company operates as a part of the Swift Response LLC, which distributes high performance products to large commercial facilities for over a decade now.
All of these products are researched in the company's laboratories by its experts and their effects are confirmed by complex tests by the chemists and scientists.
Up until recently, you couldn't buy them in stores, as the products were exclusively sold to commercial institutions and government facilities.
However, nowadays you can simply go online, pick an item from the Flex Seal family of products and start using them in your everyday chores and for repairs around your home, as seen on TV.
Products
Flex Glue is a product that is excellent for the home, garden, plumbing, electrical and maintenance repairs. It's also a very useful tool for your DIY projects and hobbies.
In addition to that, you can use it in automotive and marine repairs, to maintain your vehicles and boats. On top of that, it is suitable for repairing your RV's, trailers and a versatile product that can help you with the construction work.
It can be used to bond together a range of different materials, such as metal, wood, foam, rubber, tile, ceramic, marble, porcelain, glass, granite, brick, concrete PVC and so much more.
How Does It Work?
Flex Glue is a strong adhesive, which is rubberized and therefore waterproof as well. Having that in mind, it will instantly bond with every material, sealing and repairing any damage done to it. It is thick, so it clings to the surface well.
The most important feature of this product is it can be used on wet and dry surfaces equally and it even works underwater.
The "insta grab" technology holds objects in place and eliminates the need for braces in most cases. It is UV and mildew resistant, it can be painted over, it is low in odor and will not sink or crack.
It will also not run down the surfaces and drip, which makes it suitable for vertical and overhead surfaces, as well.
Cost and Price Plans
Flex Glue is available for $19.99 and $24.99, depending on the package – 6 oz. or 10 oz. supply. You will also pay $9.95 for shipping and handling costs and $9.99 for the processing fee.
In addition to that, no matter which size of the product you choose to purchase, as a bonus, you will receive a handy size of one of the following products: Flex Tape, Flex Seal, Flex Seal Liquid or Flex Shot.
The items can be ordered from all over the United States and the delivery takes between 4 to 6 weeks.
If you are not satisfied with the products received, you should know that the company offers a 30-day money back guarantee.
However, although you will get your money back, the company will not refund for shipping, handling and processing cost. This means that if you decide to return a product, regardless of the size chosen, you will lose $19.94.
Online Reviews & Complaints
Going through the online reviews you can conclude that Flex Glue is a very versatile product, convenient for all sorts of repairs around your home, including waterproofing surfaces.
However, its bonding power depends a lot on the type of surfaces you are trying to use it on. For example, it does not hold well with plastic materials, but wood boards and concrete blocks are grabbed and held almost immediately.
One of the most common remarks is that it takes a lot more glue than shown in the advertisement to get the right results.
In addition to that, the glue doesn't set instantly and sometimes, depending on the type of material and the size of the surface, it can take hours for items to be glued together.
Another complaint is about the package. It is very hard to get the product out of the tube if you try to squeeze it out by hand. This makes the job pretty messy and the application is not at all as neat as shown in the commercial.
Competitors and Alternatives
If you need a product that will help you do things around your home quick and easy, by guaranteeing to bond well on various types of surfaces, you should search for some other bonding agents as well, besides Flex Glue.
Flex Seal vs. Flex Glue - Flex Seal was developed in the same company. It is a rubber sealant coating that waterproofs items fast and easy. However, it seems that Flex Glue is performing better as a bonding agent.
Gorilla Glue vs. Flex Glue - Gorilla Glue has around a 30 second drying time and contains polyurethane, which makes it a strong product that you can apply with success on various surfaces.
On the other hand, Insta Bond adhesive also takes around 30 seconds to dry and harden, but as its main ingredient is a chemical substance named Cyanoacrylate, it needs a separate special spray to activate it and trigger a chemical reaction.
Where to Buy?
This product is available to buy directly from the manufacturer. To place an order visit its official website at www.FlexSealProducts.com.
The Bottom Line
If you need to repair, waterproof and glue together different materials quickly and easily, Flex Glue is the right product for you.
However, you should be aware that it doesn't work equally good on all surfaces and that it has longer drying time than advertised.
Other than that, it is an excellent product to have at hands when you need a quick fix around the house.
If you have any experience with the Flex Glue, please leave your reviews below.
You may also be interested in
Flex Glue Customer Reviews

D.A.S.
Just not worth the money - doesn't work!
If I could put no stars, it would be more applicable! This product sucks! Every possible application did not work and now I just tried the Clear tube that looked like new - not even ever used - and it wouldn't come out! These products do not meet up to their sales pitch. We tried the gutter glue to stop a leak - NO didn't work. What a crappy product that is over hyped on TV!

vincent c
5 star; however, once you open the tube, the contents will start to cure. I placed the cap on properly, used the product one week later and 1/4 of the glue in tube cured. I had to inseret a screwdriver and punch my way through to the uncured glue. I anticipage the remaining glue will be unusable.