Finally Fresh Reviews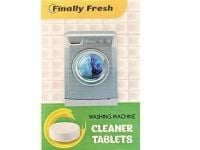 Finally Fresh is a company that states their washing machine cleaner tablets can help keep a washing machine clean from odor-causing bacteria and mold buildup that can lead to odors and stains on clothing.
How Does Finally Fresh Really Work?
Finally Fresh states their washing machine cleaner tablets are made out of EPA Safer Choice certified ingredients, and are designed to work with both front and top loading machines.
Finally Fresh tablets are meant to be used on the inside of the dishwasher before you wipe down the interior and exterior with an alcohol or bleach-based cleaning wipe.
They tablets are intended to remove unpleasant smells as well as bacteria and other unwanted buildups inside the washing machine.
Finally Fresh contains basic ingredients like surfactants and an oxygen-based bleaching agent and must be stored in a dry, cool place in order to remain usable.
Cost/Price Plans & Customer Service
You can purchase Finally Fresh tablets directly from the manufacturer, where you will receive up to 50% off your first order. Just one tablet lasts an entire month, and it works in all sizes, types, and brands of washing machines.
When you buy, you will receive six tablets, one for each month, per box.
One box will cost you $14.95 plus an additional $2.95 for shipping and handling. This box contains 6 tablets, giving you a 6 month supply. You can receive a discount of 5% or more if you make a larger order.
The company offers a full refund if you choose to return your product within 90 days of purchase, though you will have to pay for shipping yourself when returning the product.
The Finally Fresh website lists it's corporate offices as being located in Canada, the UK, and Australia. Their can be reached via email at [email protected] or by phone at 1 (833) 342-4713. The company has a mailing address in Hayden, ID. Shipping costs for any returns must be paid for by the purchaser.
Customer Reviews/Complaints
It is difficult to find reviews for Finally Fresh washing machine cleaner tablets because it is only sold directly from the manufacturer. While the reviews on the C website are positive, there are some features of the site that give us pause.
While the reviews posted there are simply screenshots of customer praise, there is no constructive feedback listed. The company is not registered with the Better Business Bureau, so it's tough to find legitimate information there, too.
Where to Buy Finally Fresh?
Finally Fresh is marketed at a number of similar website run by the company, including ShopFinallyFresh.com and FinallyFreshCleaner.com.
We have not found this product for sale at any other online retailers such as Amazon or Walmart.
Competitors and Alternatives
There are a number of other alternatives when it comes to keeping your washing machine clean and sanitary.
Finally Fresh vs Affresh - Affresh makes a variety of cleaning solutions for the home, including washing machine tablets that are extremely inexpensive - 6 tablets cost you less than $12.
These tablets work in the same manner as Finally Fresh, do not contain bleach, and have a two-year shelf life. They can be purchased from a variety of retailers, including Amazon and WalMart.
Finally Fresh vs OxiClean - This well-known manufacturer of household cleaning supplies makes Odor Blasting Washing Machine Cleaner tablets, also an affordable option.
The Bottom Line
If you're looking to keep your washing machine clean, you might have better luck sticking to a well-known manufacturer like Affresh.
It could very well bet that Finally Fresh is simply a new company that hasn't gotten the traction yet to support a robust marketing campaign and distribution in other major stores, but the lack of transparency when it comes to this company has us concerned that it might be just a passing gimmick.
If you're willing to give Finally Fresh a try, you aren't going to be out a ton of money - the tablets are relatively inexpensively after all.
However, with plenty of other alternatives out there, you may want to pass on this one.
If you have any experience with Finally Fresh washing machine cleaner tablets, please leave your reviews below.
You may also be interested in
Finally Fresh Customer Reviews