Finally Fresh Reviews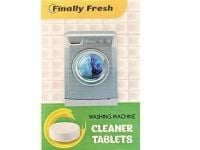 Reviewopedia is supported by our readers. This page contains Amazon links through which we may earn a small commission for purchases.
Finally Fresh washing machine cleaner tablets are a product intended to keep a washing machine clean from odor-causing bacteria and mold buildup that can lead to odors and stains on clothing.
How it Work?
BuyFinallyFresh.com claim their washing machine cleaner tablets are made out of EPA Safer Choice certified ingredients and are designed to work with both front and top loading machines.
The tablets are meant to be used on the inside of the dishwasher before you wipe down the interior and exterior with an alcohol or bleach-based cleaning wipe.
Finally Fresh contains basic ingredients such as surfactants and an oxygen-based bleaching agent and must be stored in a dry, cool place in order to remain usable.
There isn't a lot of detailed information provided by the company regarding the specific ingredients that are in Finally Fresh tablets.
To further complicate matters, this product is being marketed and sold through several different websites.
It's difficult to find information about the company or to know if it's several companies marketing different products using the same name.
Where to buy Finally Fresh?
We found three different places to buy Finally Fresh.
1. ShopFinallyFresh.com - This basic website has some vague information about the product and has an offer for a 'buy one get one free' special for $40.00.
They provide the following contact info:
Email - [email protected]
Phone number - (833) 342-4713
And a return address of:
10450 N Airport Rd
Hayden, Idaho 83835
ShopFinallyFresh.com states that they also offer a 90 day money back guarantee.
2. BuyFinallyFresh.com - A virtually identical website that also use the same Facebook customer reviews which do not seem to be from actual customers.
This website offers a variety of purchase options with costs depending on how many units of Finally Fresh that you order.
They provide the same contact info but also include addresses for international offices in CA, UK, and Aus.
3. Finally, you can also find Finally Fresh on Amazon. Finally Fresh products found on Amazon appear to be different from the ones found on the websites above and use different packaging.
On Amazon Finally sells two items:
Customer Reviews & Complaints
It's difficult to get a clear picture of this company's history and whether the items on Amazon are sold by the same company as on BuyFinallyFresh.com and ShopFinallyFresh.com.
Most of the customer feedback regarding Finally Fresh from the two sales websites are negative, while customer reviews on Amazon are largely positive.
There are a range of complaints concerning very slow shipping and even non delivery of products.
Furthermore, many customer reviews state that Finally Fresh tablets do not work as advertised and are overpriced for the results they offer. Some reviews mention common home remedies that work just as well and cost much less.
On Amazon Finally Fresh Washing Machine Cleaner has a score of 4.4/5 from 852 reviews, with some customers stating that they have had some success with the product.
The Finally Fresh Dishwasher Cleaner also has relatively positive reviews at 4.3/5 and has the 'Amazon's Choice' designation.
Finally, there is a listing for Finally Fresh on the BBB website. There the company has an F rating and is not accredited.
On that platform there are many negative reviews with some customers stating that they were inadvertently billed for a year's supply worth of product.
The BBB lists different contact information than is found on BuyFinallyFresh.com or ShopFinallyFresh.com
4391 W Hargrave Ave
Post Falls, ID 83854-8380
(949) 391-4039
Interestingly, the BBB lists Toiletbowlcleaner.net as the product website. This appears to be the same type of sales and marketing funnel except for a toilet bowl cleaning product.
Unsurprisingly this product also has many negative reviews from customers who feel that they were scammed.
Competitors and Alternatives
Finally Fresh vs Affresh - Affresh makes a variety of cleaning solutions for the home, including washing machine tablets that are inexpensive (6 tablets for less than $12).

Affresh tablets work in the same manner as Finally Fresh, do not contain
bleach, and have a two-year shelf life. They can be purchased from a variety of retailers, including Amazon and Walmart.

On Amazon they have an impressive 4.7/5 rating from 171,255 customer reviews and are an 'Amazon Choice' selection. A 6 month supply of Affresh costs around $10.
Finally Fresh vs OxiClean - OxiClean is a well-known brand of household cleaning supplies that makes Odor Blasting Washing Machine Cleaner tablets, also an affordable option.

On Amazon they have a rating of 4.6/5 stars from 40,002 reviews. OxiClean sell 4 pouches for $7.49.
Is Finally Fresh Legit?
It's difficult to find information about Finally Fresh, and this lack of transparency has us concerned about the quality of the products.
Almost certainly the products sold on websites such as BuyFinallyFresh.com and ShopFinallyFresh.com not legitimate.
The Finally Fresh products found on Amazon appear to be a different product (though it's not entirely clear) and have much better customer reviews.
If you're willing to give Finally Fresh a try, make sure to order from Amazon and not any of the other websites. This way you're somewhat protected by Amazon customer service.
However, you still may have better luck sticking to a well-known seller such as Affresh.
If you have any experience with Finally Fresh washing machine cleaner tablets, please leave your reviews below.
You may also be interested in
Finally Fresh Customer Reviews