Feetures Socks Reviews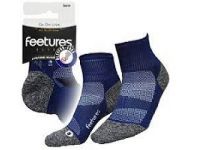 About Feetures Socks
Don't you just love the feeling of adrenaline coursing through your veins as you soak up all those good-feeling endorphins? I know I do! Unfortunately, it is difficult to enjoy the feeling of accomplishment after an athletic feat if your socks keep slipping down, your feet get drenched in sweat, or you can feel those painful blisters popping up.
That's where the right pair of running socks comes in. Most runners say that special socks are an essential element for a good run. Usually, these socks provide ankle support, include anti-sweat technology, and provide an excellent fit, which means no blisters! If you are looking for a good running sock, maybe the company Feetures can help you out!
How Does It Work?
Feetures sells athletic socks designed to help athletes reach peak performance. Their unique design boasts the best in comfort & support, feels custom-made, prevents blisters, and keep your feet dry.
They say that their socks are made to last, as long as you follow their simple care & washing instructions. They have products to fit all your needs, including: activewear, relief & recovery, every day, and golf.&nbsp
&nbsp
Cost and Price Plans
If you would like to purchase Feetures socks, you can find products at a variety of price points. For example, one pair of their famous High Performance socks from the active line will cost either $12.99 or $14.99 depending on the length of the sock.
The no show tab length socks, which sit below the ankle, as well as the quarter length ankle socks are each $12.99 a pair, while the taller crew length socks cost $14.99.
Feetures also has an Elite line within the Active department. These range in price from $15.99 to $17.99. There is also the option of purchasing in bundles, which allows you to save some money.
Additionally, they offer a Relief & Recovery Line, offering products such as a Standard Relief Sock to ease foot pain for $29.99 and Graduated Compression Socks which aid in recovery, for $44.99.
The products in their everyday line range in price from $13.99 to $22.99.
Competitors and Alternatives
If you are on the hunt for a good pair of socks, there are a few other companies. You may want to compare Feetures Socks vs Bombas, vs. Smartwool, and vs. Darn Tough.
Bombas is a company that focuses on delivering the best in comfort for everything from t-shirts to socks. They strive for perfection in all their products and innovate constantly. Bombas offers running socks in the $16-$18 range, as well as casual socks starting at $10.50, in addition to dress socks at $14-$16 a pair. One thing to consider is that for every item of clothing you purchase, they donate one item to someone in need.
Smartwool is another alternative. They believe that those who love the outdoors should have access to clothing that makes comfort a priority in any adventure. As such, they created a sock made from Merino wool, which helps keep your feet warm or cold depending on the weather, is incredibly soft, and promotes comfort.
One pair of athletic socks from Smartwool will cost anywhere between $15.95 and $26.95. Their casual socks are in that same ballpark, while their compression socks will set you back about $34.95-$35.95. Smartwool also has a hospital donation program, sending a pair of socks to a hospital for every pair that you purchase.
Finally, you might consider Darn Tough for your sock needs. Darn Tough is a Vermont-based company that aims to create the most comfortable, durable socks with the best possible fit.
Their products are designed & tested in the Vermont winters, ensuring quality in even the harshest of climates. Darn Tough's athletic socks range in price from $15.00-$35.00 and they manufacture socks for a variety of activities, from hiking, running, & snow activities to daily life & work.
Customer Service
The company is eager to hear from you! If you have any feedback or questions, you can reach out at [email protected] or dial 888.801.7227.
They have a return policy that allows you to request a replacement at any time directly through their website. You also have the option of getting a refund if you are dissatisfied with your order, but it is not clear how long you have to claim that refund.
Online Customer Reviews/Complaints
Feetures promotes itself as the best company for all your sock needs, but what are people saying? The press section of their website provides examples of some of the buzz that they have gotten in the media. Business Insider claimed that Feetures [lives] up to the promised results," with "high-quality construction" that "[makes} them last."
And Runner's World named Feetures as one of the "best and most comfortable socks for runners." They also have positive press from a variety of other publications.
Most customer reviews of Feetures seem to be positive, whether they are directly on their website or on other sites such as Amazon or Dick's Sporting Goods. For example, their Elite Max Cushion socks have tons of praise, with customers saying things like "These socks feel as if I am walking on air," and "I think these are the best running socks around."
And their high performance cushion no show socks have positive reviews with verified customers claiming that "these are the only socks [they] will wear to exercise or run," and "these socks are amazing."
Some reviews, however, are less than stellar. For example, some customers on their website claim that the socks are "not worth the hype," or "don't stay up." To their credit, Feetures does not try to hide negative reviews on their site.
Sure, the majority of reviews posted are positive, but this checks out when you look at reviews on other websites like Amazon and Dick's Sporting Goods. Overall, there are a significantly higher number of satisfied Feetures customers than dissatisfied ones.
Where to Buy?
You can order Feetures socks directly through their website. But if you prefer to order on Amazon, you can do that, or purchase them in-store from shops such as Dick's Sporting Goods or REI.
Is It Worth It?
Feetures has great customer reviews overall and has been recognized many times in the media. Plus, they offer a lifetime warranty. Of course, there are other similarly priced and well-reviewed socks out there. However, if you are even remotely considering buying from Feetures, you certainly would not be disappointed by running out to get your next pair of socks from them!
You may also be interested in
0 'Feetures Socks ' Reviews