Fareboom.com Reviews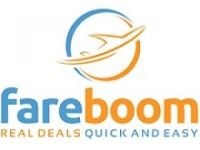 Fareboom.com Customer Reviews

Alberto A
They are 100% legit! Not a scam.
They are not a scam. They are totally legit. I'm glad to write this review because they found me an incredible trip to Rio de Janeiro, Brazil (From Miami) and everything went very well. No problems at all. I was a little bit worried at the beginning but I decided to move forward and if something weird happened I would start a fraud claim with my credit card company. So as soon as I received the "trip code" I checked at the airline company's website and it was confirmed there. Then the trip day came and everything worked pretty well. I'm a real customer and they are not scam. I'm sorry if someone else had problems with them but for me it worked.

Sandy S
I think I already wrote a review but I wanted to post an update. I didn't book with this company. I called Delta airlines for help and it was redirected to them. They charged a $500 fee for doing nothing and when I asked for a refund which was in October 2021, they said it would take a few billing cycles. I've called every few months.
In April, they found an error and had to resubmit my refund. Today, they said it will be processed and I should see it in a few weeks. I then received another email saying the company doesn't exist anymore but the email came from the same company, Fareboom.
They told me to contact my bank. I told them my next step will be to contact my attorney. I'm surprised they are still in business and haven't been sued yet!

Maya
Fareboom should be closed! Horrible!
Be aware! They are scam! They charged me the ticket price and they canceled my flight few hours before my flight without any explanation. They haven't returned my money back either! This is so inconvenient and this company should close their business before more people got scammed through them. I will file a claim at other platforms too! Horrible!!!

Trey
This is their money grab scheme:
1. Customer Pays Cash/Credit
2. Cancellation of flight without your knowledge then being directed to the airline for help or another inconvenience forcing a limited time refund/voucher.
3. Keep your money and string you along for a refund or you just never hear back and they continue to hurt other hardworking people looking for a fair price. Some have probably been lucky but many have been victims.
President is a crook: You will pay eventually for this Marko Cadez.

Dannnina
Terrible service...costumer service doest answer at all and don't care . Have booked ticket 6 months in advance..there were 3 times that it changed. It took me 4 days traveling from Austria to Newark. I tried not to accept the changes or to cancel months in advance but they did not accept (have all the email with costumer service) finely arrived in Toronto to take last flight to Newark by destination..but one hour before check in ticket was canceled..after couple of hours begging to go home I got a ticket from Toronto to Boston waiting time 11 hours ..next flight from Boston to Newark at 6:30 in the morning did not exit..tried to contact Fareboom they never answered, never replied ..finally found another ticket and baggage disappeared, no one knows, no one cares. The worst.

Tokyo P
So I purchased a ticket last year from EWR to London for $140 dollars the airline changed my flight and due to COVID was given a credit for $140.00.
I wanted to use that credit to book a flight from EWR to Bogota for $94.00 and was told by FareBoom says I have to pay $269 to get that $94 dollar flight. Now what dumbe person in the world to pay $269 when you can get that same flight for $94.00 dollars directly with United. DONT USE FAREBOOM
They literally want to steal my $140 dollar credit and pay and additional $269 for a flight that is only $94 with taxes
Don't be the next victim! This company doesn't even have a phone number you can call and talk to a live person. Imagine you have an emergency and you have to deal with emails and getting your money stolen too!
Horrible company- Marko Cadez is a crook. You should go to prison for stealing my money. I am a hardworking healthcare worker that has been diligently working during this pandemic and it's people like you who are a disgrace to mankind by doing such bad business. I booked my flight for my family Jan 2020 in hopes To travel to the UK July 8-18. Your company is only giving us a voucher for one year which does not work since my kids are in school, The UK is not allowing US citizens to even travel and you won't refund my money????????
Unbelievable and horrible business model. Stealing my money and taking advantage of people during a worldwide pandemic. There are no words for this type of situation.
This is the WORST, dirtiest, money hungry agency that I have ever encountered. We have saved very diligently for a trip to Europe 7/8-7/18/20 with our kids which would've been their first trip. Because of COVID we are Unable to travel. They issued a voucher good for one year which dosent work since we booked 1/20- our kids are school age and would need to travel in the summer. We have tried countless times to reach them over the phone to no avail. Their phone number constantly tells you to go through the website but the site tells you that you can get a voucher for a year. WE ARE IN THE MIDST OF A PANDEMIC!!! DO NOT BOOK WITH WITH AGENCY. The Ceo Marc Cadez is clearly a crook and is stealing everyone's money. I would like a personal phone call from him explaining why he is doing this to me and my family. You are a terrible person and hope will reap what you are doing to all of us in some way or other. Why don't you speak up and voice to everyone what you are doing. You should go to prison!

Michael H
Pushed into a refund and then charged $150
Pushed into a refund and then charged $150
Greetings. This is our first time using Fareboom. We purchased tickets to fly from Tampa, FL to Rio de Janeiro, Brazil and back to Tampa (August 14th - August 21).
We were happy with the tickets we were able to reserve through Fareboom. But then... we received an email.
When Fareboom emailed me that our flight(s) had run into seating/cancellation problems, they gave me two options: allow them to reschedule us on alternative flights (which is the choice we first made and wrote them) ...OR... pursue a refund.
Their response to finding us alternate flights was to confirm out cancellation (which we did not choose in our initial response).
Having to confirm the cancellation (we didn't make), we were left with choosing a refund. Fareboom gave us two refund options (allegedly).
First option, accept the cancellation through them and pay $75. Second option, basically go request a refund from the airlines (in this case United Airlines).
Having read reviews, I learned the standard answer from the airlines is that my wife and I purchased our tickets through a 3rd party (Fareboom) and therefore the airlines were not responsible for any refund.
So basically, it appears that Fareboom did not give my wife and I any refund options other than to pay a $75 fee (per ticket) for them to provide me a refund within 2 months.
This is the email I received after having to accept their refund process with a charge of $150:
"This is to confirm that your Fareboom Order O-2B1149981 has been cancelled and filed for full refund per United Coronavirus waiver conditions. You chose the expedited processing option with $75.00 per ticket administrative filing fee."
My problem is, Fareboom used the phrase "expedited processing option" to justify the $75 fee per ticket (and we had 2 tickets, so its costing us $150). This "expedited processing option" is included in their response but not given as an option when I was forced to pay the $150 fee for the refund.
There was no option to get the refund from Fareboom without having to pay for the "expedited processing option".
It appears Fareboom is forcing people to pay $75 (per ticket) when the industry and government regulations / standards clearly say "Full Refund", is a terrible way to do business.
Since this whole process just occurred 30 minutes ago, I'll wait to see if Fareboom does the right thing and refunds my entire amount or keeps $150 of our money.

Tracy M
Booked a ticket for my husband to go to Italy (I was traveling separately). Got a good fare from this company but then had to reschedule due to coronavirus. Ticket was on American Airlines, they waived change fee so we called FareBoom to reschedule. Here's how it went:
1. If you book an itinerary with a lower fare you get no refund. Okay, fine, not uncommon.
2. We found an itinerary we wanted and noted the price, which was $170 more than our original. When we went to book it they told us it was actually $305 more than their quoted rate.
3. We chose a different itinerary that was $128 LESS than our original flight but were still told it would cost us an additional $304. Huh???
Every time I tried to grasp the logic of these quotes I was given different explanations (the taxes, published fares vs. their discounted fares, blah, blah). At the end of the day the math is the math and they just wouldn't come out and say that the $998 wasn't really $998 but $1098! They list the fare as one price and quote you another price when you go to ticket. They try to bamboozle you with a lot of nonsense to "explain" it but it's still a bait and switch.
Not to mention that the people who work there don't seem to know what they're doing and I spent hours on the phone getting bad info and only got passed to a supervisor for clarity after pressing the guy for logic. Even the supervisor gave me a load of nonsense. I'm planning on contacting the FTC.
Go somewhere else more reputable. In the end, what we paid was no different than if we had gone to the airline directly.

Lolaw
Reading tho all the comments I'm scared to say that majority says its a scam and will take all ur money
(example) *what people have said*
pros and cons
PRO
-less $$
-focuses more on flights
CONS
-some people had to pay double the original price
-Accidentally did the wrong date and called for a refund but no refunds
-bought a security site
-Sometimes cancelled the ticket after 30 minutes of the flight and was forced to pay the full price directly form the airline's airport counter
-Refused to modify ticket after buying it even tho the airline company are allowing u to modify after buying
-messed up the ticket and refused to take responsibility to fix it.
- hidden charges
I prefer to use
-Expedia
-Flight Hub
-Kayak
-cheapoair
Being Honest don't use Fareboom personally i haven't used it but reading all the negative comments, I don't want to give my credit card information to a website people are saying is a scam.

Juan
BEWARE, WORST EXPERIENCE EVER!
I had the WORST ever experience with Fareboom. I booked a ticket using my mother's international credit card. After a lot of additional information requests (which included a scanned copy of the credit card (??!) I spoke to a representative that was supposedly able to verify the payment. 3 days before the flight I noticed they cancelled my ticket and never confirmed the booking. Not only that, the payment was processed and haven't refunded me the money yet. PLEASE BE AWARE AND NEVER BOOK WITH THIS COMPANY!!!

Des
Great fares from a reputable travel agency with A+rating at BBB
In an age of online travel where many sites are merely shells with no physical location in the U.S. and merely a call center in a distant part of the world, Best Travel Store / Fareboom is a nice exception with a physical presence, customer service representatives that you can know by name, Better Business Bureau (BBB) accreditation with A+ rating, technology-investment and a presence on social sites such as Facebook, Twitter, etc. For this reason, I would rather patronize them than others such as smartfares, Go123travel etc., that also have low fares on the front end but virtually no support on the back end.
Further, other online travel agencies and consolidators (for example cheapoair) have a blanket statement that all the tickets sold on their site are non-refundable even when the airline fare rules clearly state that the ticket is refundable. Fortunately, fareboom is not like cheapoair and other discounters/consolidators. Instead fareboom offers the same fare rules as the airline for that particular fare and one can click the "fare rules" button to know the rules right upfront (other travel agents indicate ticket fare rules only after you enter all information and are just about to buy a ticket)
So kudos to fareboom for running an ethical and reputable business.