Everyday Minerals Reviews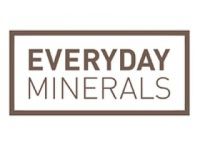 You may also be interested in
Everyday Minerals Customer Reviews

JOJO r
Been with them from the beginning... is this the end?
I have been using EDM since they came out in 2006. I quit using them for a while because I too got tired of them QUITTING products without any notice to customers. They finally settled into being reliable these past 5 years but just today I noticed they have hardly any eyeshadows available and all their eye shadow kits are gone meaning... I think they are closing out their final products and not telling us AGAIN.
With Covid, I bet they are just another company going out of business quietly. SAD. I wish they would tell us when they are not making any more of certain products so we could stock up on them BEFORE they quit producing them. Sadly they started selling everyone else's product and they do not promote the very all natural mineral products they came into business to make and sell.
Who needs a middle man to buy Thayers witchhazel toner, I can buy that at the local drug store. I think they are dead financially or can not longer get the minerals from China to make their products. WHO KNOWS? They certainly are not telling us their customers. Very disappointing. I read on Glass door they are horrible to work for so maybe this is a good thing for the poor people who have to make and sell the products?

Holly
Love love love! Did I mention love?
Love this makeup! Blends well, light weight, doesn't make me break out. Best of all for the first time i have found a foundation that matches my light olive skin. Most light shades are far to pink for my skin. This has the same golden olive tones my skin does. It blends flawlessly. I cant't believe how great my skin looks! Large containers too. I was expecting way less for the price. I was using Smashbox halo, but I am much happier with the performance and price of EDM.

alynnn
I just finished trying out all of my free samples from EDM, and I have to say that this makeup is AWESOME! I have fairly sensitive skin, and I have not had any problems with this makeup. I tried a sample of 4 different colors of foundation (they call their foundation base) in semi-matte and the it formula.
I also sampled the finishing dust and one blush. All for $4 total because you have to pay shipping. I have seen some reviews that dock points from EDM because they say it looks like makeup, but I am pretty sure that those people did not find their correct color match. The linen, fair and fairly light neutral were NOT my color match.
They still looked good and blended nicely, they just did not look as natural overall. The fairly light was the best match for me. Even my husband approves, and he normally thinks I should not bother with any makeup!
My one and only complaint on this makeup would be the numerous choices. I almost left their site and gave up all-together. Base? Face? Finishing powder? I had no clue where to start. I am glad I did a little research and figured out that the base IS the foundation, and it is really all that you need. The blush and finishing powder were nice extras since you get to try 7 samples for free (plus $4 shipping)!
A few additional facts:
1. Customer service with EDM is fantastic! I ordered Thursday NIGHT, and I received immediate order confirmation and tracking number. The order arrived Monday. I also emailed them to inquire about the amount of product in their big size, and they emailed back within an hour!
2. I also ordered a sampler from Faerie Organics. The shipping on FO took a lot longer, so I tried EDM simply because it came first in the mail. I like it so much I might not even bother to try FO! But that said, EDM big size foundation is $12.99 for only 4.8 g. FO is $18.50 but comes with 9 g. This means that price per gram, EDM is actually more expensive. So, I will give FO a try too once I am all done testing out my EDM.
Bottom line: You should order your 7 free samples ($4 shipping) ASAP!!! Definitely worth a try.

Darcy
I ordered samples for two dollars, fast shipping, easy application. Everyday minerals makes me look amazing. Enough said.

M S
Don't bother using their products!!
They discontinue & change products CONSTANTLY! Its just not worth the hassle!
I started using everyday minerals about 3 years ago. Initially I was very satisfied. They had a wide range of products in a huge variety of colors and finishes. They were also one of the very few cosmetics i could use without suffering later. I have extremely sensitive skin. Cosmetics usually either make me break out in acne or an allergic rash. I never had any problems using any if their products.
So I began to spread word of the wonderful makeup I had found. Then, six months into using their makeup, I ran out of something & went to re-order. This is where it all goes down hill, drastically!! I was surprised to find out that they had discontinued this product & were not offering any sort of replacement. Not even a suggestion. Then when I emailed them about it they said that they had plans to bring in some new & improved replacements.
However, after over a year they had not done so. Not only that, again I ran out of various products of theirs & went to re-order. Poof! They had discontinued those as well! So I ordered different samples trying to replace what I needed. I am not kidding when I tell you that by the time I was done with the samples & started liking the replacement products I tried, they had discontinued these products as well.
The story repeats & repeats for just about three years! I finally gave up & went back to using MAC as I did for years before. I ordered a lot of makeup from them & fell in love with products, only for them to quit making them, just like that! I mean they did eventually come out with some new products. BUT THEY HAVE BEEN DISCONTINUED ALREADY TOO!! Its ridiculous! I hate having to find replacement makeup all the time. Its a hassle.
They made doing my makeup horrifying cause I was scared to run out of something! Don't even bother wasting your time on them! Anything you find & like, won't be around for long at all anyways!

Alicia
Poor Comunication and Customer Service
I began to use Everyday Minerals makeup about 5 years ago after several recommendations from other people who had difficulty finding foundation to match either their very pale skin or darker skin. At the time, you could order a free sample kit of several your color choices. Being very pale myself, I eagerly tried their product and found that their palest foundation shade was perfect for me.
About a year ago, however, the company began discontinuing many of their original products, including the mineral foundation and mineral power concealer I used, as well as many others colors. There was little explanation or warning for this change, except a promise for a "new formula" that was coming out. When the new foundation was revealed months later, there were few variations in colors and it only came in a matte formula.
I had previously expressed my concern about the color changes through their website customer service form, but received no response. Everyday Minerals had previously removed an online forum on their site that allowed customers to express opinions about their products. It is extremely disappointing that this company has decided to change their main attraction of varied shades of mineral foundation that other companies do not provide. The lack of communication with customers over the decision and ignoring customer questions is also irking and a bad business practice. While I will continue to check out the website from time to time, I will definitely be looking for a more reliable company.