EverWash Reviews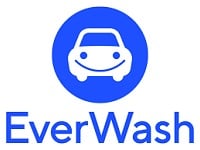 EverWash is an app that has partnered with local car washes to provide unlimited washes for a monthly subscription fee. The company states they partner with neighborhood car washes across the country, and they are continually adding new partner locations.
How Does EverWash Work?
Simply download the EverWash app from the Apple App Store or from Google Play, and type in your address or zip code to discover participating carwashes near you. Drive up and scan your app to start your car wash.
Individual car wash locations have different plans available, so when you sign up you select your plan based on that single location, and you can only go to that location for your unlimited washes – they don't transfer to other companies.
Because you choose your local car wash, plans are customized based on their existing options and your area specifically. A few examples of available plans:&nbsp
&nbsp
At Xpress Super Soft Car Wash in Philadelphia, choose between Xpress Wash for $13.99, Premium Wash for $19.39, or Ultimate Wash for $25.87 per month.
At H&S Store 2050 in Sacramento, CA, choose between Express for $14.99, Deluxe for $19.99, or The Works for $24.99 per month
At ProClean Auto Wash, Leetsdale in Denver, CO, choose between Basic Wash for $18, Deluxe Wash for $22, or Super Wash for $25 per month
From these examples, you get a sense for the difference between locations and plans, and how each company is able to customize them based on their existing offerings. The basic plans are mostly exterior wash and hand dry, and add more services like waxing, underbody blast, sealants, and wheel scrubs as you upgrade your membership.
You can only have a single car per membership – if you do want to include multiple cars on your app, go to your QR code page in the app and click the button labeled "Add Another Car". This will allow you to select a new plan for your other cars.
Cost and Price Plans
Car wash plans vary by location, but start at just $9.95. You can get unlimited washes for the cost of just one or two washes per month. Most local car washes have plans ranging from basic exterior wash and hand dry around $10-12, all the way to Deluxe full service washes around $25.
Customer Service
The customer service of EverWash is very responsive to questions and concerns, and will work with you to find solutions to any challenges you encounter.
If you have questions please email [email protected] or call the phone number, (215) 618-8808. The customer service hours are regular business hours, 9-5 Eastern, for calls, but feel free to send an email at any point and they will get back to you as soon as possible.
To cancel your membership, visit the Account Settings page and scroll down to the bottom until you see the list of your active memberships. You can click the cancel button to cancel your membership.
Online Customer Reviews/Complaints
Overall, we found that EverWash receives mixed online reviews from customers. The app has a rating of 3.5 stars on Google Play, and 3.9 on the Apple App store. It's a fairly simple app without a lot of bells and whistles, so there are some complaints in the reviews about challenges accessing information within the app.
However, nearly all the reviews are glowing in regards to customer service – if you run into any challenges, you can easily get in contact with their team to resolve those issues.
If you have any experience with EverWash or their services, please leave your reviews below.
You may also be interested in
EverWash Customer Reviews

Louis M
Consumer beware the company will sign your credit card up for membership and then it is an act of Congress to get them to stop. When you stop the recurring charges they can't find your account or other excuses

Combat V
SCAM! Fraudulent Credit Card Charges SCAM!
EverWash has repeatedly charged my credit card each month in an attempt to defraud me. My bank will decline all the charges and then cancel my card due to fraudulent charges. This has happened 3 separate times where the bank will cancel my card due to EverWash fraudulent (excessive) billing. I reached out to EverWash (Oscar) and asked them if they could fix the billing issue on their side and they instantly cancelled my account. STAY AWAY AND DO NOT GIVE THEM YOUR CREDIT CARD. IT'S A CARWASH SCAM!

Chelsea n
These guys took 85 dollars out of my account even though I cancelled ON TIME. I called and they refused to give me a refund... so why do i not have a membership then???? Why is my membership STILL canceled but money is still missing from my account??? I want my money back... they stole my money and now wont give me privileges to use the membership that they stole the money for????? I have proof i canceled it, with confirmation, and proof i no longer have a membership. I also have proof the money has been taken from ever wash and not returned.... 100% DO NOT RECOMMEND THIS COMPANY