Evens Acid Reflux Treatment Reviews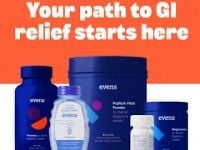 Heartburn and acid reflux are uncomfortable and can interfere with your enjoyment of daily life. While most will experience some symptoms occasionally, about 15-30% of Americans suffer from Gastroesophageal Reflux Disease (GERD), meaning that they experience mild to severe symptoms on a regular basis. Not everyone with heartburn has GERD –this quick quiz can help you determine if you might be at risk for GERD.
Whether you suffer from GERD or not, dealing with heartburn and acid reflux is no fun and you will want to rid yourself of the symptoms ASAP. Many patients have great success managing their reflux with simple lifestyle changes including cutting portion sizes, avoiding trigger foods, and losing weight.
Some, however, find that over the counter and prescription medications are required to combat their symptoms. Evens is one such medication.
What Is It?
Those who take medication to treat their symptoms may find the constant office and pharmacy visits to be a nuisance. Thirty Madison, a customer-focused healthcare company, has created a new brand to help sufferers.&nbsp
&nbsp
Evens is an online service that strives to make it easy, quick, and convenient to get the heartburn medication you need when you need it. The company allows patients to get their medication delivered on their schedule, meet with doctors virtually, and find the perfect treatment plan for their needs.
What Medications Does Evens Offer?
Evens' acid reflux treatment options include both over the counter and prescription medications. For example, they sell antacids as an over-the-counter treatment. According to experts, antacids are a good choice for those who need quick symptom relief. Calcium carbonate, an active ingredient found in most antacids, works quickly to balance excess stomach acid, and provide immediate symptom relief.
Evens also offers longer term treatment solutions like the proton pump inhibitors (PPI's) esomeprazole, omeprazole, pantoprazole, and rabeprazole. PPI's work to decrease the overall amount of stomach acid produced, thus reducing instances of heartburn.
How Does an Evens Subscription Work?
Evens was created with the intention of making your symptoms easier to manage. The service is quick and simple to use. Simply select which treatment(s) you need, decide on a delivery schedule, and wait for your medication to arrive. Please note that if you order any prescription medications from Evens, you will be required to complete a quick telemedicine visit with a physician.
You can modify or cancel your Evens subscription at any time and order some medications like antacids without a subscription.
Cost and Price Plans
The cost of an Evens subscription depends on your personalized treatment plan. A 30-day supply of most medications range in price from $21.00-$35.00. The full list of pricing can be found on their website.
If you need a prescription medication, you will pay $10.00 for your telemedicine visit. All orders have a $3.00 shipping fee.
Customer Service
If you have questions or need help using the service, you can e-mail [email protected] or call 855-44-EVENS for support.
Online Customer Reviews/Complaints
There aren't many reviews of Evens available online, although the ones we could find are positive.
One reviewer has stopped by Evens' Facebook page to leave a glowing review and another had good things to say about the company on US reviews. You can also find some tagged posts on Instagram from food influencers who rave about Evens – these should be taken with a grain of salt, however, as they may be paid advertisements.
We found more reviews of Keeps, a hair regrowth company and one of Thirty Madison's other brands. These reviews are mostly positive, with many customers praising the efficacy of the products. The negative reviews complain about issues with customer service, problems with online ordering, and being double charged. Since both brands are owned by the same company, you may experience similar problems with Evens.
Competitors and Alternatives
Competitors include telemedicine companies PlushCare and Teladoc.
Like Evens, both are telemedicine services designed to make doctors visits and prescriptions easier. Unlike Evens, both services are not limited to just heartburn issues – instead, they allow you to schedule virtual medical visits for all types of everyday health problems, mental health issues, and urgent health concerns.
You can also use your insurance plan for payment on PlushCare and Teladoc. If you do not have insurance, a visit will cost $99.00 on PlushCare and $75.00 on Teladoc. Both services send prescriptions to your local pharmacy for pick-up and allow you to easily follow-up with your doctors in chats through the apps.
PlushCare and Teladoc have both earned mostly positive reviews. Facebook users and Trustpilot reviewers claim that PlushCare has competent, friendly doctors, is easy to use, and offers convenience. Some, however, claim that the service has poor customer service and long wait times during appointments. Similarly, while many reviewers went to the Apple App Store to rave about their great experiences with Teladoc, some complained that they had to wait too long for an appointment, were unable to get the medicine they needed, and had issues with customer service.
A final alternative to Evans is to subscribe to your favorite heartburn medications on Amazon. 330 Extra Strength TUMS tablets, for example, cost only $13.29 through the Subscribe and Save program. The product has earned glowing reviews from thousands of customers and, like Evans, Amazon allows you to set your preferred delivery schedule.
Where to Buy?
Evens is a subscription delivery program that you can sign up for on their website. The pharmacy responsible for filling their' subscriptions is located in Lakeland, Florida, but your orders will be delivered directly to your door.
Is It Worth It?
Heartburn is a pain and there are many effective treatments that can help you get the relief you need - Evens might be one of the best place to get these treatments. However, the lack of customer reviews makes it difficult to recommend the service at this time. If you are looking for a convenient way to get your heartburn medication, consider enrolling in Amazon's Subscribe & Save program for your favorite OTC treatment, trying a respected telehealth provider, or finding a local pharmacy that delivers.
You may also be interested in
Evens Acid Reflux Treatment Customer Reviews