Epic Sports Reviews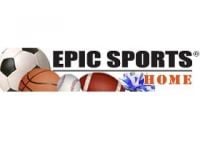 Epic Sports Customer Reviews

B.J.
DISHONEST AND UNETHICAL No values
Honesty seems to be something this company lacks. Not only to their customers, but their employees. I would highly suggest looking for a company that can be honest. THIS IS NOT THE ONE!

Kevin J
The WORST excuse of a company I have ever seen
The only reason this company gets a rating of 1 is because there is not a lower rating allowed. I placed an order for 17 hats for my team and paid for shipping to make sure the order would deliver by a certain date.
I was 2 days out from my delivery when I called (what a joke) and realized the ONLY communication you can have with this company is through email. Of course I have gotten nothing but automated responses. My order has now shipped with a date 3 days LATER than what I paid for. Now my team is without their hats.
I will NEVER use this company again nor would I EVER recommend using this company to anyone INCLUDING my most hated enemy.
Customer NO service at its finest.

Lisa H
Do NOT buy from this company!!
There's no way to talk to customer service over the phone, and online is computer-automated responses. I ordered something a month ago with a shipping ETA of 2 weeks ago. No change, I can't cancel the order because it's "processing" but I can't contact the company directly either. No idea if/when I'll get the items I ordered. Horrible.

Tanya W
POOR Customer Service, Company MAY NOT BE LEGIT
Horrible Customer Service! I just placed an order online and needed to make updates that the site missed. I called the company and they advised it was a one minute holding time; I am still waiting 20 minutes later. Online agent appears to be a computer because the responses are repetitive. This may be an overseas company with owners who do not understand the language and complaints.

Linda B
I ordered 10 jerseys from Epic Sports. I don't have a complaint about the quality of the merchandise I received. I had one jersey where the initials should have read CJ. I received a jersey with the initials JC. I have tried and and tried to address this with Epic Sports and cannot get a response. I have received an email from their customer service team, responded and they have gone ghost. This is the worst customer experience I have ever had.

Kassi
If you are in a time frame DO NOT USE!
I ordered 1 helmet on 3/7/18. It said it would be here by 3/23/18. I am still waiting! Our games started 2 weeks ago. I had originally ordered all of our helmets for our team and we had one player that his did not fit. I figured I had plenty of time to receive the additional helmet and their website gave me a shipping date that would work perfect. I have contacted customer service and they had the excuse that it was the suppliers fault. They would not expidite shipping. Despite it being 3 weeks over due! They said that "they do not do this". The had no intention of making this right, despite ordering for our multiple comp baseball teams from them in the past. I also filed another complaint for resolution through their website and have yet to hear back. This was over a week ago. They told me on the phone that they would receive the helmet last thursday and it would be shipped as soon as they received it. I just received a text that my order had finally been shipped today. By the time I get this it will almost be 2 months past my order date and 1 month past their orignal delivery date. This is ridiculous for an online order. I have received orders from China faster. Funny thing is I received a customer service email from them regarding if I loved my product. I HAVEN'T received it!!!! I will not order from them again despite their low prices. I would rather pay a little more and actually receive my order and have good customer service.

Donna
I ordered two exercise balls to use as chairs for a new office. They arrived without the plugs to keep the air in. Bryant from Customer Service said I could return them, at my cost of $23.00 Don't buy from them! Buy from someone who will accept returns when they send you something that doesn't work. That's what I get for trying to save a few dollars.

C.L.
terrible customer service
Ordered online and this website is horrible. It would not allow for selection of ink color and defaulted to gray. Putting trust in this company, we allowed it and when we received our uniforms they were unusable. Tried to return to get ink fixed, but Cody in customer service was not helpful at all and down right rude. Now we have expensive practice jerseys and are finding a new company to place an order at. in addition, sizing chart is off. Order 1 size up from what it says on there, but my recommendation would be... Don't use them!!!

Eric S
I should have listened to the other reviews on Yelp. Epic Sports has the lowest end merchandise available. That is why they are so cheap. The return policy is horrendous. You have to go through so much just to get a return approved and then you get to pay the shipping fee to send it back and restocking fee. This company is scandalous and preys on people that either get lucky and get the right size or that paid so little they don't care. My order was packed horribly and the pants were not the size advertised (which is the one of the primary complaints of this company). The customer service is terrible and the whole organization is only in business because I've learned many people will sacrifice quality for price (see Walmart). I will never shop there again and I will make sure to keep sending out the word so less and less customers get scammed by this company.

Joy
BEWARE!!!! Wish I could give it a rating of 0
I ordered jerseys and shorts. I ordered the same brand and the same color. They came in two different colors. I explained their mistake and they told me to to return them. Even though it was THEIR MISTAKE, I had to pay for return shipping and a 20% restocking fee which came out to be $60-70. I paid for the wrong shorts to be sent to me and to return them.
That is just not ethical.
Also, the letters on the jerseys looked like someone bought a kit from Walmart and ironed them on... Horrible quality. I will probably be paying for the re-lettering in the near future.