Englert LeafGuard Reviews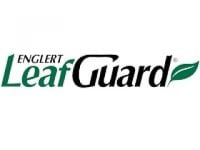 Englert LeafGuard is a patented covered gutter system that's claimed to be easy to maintain and prevent clogged gutters which helps protect protect homes from runoff water damage.
How Does it Work?
Englert LeafGuard was created to help homeowners avoid the hassles of clogged gutters. With the enclosed gutter you no longer have to face the dangerous feat of cleaning them from the top of a ladder.
The gutter hood is not attached, nor is it added-on; in fact, the hood and gutter is fabricated into one piece.
Guards are custom fit to your home dimensions and are offered in an array of color options.
There are LeafGuard retailers across the U.S. to contact for a free, no-obligation, quote. Each location has different prices and different promotions; however, the average cost per linear foot is approximately $20.00.
A non-refundable 50% deposit is required before installation and the rest is due upon install. The system comes with a lifetime of free repairs and cleaning.
The system is supposed to prevent clogs, however, if the gutter is covered then any foliage that falls will land on top of it potentially collecting on your roof instead.
The purpose of gutters is to move water and debris to the drain spout, but with a top gutter guard, the runoff is detracted from this controlled movement within the gutter and inherently will spill over in various directions.
If you search online you will find customer complaints regarding the LeafGuard product and installation as well as their customer service.
For those who live in colder climates and experience freezes in the winter, it is important to note that ice dams and icicles have been referenced in online reviews.
This issue has been acknowledged by LeafGuard on their website; they recommend hiring an electrician to install heating cables as a preventative measure.
Unless you have legitimate concerns and recurring issues from your current gutter system, it may wise to leave it as is.
For peace of mind, consider hiring a professional to inspect the gutters and ensure that the components are still in proper working condition.
Additionally, initial quotes are often much lower than the adjusted actual price.
Before fronting the money for this expense, review your options and research different companies' products.
These guards are not suitable for all homes, but you must find such information on your own.
If you have any experience with the LeafGuard Gutters System or their services, please share your review below.
You may also be interested in
Englert LeafGuard Customer Reviews

Phyllis H
They do no follow up on their warranty.
I have an eight-foot length of gutter that rainwater flows over the edge and does not go into the gutter. This is washing out all the filling between the stonework on my patio. I have called them three times to come and fix it, but they have not done a thing about it yet, and this has been over a period of two years. If I do not get any satisfaction soon, I am going to the local radio station for help. I would like to know if any of the people who have written complains have gotten any kind of response from the company. For the amount of money that was spent on these gutters we should get much better service.

Lorraine B
Unhappy with work and charges
I had these gutters installed 11 months ago. Had several issues with the work, men were sent twice to fix the issues, they still are not fixed to my satisfaction. I was also charged $53.60 for a part that was not installed, I was charged $1242.18 for removal of the old gutters which they pilled in the woods below my house, I had to get someone to haul them away.

Maura M
Safety Issues, and causing problems with my home and garden.
Got Leafguard in March of 2020. For the past 2 winters I have had 8 foot icicles off the gutters which have ruined my garden bushes and cause severe safety issues. My front porch gets very icy because of the icicles melting and freezing and the huge icicles could kill someone walking underneath them. I called LeafGuard today 5/16/2022 and they said, "sorry. Nothing we can do"
I would not buy these leaf guards again.

Patrick H
The two young men that they sent me we're not experienced with an older home. When they couldn't get the shingles to lift up to slide the required materials under them instead of using a putty knife to gently lift them they pulled the bottom strip out from underneath the shingles and form that on top of the gutters with all the holes and in some places the miss coloring.
Also I had a 90-degree corner and they just wrecked that corner. I would never recommend them ever again, for work on an older home. I wish I could post pictures.

Becky A
Well, after paying an arm and a leg for new gutters, and our big down pouring rain, since the installation, I have a MAJOR water leak in my bedroom on the corner where their gutter is. They checked it today and said, it's not their gutter causing it. I said, amazing for 15 years or more with my Old Plain gutters I NEVER had a leak in my bedroom. Funny it JUST sprang up since they installed their gutters. I want my old gutters BACK.

Chris
Taking advantage of vulnerable adults with high pressure sales and unnecessary product! $11,240 for 130' of rain gutter on a mobile home for a 75 year old living on social security is criminal. Financing it at 9.9% without giving her the details or any written information should never have happened.

Virginia T
Mine got installed really quick after I signed the tablet after a 4 hour estimate and talk to rep. Like 4 days latter on a Saturday over a month ago. On Sunday it was leaking, then pouring water at 3 end caps and a triangle shaped corner pan above my porch steps due to the bottom corner hanging down with a 1/4 inch open hole clear across and filled in with Gel u cell caulking but it still had air gaps.
Now when it rains or storms it is coming 6 foot onto my porch and downpouring all over my entry steps. On Sunday after install we tried notifying with great difficulty contacting anyone, but then J.Sallows a manager answered, I sent pictures 3 different times, finally at almost dark a week later the boy and a trainee came, stayed 45 minutes and said the boss wanted them back in PA.
So they left and no one has contacted me since about getting this fixed. Other scratches and open hole left on back of my house on the roof from taking the smaller gutter down and installing the larger. Sure it looks nice but I never had all this water coming down all over with my old gutters even if I did have to clean them out a few times a year. I paid them on Saturday when they completed the job and they cashed my check on Monday.
Lifetime warranty even to whoever I leave my home to. I need this mess fixed the right way or my money refunded to put up something else. I could have done seamless gutter myself from Lowes with a filter on it for less than 800.00. Theirs cost me a little less than 10,000.

JOSEPH M
Clog near the drain spout
7/12/19
First real clog in 10 years, but it took 5 weeks and numerous phone calls to get a crew from leafguard to fix it. They came yesterday. Stephen D was the crew chief, and he was pleasant, courteous and efficient - as were his crew. They cleaned up, and washed down the area of the clog.