eMeals Meal Plan App Reviews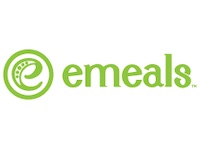 eMeals.com is a website that provides its customers with a wide range of weekly meal plans to help make dinner and shopping a more efficient process. Originating from two busy moms' needs to make meal planning easier, the site now serves hundreds of thousands of people.
The website provides a variety of options and you can choose their meal plans based on popular diets, health goals, or types of cuisine. Their service then helps you plan, shop and cook delicious foods using recipes curated and crafted by professional chefs.
How Does It Work?
You start by selecting the size of your family and which plan you wish to follow. Current options include: 30 Minute Meals, Budget Friendly, Classic Meals, Clean Eating, Diabetic, Gluten Free, Kid Friendly, Low Calorie, Low Carb, Low Fat, Mediterranean, Paleo, Portion Control, Simple Gourmet, Slow Cooker, and Vegetarian.
After you've made your selections you will begin receiving meal plans every week via email. Your meal plan will include 7 dinners featuring an entree and side dish, you also have the option of subscribing to breakfast, lunch and dessert meal plans if you wish.&nbsp
&nbsp
Your plan will also include an itemized and organized shopping list to minimize the amount of time you spend at the store. It will also include any featured deals and coupons available for your meals to help you save money. You can also integrate the service with a smartphone via their mobile app.
Members also have the option of changing meal plans several times a month in case you're not happy or want to experience something different.
Their latest features allows you to integrate your shopping lists with grocery store delivery services like
Albertsons
Amazon Fresh
H-E-B
Instacart
Kroger
Safeway
Shipt
Walmart Grocery
Free Trial & Pricing
eMeals.com offers a 2 week free trial for their service, this gives you a chance to see if their plans work with your budget and lifestyle. After the trial is up you have a choice of subscription plans.
You can choose 12 months for $4.99 a month or 3 months for $9.99 a month.
Customer Service
If you have any questions you can contact a representative through eMeals.com, they also have a very helpful FAQ section where you can get answers to most questions.
If you are trying to cancel your subscription you can only do so by calling a representative at 800-372-4811. Other changes and adjustments can be made in your account section. If you subscribed to eMeals via mobile you will have to manage your account status through the app store.
Online Reviews/Complaints
Based on the online feedback it's clear that people really like this service. It helps home cooks feed large families without the stress that comes with always having to come up with new dinner ideas. The budget/slow cooker plans are also favorites as they help save money and time.
Some customers also mentioned that this tool can be used as an easy way to introduce younger members of a household to meal planning and cooking. Additional positive reviews highlighted the benefits of the online grocery shopping integration. They stated that it's a huge time saver and almost feels like they're using one of the more expensive meal kit services like Blue Apron.
From the complaints side of things, the majority of issues stem with the free trial cancellation process. Folks reported having difficulty canceling in time and being charged the full amount for an eMeals subscription.
It's important to note that you can only cancel by phone, a tactic that some customers didn't appreciate as well. Also there are some complaints from users who signed up to eMeals as part of a packaged promotion with another fitness app, not realizing that they'd have to cancel both services separately.
The company also has lots of social media support from their customers with over 140k likes on facebook.
Competitors and Alternatives
More food bloggers and chefs are turning their recipes into meal plans so there are now a number of services to choose from. Some other popular meal plans include: Paleo Plan, Real Plans, and MOMables.
Where to Buy?
You can sign up directly from eMeals.com or through download the app through your mobile app store.
Is eMeals Worth It?
There are enough positive reviews to warrant trying the eMeals app. Just be aware of their specific cancellation policies if you are not thinking of keeping the service after the trial period.
If you have any experience with eMeals, please leave your reviews below.
You may also be interested in
eMeals Meal Plan App Customer Reviews

Heather S
A Very Expensive Cookbook!!!
This is a terrible company. I can attest to all the other one star reviews. It's hard to cancel. I'm just glad my payment information will be expired by next year so they won't be able to renew my membership. All you get is a new recipe for every day of the year. You can use a cookbook for that. Or Pinterest. Or All Recipes. Or any other recipe website--all free. eMeals is a big fat scam.

Rudi
Hi,
eMeals has NO option to cancel you subscription: In order to sign up for a trial period you have to provide your credit card information - promising NOT to be charged.
They provide ONLY a phone number which never been answered! Be aware: This site is actually SCAM!

Jackson
I tried emeals with their free trial with my wife to try and see if we could get some good recipes for clean eating. I tried the clean eating, lunch, breakfast, dessert, and special occasions. We didn't like the recipes so I tried to cancel. They said I had to call in and cancelled. I kept receiving emails and didn't think anything of it. Then many months later I thought I had better check on it. Turns out I had been charged $100. They had charged me for every single plan I had tried. It wasn't just for a month or the 3 month ones. They charged me for a whole year. I chatted with them to see what could be done. Turns out if you don't request a refund when you call they just cancel the next subscription so you are stuck with paying even though you called in to resolve the issue. Not impressed with the customer service. Seems like very crooked way to get people to pay for the subscriptions.

Paula.S.
They Fraudulantly Charge Credit Cards.
I paid up front for my plan, but then they started charging monthly $10 a month. I thought it was a misunderstanding so I called them. They would not refund me on the overcharge but gave me 'credit' tacked on the end of my plan.
Then tonight they tried to push through a charge for about $60 - no idea why, they owe me for the overcharge still + I still have 6 months before my plan expires even without the extra credit I was given.
I was suspicious when I couldn't delete my credit card info from their system so I locked the card. Good thing I did or I would be out money right now and having to get Capital One involved.
Watch out for this company.

Rebecca S
I, too, am a victim of the cancellation problem. I called three days prior to the cancellation deadline, was told I would see a refund on my credit card in 3 to 5 business days, then two weeks later I had to call to find out why I had not seen my refund. She apologized, and promised that I would see a refund in 3 to 5 business days. Today is the fifth business day, and still no refund. So I had to call again. Again, she apologized, and promised that I would see my refund in 1 or 2 business days. I blew my top, and pushed for a good reason why my refund request keeps "falling through the cracks". If I don't see my refund by business day number two, I will report this to the Better Business Bureau. I am livid.

James B
Won't cancel. Ignores cancel request even and writing.
Last year I've tried it cancel within my trial period. They would not refund me the charge. They sent me a email stating they didn't receive my first email and I still have copies of all the emails to them. Now a year later I'm getting a $94 charge on my credit card from them.

Jessica
When you call to cancel your renewal, they very sweetly try to sell you on some new plan they have etc etc... DON'T FALL FOR THIS. Because when you realize they have "sold you" and you call to cancel , they will tell you that you are outside of your cancellation window and you will be charged, and they will NOT give you a refund.

Marjorie H
APP SHUTS DOWN EVERY SINGLE TIME!!!!
I'd like it a whole lothing more if the app didn't shut down every time I use it. I'm at the store for an extra hour trying to get my list as I wait for the app to finally open up long enough to write it down before it closes again. I let them know and was told they would get back to me, they didn't. Then my supscribtion was due to renew and I tried to tell them again why I won't be renewing. They ended up saying it was my phone, Android to be exact. That's all they had to say. I would have renewed had they tried to actually help
Total bummer.