EarthHero Reviews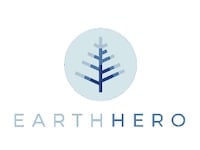 About EarthHero
There is a lot of concern for our planet. Additionally, there is worry about what will happen to it as the years go on. With talks of climate change and pollution, many of us are trying to do our part to make it a better place.
One of the areas that people often don't think about is shopping. When we shop, we increase the carbon footprint that we have on the world. Between the transportation to get to the store, the products themselves, and the packaging, we often end up adding to the despair of the world's situation without even knowing it.
EarthHero is an online marketplace that features environmentally friendly items that won't negatively impact our planet in future years. You can continue reading below to find out more about this unique business model.
Products
EarthHero offers a variety of products for retail sale via their online marketplace. They offer items that speak to sustainability all in one central location. Included on their website are items ranging from baby care to electronics.&nbsp
&nbsp
Additionally, they sell:
Backpack
Compost Bin
Dryer Balls
PPE
Candles
Aromatherapy
Belts
Laundry Detergent
Dropps
Sunglasses
Dog Toys
Phone Cases
Women's Clothing
Men's Clothing
All-Purpose Cleaner
Lunch Box
Pacifier
Razor
EarthHero sends all items to your home with carbon-neutral shipping.
Cost and Price Plans
EarthHero offers many products for sale that fulfill various needs. Some of the items and their associated costs include:
Backpack - $34.99 to $179.95
Compost Bin - $14.99 to $34.99
Dryer Balls - $27.99
PPE - $5 to $14.99
Candles - $19.99 to $34.99
Aromatherapy - $15.95 to $31.99
Belts - $31.99
Laundry Detergent - $11.99
Dropps - $23.99
Sunglasses - $45 to $85
Dog Toys - $9.99 to $19.99
Phone Cases - $33 to $48.99
Women's Clothing - $8 to $197.99
Men's Clothing - $8 to $197.99
All-Purpose Cleaner - $10.99 to $21.99
Lunch Box - $17.99
Pacifier - $7.50 to $15.98
Razor - $8.49 to $81.99
EarthHero offers free carbon-neutral shipping on orders of $50 or more. The company also offers a rewards program for frequent customers.
How Is The Customer Service?
EarthHero offers several forms of contact for customers on their company website.
Phone Number: 1-888-852-8935
Email: [email protected]
Live Chat
Website Message Form
Facebook
Instagram
Pinterest
Mailing Address:
EarthHero, LLC.
740 S Pierce Ave, Suite 5
Louisville, CO 80027
Customers rave about the top-notch service that they receive at EarthHero. Reviews state that they respond immediately to any issues and find a solution quickly.
Online Customer Reviews/Complaints
EarthHero has high ratings on social media platforms and third-party independent review sites. On Facebook, EarthHero has a 5-star approval rating.
On Trustpilot, EarthHero has a 4.1-star rating. However, they are not listed on the BBB.
Due to their status as an online marketplace, they do not have products sold on other retail websites or in stores. Therefore, the amount of third-party feedback from typical outlets like Amazon or Walmart is not available.
Customers of EarthHero appreciate the high-quality products that they receive and the environmentally sustainable mission behind the company. Additionally, the company has been known to offer those who are not happy with their order a future use discount of up to 40%!
There have been a few reports of the quality of the product not being as expected or the wrong items being shipped to a customer's home. However, EarthHero has taken all possible steps to rectify the situation for the buyer.
Competitors and Alternatives
Several organizations are similar to EarthHero on the market in their business framework and type of items that they sell, including the following companies:
EarthHero vs. Thrive Market: Thrive Market shares a similar concept to EarthHero, but offers a large inventory of food options.
Vs. Grove Collaborative: Grove Co mainly focuses on cleaning supplies but also offers sustainable home items like EarthHero and Thrive Market.
Vs. Zero(ish): Zero(ish) is an online store that offers a variety of merchandise with very little to no waste involved. These items range from home goods to beauty items.
Where To Buy?
EarthHero is an online marketplace that sells other company's products. You can purchase these items on the EarthHero website.
Is It Worth It?
The road that our planet is taking can be worrisome and problematic. However, taking steps to alleviate the symptoms can be stressful and challenging. Stressful because you aren't sure what to do, and challenging because finding the appropriate products can be tricky in local retail stores.
Having options like EarthHero helps families who want to make a difference but don't have many resources available to do so. By utilizing the internet and carbon neutral shipping, you can reduce the impact on the environment and have sustainable items to use in your home.
With that information, as well as their high ratings and generous return policy, we believe that EarthHero is worth it and is a viable option for families to make a difference.
Related: Is Corporate Philanthropy Real Or Are Socially Conscious Companies A Scam?
You may also be interested in
0 'EarthHero ' Reviews