Earth Breeze Laundry Sheets
Earth Breeze Laundry Sheets Reviews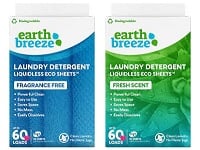 Reviewopedia is supported by our readers. This page contains links through which we may earn a small commission for purchases.
Earth Breeze Laundry Sheets are a type of dissolving laundry detergent sheet marketed as an eco-friendly alternative to traditional laundry detergent.
Earth Breeze states they are a carbon neutral company, and that the sheets come in plastic-free packaging, are hypoallergenic, and work in all types of washing machines, including high-efficiency ones.
How Does it Work?
Earth Breeze eco sheets are easily dissolve in hot or cold water, and eliminate the need for the big plastic containers of traditional detergents. They are concentrated, low-sudsing, and biodegradable.
These sheets are environmentally friendly – they're created with sustainability in mind, while still being just as effective as standard detergents. The company claims Earth Breeze sheets can still remove even the toughest of stains.
Liquid detergent can be up to 90% water, and since Earth Breeze Laundry Sheets are a lightweight strip, they are extremely concentrated while still being environmentally friendly.
These laundry sheets come in 2 scents – 'Fragrance Free' and 'Fresh Scent' – and are sensitive-skin approved. They also meet the standard for septic and greywater systems.
The company is transparent about the ingredients and production practices. They state they ingredients are vegan and cruelty-free.
How Is Earth Breeze Detergent Eco-Friendly?
Earth Breeze Detergent eco sheets come in a small, flat, 100% biodegradable package that, when composted, will return to its organic components in 3 months time.
Additionally, there are 90% less carbon emissions involved in transporting Earth Breeze detergent because the package is so lightweight and small in size.
According to the Earth Breeze site, the fuel saved by completely switching from traditional detergents to Earth Breeze is equivalent to taking 30 million cars off the road.
Safety and Ingredients
According to the company Earth Breeze Laundry Sheets are:
Vegan
Paraben, Phthalate, & Phosphate Free
Cruelty Free
Hypoallergenic For Sensitive Skin
Bleach & Dye Free
The full ingredient list contains: Glycerol, Primary Alcohol Ethoxylate, Sodium Dodecyl Sulfate, Sodium Acetate Trihydrate, Polyvinyl alcohol, Polyethylene Glycol, Fragrance, Deionized Water, and Starch (Corn).
Some environmental and health reviewers have pointed out that while Earth Breeze Sheets are environmentally more friendly in terms of their product design and packaging, the actual detergent doesn't have the cleanest ingredients.
They particularly take issue with the use of:
Alcohol Ethoxylate
Polyethylene Glycol
Sodium Dodecyl Sulfate
The Environmental Working Group, a database for ranking common chemicals, ranks these ingredients as 2-3 out of 10 for safety.
However a lot of rating is dependent on intended use, and these ingredients are commonly used in many cosmetic, personal care, and cleaning products for their properties as surfactants.
As far as their application in a detergent is concerned, the ingredients in Earth Breeze are regarded as generally safe and non-carcinogenic to humans.
Cost and Price Plans
Earth Breeze Detergent averages out to roughly 20 cents per load of laundry.
You can purchase the eco strips in 60 load or 360 load packages, using a one-time or subscription purchase. A one-time purchase of 60 loads is $20, discounted to $12 with the subscription model.
If you choose to sign up for the subscription, you can unsubscribe or cancel at any time.
Customer Service
You can contact Earth Breeze customer service through the Contact Us page on their site by filling out a request form for assistance.
There is also a customer service email ([email protected])
Earth Breeze also offers a money-back guarantee.
The company lists its address as:
2839 Nansen Dr Ste C2
Medford, OR 97504-4158
Phone Number - (800) 961-6535
Earth Breeze Reviews
The majority of Earth Breeze reviews are very positive. Customers appreciate the low environmental impact of using this product along with its cleaning abilities.
On Earth Breeze's own website there are over 5,000 reviews, averaging to 5 stars overall. The company has an A rating with the BBB and a customer score of 4.87/5 from 569 reviews. They also have a 4.6/5 score on Amazon.
While the majority of users are happy there are a handful of online complaints.
Some users had issues with the sheets clumping and not fully dissolving and others complained that Earth Breeze Laundry Sheets were not effective for dealing with highly soiled clothing.
There are also quite a few negative reviews surrounding the contents of the packaging. There's some confusion with how many loads you can get out of one box of Earth Breeze.
The company advertises 60 loads from 30 sheets. Some customers find this confusing as they're not sure if they should be using full or half sheets per load. Their website states that you should use 1 sheet for a full load, and half for a regular load.
Frequently Asked Questions
Where is Earth Breeze Manufactured?
Earth Breeze Eco Sheets are manufactured in China, with the company headquarters in Oregon. They also have a UK based warehouse servicing that region.
Can you Earth Breeze products be used in an HE washer?
Yes, Earth Breeze sheets are safe to use in high-efficiency machines.
Will Earth Breeze Eco Sheets dissolve in cold water?
Both the company and users report that the sheets do dissolve in both cold and hot water.
Where to Buy?
You can order Earth Breeze products directly from their website or on Amazon.
Competitors and Alternatives
There are other companies doing eco-friendly, zero plastic laundry options.
Earth Breeze vs. Tru Earth - Tru Earth is a leader in this space and seems to be the most popular choice for laundry sheets. Their packaging also includes zero plastic and is compostable.
You can purchase Tru Earth on other sites, like Amazon, where it has almost 5,000 reviews, averaging a 4.5/5 stars.
The overall price is about double that of Earth Breeze, $15 for 32 loads, or about 46 cents per load.
Earth Breeze vs. Dropps - Dropps is another popular choice for eco-friendly laundry. They are offered in pods, however, and not sheets like Earth Breeze or Tru Earth.
Like Earth Breeze, the packaging is compostable and they partner with organizations to give back. They also are 100% Carbon Neutral Shipping, as they work with 3Degrees to offset the carbon from every shipment.
Dropps is $24 for a 56 count (one time use, 42 cents per load), or you can save 30% by subscribing (30 cents per load).
Earth Breeze vs. Blueland Cleaning Products - Blueland comes in naked tablets (not wrapped in plastic). The "starter set" comes with 40 fragrance free laundry tabs in a reusable steel tin, all for $18 (about 40 cents per load).
There are some reviews stating that Blueland doesn't dissolve well in cold water, but otherwise they are very effective.
The Bottom Line
If you're interested in a more eco-friendly alternative to traditional laundry detergent, Earth Breeze Eco Sheets may be a good choice.
There are more options than ever before to doing laundry in a more environmentally friendly way, whether that's by using laundry detergent sheets like Earth Breeze, or by using tablets or low-plastic pods in sustainable packaging.
Switching to an environmentally friendly laundry detergent such as Earth Breeze or an equivalent is an excellent way to do something tangible without sacrificing efficiency in stain-removal, while also making your life easier.
It's particularly a great choice for reducing your personal plastic usage.
Eco Breeze states they also partake in several positive community and environmental initiatives, such as donating 10 loads of laundry detergent for every purchase, donating 1% of their revenue to non-profits for earth advocacy, and planting trees in exchange for social media followers.
Pro Tip: If you're trying to fully detoxify your laundry routine, a good idea is to pair your Earth Breeze Laundry sheets with 100% Sheep Wool Dryer Balls.
This reusable option allows you to cut out fabric softener and ditch the chemical laden dryer sheets at one time. They will fluff, soften, and reduce static in a natural way.
If you have any experience with Earth Breeze Laundry Sheets, please leave your reviews below.
Earth Breeze Laundry Sheets Customer Reviews