Earnest Reviews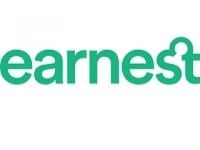 Earnest.com is the online home of Earnest, a modern day loan company that states their aim is to give customers access to student loan refinancing on favorable terms.
How Does It Work?
According to their website, the creators of this company believed that there was something sorely missing from the current financial system: a financial institute that actually wants to make their clients lives better.
Most traditional financial institutions and banks create complicated loan structures and agreements, filled with fees and interest rates that benefits the banks far more than it benefits the customers, and they base their lending decisions on credit scores and other data that doesn't always honestly reflect a person's financial responsibility.
Earnest decided to approach the lending process in an entirely different way.
First, they use an application that is far more comprehensive than other lenders, because they collect thousands of data points in order to get a complete financial picture.
The information they provide will be run through a series of predictive analytics and algorithms to identify people who show financial responsibility and great potential.
The website further says that clients can tailor their exact minimum monthly payment, increase your payments anytime to pay your loan off faster, save on interest with optional bi-weekly payments, make extra or early payments without any fees, or even skip a payment and reschedule it for later.
Cost & Price Plans
Applying for a loan through this company is completely free of charge, but customers must understand that all loans comes with interest rates and fees.
Though each and every loan will be assessed according to the specific client, the website does say that their variable rates begin at 2.13% APR and their fixed rates start at 3.50% APR for customers that take advantage of their autopay option.
Refund Policy
As a financial company that provides student loan refinancing, this company does not provide a Refund Policy.
Customers who are concerned about being locked into a loan contract can speak to a member of their support staff about whether or not there is an option to back out of a loan agreement within the first few days without penalty – some lenders do provide that opportunity.
Customer Service Contact Info
Customers who would like to contact Customer Service with any questions, concerns, or complaints can do so by phone at 888-601-2801 or by email at [email protected]
Reputation
It appears that Earnest is well-liked by financial blogs and websites that evaluate these kinds of services, and their alternative approach to loan assessment is considered to have great potential for providing a welcome change to the traditional loan process.
Unfortunately, some customers that have actually worked with this company's application process do complain of some frustration.
A common complaints is that Earnest isn't very different from traditional lending institutions, in that in order to provide lower interest rates, this company still requires an excellent credit score, a low debt to income ratio, and proof of significant savings.
All of these things which are fairly uncommon for young adults fresh out of college just starting out in their careers and wanting to refinance their student loans at decent rates.
Competitors and Alternatives?
While there are many other big banks and traditional lenders available to borrow from, there are also many other lenders that hope to work with the more alternative, non-traditional lending forms that are being promoted by Earnest, including Sofi Loans, LendKey, and many others.
If you have any experience with Earnest or their services, please leave your reviews below.
You may also be interested in
Earnest Customer Reviews

Allen
Awful User Portal, Passive Customer Service
While it's nice to have a lower interest rate, there's no excuse for NOT having the basics characteristic in user portals of even small community banks. First of all, it has been well over a month and my online account still says it's being set up. On top of this, I confirmed I cannot, on the portal, adjust my monthly payment so that I can pay extra.
Instead, I have to call in. I have no control over how that payment is applied, either. And the cherry on top is the UI of the user portal is filled with big, bright red text that never goes away making you think you have a huge problem (but it's just informing you of one of the few settings you can actually make). I've never seen such an awful user portal.
Even government loan portals are better than Earnest's. I need to be able to control my payment from the portal -- I should not have to call in at all for anything. Also, I am figuring out how to do the math here, but it seems despite almost a half % interest reduction, my interest is racking up faster per day than it was prior.