Dunhill Travel Deals Reviews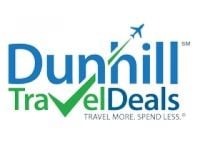 Dunhill Travel Deals, found online at DunhillTravelDeals.com, is a website which promises their members the best possible travel deal and helpful travel information for free.
How Does it Work?
According to their website, Dunhill Travel Deals is neither a travel agency nor a booking site.
Instead, they sort through hundreds of travel deals each day which are made available through big name companies like Royal Caribbean Cruises, Jet Blue, Virgin Vacations, Travel Impressions, and many more.
The website promises that once the company's experienced and professional staff finishes evaluating each deal, they publish the deals they believe to be the best on their website or in their newsletter, which currently has more than 2.5 million subscribers.
Their newsletter is described as providing you with the latest top travel values, "spotlight offers," and more.
The deals they publish run the entire range of options, from deals on hotels, resorts, cruises, airfare, to all inclusive vacation packages.
You can also simply visit their website and browse the deals there to see which ones you are interested in. You can search the available deals on their site based either on the destination you are looking at or the type of vacation you are looking to take.
Customers who are hoping to find inspiration and suggestions for vacations or simple travel tips can find that on their website as well.
They promise that any deals published on their site are both accurate and available, even in situations where the cost or details of a deal may change over the course of the day; their site is always updated with the most current information.
They also promise that you can sign up for their newsletter or information concerning a travel deal at absolutely no cost and with no obligation to buy.
In addition, Dunhill Travel Deals promises that they will never sell your personal information nor share it with marketers or advertisers who may use it to spam you.
If you have any experience with Dunhill Travel Deals or their services, please leave your reviews below.
Dunhill Travel Deals Customer Reviews

Marian B
We booked our 7-day cruise through them, although I did have our own travel agent check everything out for us first just because we, too, thought it might be a scam. We got the cruise for 50% off (buy one, get one free). Everything was perfect!!
The transfers were included and, although there was a mixup with the driver who was supposed to pick us up, another car and driver were ordered and showed up to get us back to the Munich airport on time -- at no additional charge. We cruised aboard Oceanic vessel. It was very, very nice.
We had a package that included all alcoholic beverages but we didn't know it until our cruise director asked us if we did. She checked it out and sure enough we did. Everything we had paid for up to that time was credited back to us.
A delightful experience. Just be sure to ask all the right questions so you know what you are getting. We got MORE than we thought we were. Give it a try!! We think you will love them too.