Dry Farm Wines Reviews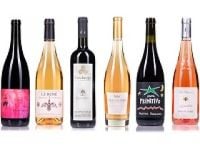 You may also be interested in
Dry Farm Wines Customer Reviews

I V
Better for the human body somehow.
I have three friends who order from DFW. Their pallets are, shall we say, not refined but, their desire for a particular social status is... I've tasted maybe 10 reds & 4 whites. Last night I had a white DILETTO screw cap (www.nevioscalia.it) = mediocre at best.
Of course I am spoiled being in California. I am however fascinated by the concept of dry farming techniques, or lack thereof but, I wish that I could simply buy from a local source, as needed.
These DFW wines are not exactly tasty nor inexpensive but, I think they are better for the human body somehow. That's my gut feeling after drinking many bottles of this type of wine... I simply feel better than any other wine.
If money were no object for me, I would drink this DFW at home daily & save the exceptional/expensive stuff for special occasions. My 2-cents.

RJ
Do not order.
Paid $90 for the three red sampler. Usually introductory bottles for subscription wine dealers are good and we wanted to try organic, no additive wines.
Poured all three bottles down the drain. No aromatics, bad taste, and foul finish. They were so bad you wouldn't/couldn't even use them for cooking.

jack s
i need more pino noir and only pino noir
I tried to call you but can t leave a message---you should have your phone service so a person can leave a message---202-641-3003--jack spicer

Robin B
Some of the wines I received tasted were not as bad as the others but NONE of them were any good. Especially the rotten bottle. Don't waste your time or money!

Sasha
I've received 4 boxes of dry farm wines. Most were good, some were just okay. I wasn't dissatisfied until I tried a Sparkling wine box. One of the wines was barely sparkling (and this one actually gave me a headache after consuming 2 glasses), one had a musty smell and taste that I could barely get through, and the other was really good. I'd probably stick to their mixed box. I never had a problem with getting kicked out of ketosis until I tried the sparkling box. Overall, mixed feelings. If I didn't dislike hard liquor I'd probably forego this subscription.

Robbie
False Advertising - I'm hungover!!!
They advertise no hangovers - total BULL! The alcohol content is only a little lower than normal. I got the exact same hangover that I do with other wines. And the taste is pretty awful compared to other $25 wines!

Keith
Why the strong arm tactics?
I tried to order but I don't want to sign up for their monthly shipments. It seems to me that if their wines were a good value they would not need to resort to strong arm tactics to get people to reorder? Today's business environment of greed is sickening!

Kara U
Do not recommend dry farm wines
I tried three bottles of their red wine shipment and had to pour them down the sink as they tasted so bad. They never offered to give a refund, although this website references it.

Jim
I try to make good choices when it comes to my food and drink, but wine has always been somewhat of a guilty pleasure. After learning just enough about the wine business to be dangerous I've switched to purchasing only FitVine or Dry Farm Wines. I love the way DFW allows me to explore wines from around the world without having to spend the time and energy hunting for them. Every bottle tells a story, and knowing that what is inside the bottle is held to a higher standard is just icing on the cake.

Rebecca
Same old side effects and overpriced!!!!
I was hoping that I could find a wine that would stick with my paleo diet while avoiding the unwanted side effects of wine drinking. I will say that all the wines that I received seemed to be organically grown and of good quality but did not maintain my ketosis like tequila or Truly beverages do. I also experienced all the same side effects including headache after my first glass, slept terribly and tummy issues and bloating this morning in addition to a continued headache. I had 2 small glasses total. Very disappointed. It might be good wine but advertising is completely misleading. Save your money and get a decent bottle of wine for under $15 at your local liquor store.

Roger e
Two other friends, in addition to myself, tasted this red wine after being properly chilled following Dry Farms suggested serving advice.
Unfortunately, it was awful (collective opinion) and we dumped the bottle contents.
Not a pleasant experience for our first time tasting of a Dry Farm wine selection. I cancelled my future orders but do hope that the remaining 5 bottles will be a total opposite experience.

Karen
We bought the 6 bottle sampler and got the 7th for a penny for $159. Yesterday we opened our first bottle...awful. We actually dumped it. Today is a white and better but no more than three stars. I was expecting a LOT more for $22 per bottle. We unfortunately canceled our membership. These two bottles taste like $8-9 grocery store bottles of wine. We are really disappointed.

Elizabeth R
Dry Farm Wines are happy, healthy and hot approved!
I tried the mixed case of reds and whites after hearing good things from Mark Sisson and Robb Wolfe, two names that I really respect. I was not disappointed. The case was like an adventure, with wines from different countries. They were all on the dry side, which is what I prefer. Though they are lower in alcohol than other wines you can still get a buzz from them. But no puffy eyes or headache the next day, which I definitely get from time to time when I drink wine. I posted a more detailed review on my happy, healthy and hot website recently. In the future I might switch to just the reds, since that is usually what I prefer.