Dry Farm Wines Reviews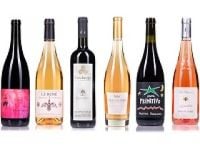 If you're on the keto diet or are even just trying to find something you can drink guilt-free while on a low-carb diet, you might feel frustrated by the lack of options out there.
First things first, there aren't many proven health benefits to drinking alcohol. However, many people have decided that alcohol in moderation can be part of their healthy lifestyles.
It's a personal choice as to whether you decide to imbibe, but you shouldn't have to deal with waistline-induced panic every time you take a sip.
What Are Dry Farm Wines?
Wine, in its purest form, is not exactly keto-friendly. While you can easily drink wine while on a keto diet, remaining within your daily carb allowance, you also need to consider calories and the fact that you will be supplementing carbs from nutritious sources (like fruit) with carbohydrates from nutritionally-poor sources (wine).
Therefore, it makes sense to give Dry Farm Wines a try. The company makes numerous types of wine, all of which are sugar-free with just one gram of sugar per liter. Low in carbohydrates, these wines are fully fermented, which allows the yeast to consume the sugar before dying off to leave behind the alcohol.
Natural wines by Dry Farm Wines not only taste good but are better for you, without all the sugar and chemicals used in traditional wines. They are lab tested and trust us, you'll love the unique list of nutrition facts!
Although the taste is definitely different, there are many benefits to choosing a wine with a low sugar content. Not only are all the wines on the long list of wines offered by Dry Farm better for your waistline, but they're also grown in a more sustainable fashion.
In fact, all wines from this producer are made with grapes that were grown in a sustainable farming practice known as dry farming. No irrigation is required, helping to result in higher polyphenol levels in the wine.
All wines are made with all-natural, organic ingredients, and are also free of additives. They have a lower histamine content than traditional wines. At the same time, however, the wine still has an alcohol content of 10 to 12.5%. Each glass only contains about 100 calories.
You can get every type of wine imaginable from them, including champagne, Cabernet, Pinot Grigio, and more. The wines are guaranteed to be low in sulfites, so while they can't guarantee no hangover, they're apt to have less of an overall impact on you the next morning.
Cost and Price Plans
When you buy with Dry Farm Wines, you'll have a few choices. Most people opt for monthly membership plans, which provide 6 bottles for $159 or 12 bottles for $299. Prices are the same regardless of which type of wine you order. Shipping is free for all subscription orders.
Competitors and Alternatives
Dry Farm Wines are not the only wines if you're interested in drinking natural vino. While this is the only natural wine club, there are other options you can choose from when you are shopping for healthy beverages.
Dry Farm Wines vs. Fitvine - Fitvine is traditionally fermented via malolactic fermentation. These wines ferment to dry, lowering their sugar levels so that they have around the same sugar content (or slightly more) than Dry Farm Wines.
There are plenty of flavors, including Sauvignon Blanc, Cabernet, Pinot Noir, Chardonnay, and Pinot Grigio, most of which average 90 to 95 calories per serving. They contain low sulfites, too.
Dry Farm Wines vs. Scout and Cellar - Scout and Cellar wines go beyond organic, and are crafted with grapes that are free from synthetic pesticides, chemical additives, and sweeteners. The main difference is that Scout and Cellar, though also a wine club, offers wines that are certified organic and vegan.
Online Customer Reviews/Complaints
The company has a huge list of celebrity endorsers, including Ben Greenfield, one of the country's top personal trainers. He claims that Dry Farm Wines are the healthiest wines you can drink while other fans, like Dave Asprey of Bulletproof, say that "Dry Farm Wines brings fanatical quantification to biohacking wine".
One major complaint about Dry Farm Wines is that they are not gluten-free. However, they do not contain any grain, soy, or dairy.
Each customer rating is positive, with reviewers love the smooth, buttery flavor of the wines. And although the wines are not certified vegan, none are made with any kind of animal products.
Customer Service
The company has social media pages on Facebook, Twitter, Instagram, Pinterest, and YouTube so you can stay updated on all the company's latest offerings. You can also contact customer service by dropping them an email request via the website.
Where to Buy?
Wondering how you can get your hands on a bottle? While you can sample all of Dry Farm's products by visiting the company's website, if you're wondering, "Is Dry Farm Wines sold in stores?" unfortunately the answer is no. As of the publication of this article, they only sell their wines online and do not have any retail distributors.
The Bottom Line
If you're wondering if Dry Farm Wines are good, that sometimes depends on personal taste and you'll have to try them for yourself. The company admits that the wines don't taste like anything you've ever tried before - but that's not a bad thing!
In fact, there are plenty of reasons to give them a try. Whether you're tracking your macros, limiting your alcohol intake, or simply want to try something new, there is something here for everyone to enjoy.
If you have any experience with Dry Farm Wines or their products, please leave your reviews below.
You may also be interested in
Dry Farm Wines Customer Reviews

RJ
Do not order.
Paid $90 for the three red sampler. Usually introductory bottles for subscription wine dealers are good and we wanted to try organic, no additive wines.
Poured all three bottles down the drain. No aromatics, bad taste, and foul finish. They were so bad you wouldn't/couldn't even use them for cooking.

jack s
i need more pino noir and only pino noir
I tried to call you but can t leave a message---you should have your phone service so a person can leave a message---202-641-3003--jack spicer

Robin B
Some of the wines I received tasted were not as bad as the others but NONE of them were any good. Especially the rotten bottle. Don't waste your time or money!

Sasha
I've received 4 boxes of dry farm wines. Most were good, some were just okay. I wasn't dissatisfied until I tried a Sparkling wine box. One of the wines was barely sparkling (and this one actually gave me a headache after consuming 2 glasses), one had a musty smell and taste that I could barely get through, and the other was really good. I'd probably stick to their mixed box. I never had a problem with getting kicked out of ketosis until I tried the sparkling box. Overall, mixed feelings. If I didn't dislike hard liquor I'd probably forego this subscription.

Robbie
False Advertising - I'm hungover!!!
They advertise no hangovers - total BULL! The alcohol content is only a little lower than normal. I got the exact same hangover that I do with other wines. And the taste is pretty awful compared to other $25 wines!

Keith
Why the strong arm tactics?
I tried to order but I don't want to sign up for their monthly shipments. It seems to me that if their wines were a good value they would not need to resort to strong arm tactics to get people to reorder? Today's business environment of greed is sickening!

Kara U
Do not recommend dry farm wines
I tried three bottles of their red wine shipment and had to pour them down the sink as they tasted so bad. They never offered to give a refund, although this website references it.

Jim
I try to make good choices when it comes to my food and drink, but wine has always been somewhat of a guilty pleasure. After learning just enough about the wine business to be dangerous I've switched to purchasing only FitVine or Dry Farm Wines. I love the way DFW allows me to explore wines from around the world without having to spend the time and energy hunting for them. Every bottle tells a story, and knowing that what is inside the bottle is held to a higher standard is just icing on the cake.

Rebecca
Same old side effects and overpriced!!!!
I was hoping that I could find a wine that would stick with my paleo diet while avoiding the unwanted side effects of wine drinking. I will say that all the wines that I received seemed to be organically grown and of good quality but did not maintain my ketosis like tequila or Truly beverages do. I also experienced all the same side effects including headache after my first glass, slept terribly and tummy issues and bloating this morning in addition to a continued headache. I had 2 small glasses total. Very disappointed. It might be good wine but advertising is completely misleading. Save your money and get a decent bottle of wine for under $15 at your local liquor store.

Roger e
Two other friends, in addition to myself, tasted this red wine after being properly chilled following Dry Farms suggested serving advice.
Unfortunately, it was awful (collective opinion) and we dumped the bottle contents.
Not a pleasant experience for our first time tasting of a Dry Farm wine selection. I cancelled my future orders but do hope that the remaining 5 bottles will be a total opposite experience.

Karen
We bought the 6 bottle sampler and got the 7th for a penny for $159. Yesterday we opened our first bottle...awful. We actually dumped it. Today is a white and better but no more than three stars. I was expecting a LOT more for $22 per bottle. We unfortunately canceled our membership. These two bottles taste like $8-9 grocery store bottles of wine. We are really disappointed.

Elizabeth R
Dry Farm Wines are happy, healthy and hot approved!
I tried the mixed case of reds and whites after hearing good things from Mark Sisson and Robb Wolfe, two names that I really respect. I was not disappointed. The case was like an adventure, with wines from different countries. They were all on the dry side, which is what I prefer. Though they are lower in alcohol than other wines you can still get a buzz from them. But no puffy eyes or headache the next day, which I definitely get from time to time when I drink wine. I posted a more detailed review on my happy, healthy and hot website recently. In the future I might switch to just the reds, since that is usually what I prefer.