Vision Essentials Gold Reviews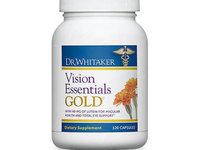 Vision Essentials Gold was developed by Dr. Whitaker and designed to provide quality eye nourishment to help people with visual performance, light adaptation, and protection from harmful blue light from electronic products.
Products and Ingredients
Vision Essentials Gold contains lutein, an important nutrient for optimal eye health. The product has 40 mg of lutein to help people's eyes with:
Macular health and visual performance
Light adaptation under low-light conditions
Protection from oxidative stress
Protection from harmful blue light from laptops, TVs, and more.
In a one-year randomized, placebo-controlled study, participants took 20 mg of lutein once daily or a placebo.
The group receiving lutein experienced a significant increase in macular pigment optical density (MPOD) in 12 months and improvements in contrast and glare sensitivity.
Having a higher MPOD is an important measurement of eye health as macular pigment plays a key role in protecting the macula from harmful blue light and maintaining crisp vision.
Zeaxanthin is another key antioxidant that works with lutein to support the health of your eyes. Vision Essentials Gold contains 2 mg of Zeaxanthin which helps maintain the health of your lenses, photoreceptors, and retinal lining.
Similar to lutein, zeaxanthin concentrations in the macula area of the retina naturally decline as you age. But since your body can't produce zeaxanthin on its own, it's important to supplement with optimal amounts.
Vision Essentials Gold also includes bilberry. Bilberry supports the microcirculation and intricate photoreceptor cells while protecting your eyes from free radicals.
Pre-clinical, in vitro studies suggest that bilberry extract protects retinal photoreceptor cells from harmful blue light.
Maqui berries, black currant, and goji contain antioxidant benefits.
The maqui berry is a superfruit indigenous to the rainforests of Chile and is known for its anthocyanin content, which has several human health benefits.
Glutathion, taurine, N-acetyl, L-cysteine, and Vitamin C are other nutrients that are combined in Vision Essentials Gold to protect delicate eye cells from oxidative stress caused by harmful blue light.
One bottle of Vision Essentials Gold has 120 capsules, which is enough for a one month supply.
Cost and Price Plans
These are the prices from Dr. Whitaker's site:
1 bottle: $44.99
3 bottles: $134.97 (buy three and get one free)
5 bottles: $224.95 (buy five and get two free)
You can sign up for auto-delivery.
Customer Service
You can contact customer support at 1-888- 349-0484 or on the web form www.drwhitaker.com/contact-us/.
Online Reviews/Complaints
The majority of customers gave high reviews for Vision Essentials Gold because of the variety of improvements they experienced in their eyes within months or over a few years.
The eye problems that improved include people who used to have black spots floating blocking vision and macular degeneration.
The few people who did not like the product said they felt no improvement in their vision after 30 days and one reviewer mentioned that they did not like the addition of magnesium stearete because he believed that it can destroy cell function.
Competitors and Alternatives
Other brands that sell eye nutrients include GNC Natural Brand Lutein 20 mg, Activa Naturals, and Natural Genetics.
Where to Buy?
You can buy Vision Essentials Gold on Dr. Whitaker's site or on Amazon.
If you have any experience with Vision Essentials Gold, please leave your reviews below.
Vision Essentials Gold Customer Reviews

arley k
tried this product for 88 days when called to get refund they told me it was past 90 days and would not refund my money it was 88 days after receiving product!! this company is not honest and should be black balled all their fancy adds all BS

len
this sure reads like a commercial
while it suggests an independent review, no research is quoted, no comparisons are made a no downsides offered. Maybe I am cynical but this really feels like an ad.

George F
Received wrong medication
I ordered Vision Essentials Gold and received Vision Essentials plain. Gold has 40 mg Lutein per 4 capsules. And mine have 20 mg per 4 capsules. So far I have noticed nothing. Should I take 8 capsules per day?