Dr. Crandall's Heart Health Report
Dr. Crandall's Heart Health Report Reviews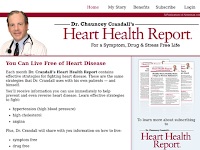 Dr. Crandall's Heart Health Report is a health newsletter from Newsmax Health and cardiologist Dr. Chauncey Crandall that promises to help people take control of their heart health for the better.
How Does It Work?
According to their website, Dr. Chauncey Crandall is a heart surgeon who suffered from a life threatening heart attack at the age of just 48, even though he believed that he was doing what he should in order to be healthy and protect his cardiac health.
Since then, he has been dedicated to providing newsletters and books for people who want to improve their own health and make sure they are keeping their hearts protected.
The Heart Health Report will include "easy-to-read discussions" about major heart health issues in each newsletter, where Dr. Crandall discusses the latest medical studies and "advanced thinking," but also provides information on alternative treatments, as he believes there is a place for both.
Each issue will also address "promising new treatments, effective medications, the use of supplements, dietary and exercise considerations," and Dr. Crandall will also answer your own personal questions about heart concerns.
He claims that these "virtual visits" are one of his favorite parts of his newsletter.
The website says that investing in Dr. Crandall's Heart Health Report is really an investment into your health, and should be able to save their customers money on "office visits, unnecessary medication, and other expenses of medical care."
Cost/Price Plans
Customers who are interested in subscribing to this newsletter will have two options: digital or print. A twelve month digital subscription to this newsletter will cost $49.95, while the print version will be priced at $54.95.
Once your subscription is ready to expire, you will be notified that your subscription is about to automatically re-new. If you do not want to continue your subscription, you will have to cancel your enrollment at that time.
Refund Policy
Because the Newsmax organization sells such a wide variety of newsletters, reports, and subscriptions, their Terms and Conditions states that customers will need to refer to the sales page of the specific product they are hoping to purchase to see what kind of Cancellation or Refund Policy is in place.
For the Dr. Crandall's Heart Health Report, their sales page states that any customers who cancel within the first ninety days of their subscription will receive a full refund, and anyone who cancels after the first ninety days will be eligible for a pro-rated refund of the unused portion of your subscription.
Unfortunately the website does not say how long into the subscription members will be able to unsubscribe while still being eligible for a refund.
Customer Service Contact Info
Customers who wish to speak with Customer Service about their questions, concerns, or complaints can do so by submitting them directly to their website through the Customer Service link at the bottom of the page.
Reputation
At this time, newsletters from Dr. Crandall don't have the best reputation on the market, with most of the complaints being about the sales and billing practices put into place by the parent company, Newsmax Health.
Many of the complaints about Dr. Crandall's newsletters have to do with the "bait and switch" sales method they use on their customers, with many people citing promotional videos that repeatedly promise "free information" when what they really mean is customers will get a trial period subscription to their newsletter which will eventually result in monthly charges.
In addition, many people have detailed the serious difficulty they have had with successfully cancelling Newsmax subscriptions, saying that they were getting recurring monthly charges over and over again before they were able to cancel all the reports that the company had them signed up for.
While some reviewers did point out that they were able to get refunds, they were frustrated that it was such a hassle and something they had to be so on top of.
On top of the sales and billing problems, many different reviewers point out that the Dr. Crandall is an advocate of so-called "spiritual healing," which is a belief that prayer and religious study can heal or improve medical conditions.
Not every customer believed that a surgeon and medical doctor should be advocated this approach to treatment, so customers may want to be aware of this before subscribing.
Competitors and Alternatives?
As mentioned above, Newsmax Health offers a large variety of newsletters and reports, including Simple Heart Test, Health Radar, and many others.
If you have any experience with Dr. Crandall's Heart Health Report, please leave your reviews below.
You may also be interested in
Dr. Crandall's Heart Health Report Customer Reviews