Dot and Bo Reviews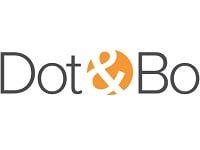 Dot And Bo is an online furniture and home goods company that says they hand pick products that are unique, stylish, and high quality to ensure that people can have an enjoyable home shopping experience.
How Does Dot and Bo Work?
Dot and Bo says they wish to provide their customers with a place for discovering items they will love for their home, by giving them a website that is not intended just for selling products, but is also designed to help people find inspiration for how they will decorate and outfit their home.
They also want to ensure that great design is as accessible to as many people as possible, so they work hard to provide their products at discounts off of the traditional retail pricing.
Like any other online retailer, customers can go to their website and begin searching through their available products in a few different ways, including by the type of product you are specifically hoping to find, like a sofa or a bed, or by the style of furniture, like Modern or Bohemian.
New collections of furniture and décor launch every day and are featured with sales that will last eleven days. There are also additional products outside of the featured collections which are offered on an ongoing basis, until they sell out.
Cost & Price Plans
Using this website as a place to shop and be inspired is completely free of charge.
Their products will obviously vary widely depending on the type of item you are hoping to find, though as you search online and look at individual items you will be able to see the price that they quote as the regular retail price versus the price that is being offered at Dot and Bo, so you understand what kind of savings you are getting.
Refund Policy
This company does provide a standard 30 Day Return and Refund Policy for customers who get an item home, but unfortunately they decide they do not love or it does not fit the way they wished it would.
As long as you contact their Customer Service team in advance to arrange your return, Dot and Bo will provide you with an authorization number and a return label for shipping back your purchase.
The items must be on their way back to the warehouse, unused and in new condition, and in original unmarked packaging.
Customers will be refunded the total purchase price, less the cost of Shipping and Handling there and back, and a restocking fee will be applied when you return a vintage item.
Also, the website is clear that "in order to maintain our deep discounts, some items are offered at "Final Sale" prices" and therefore cannot be returned or refunded, and Custom Items cannot be returned either.
Customer Service Contact Info
Customers who have questions, concerns, or complaints they would like to direct to their Customer Service team can contact them by phone at 800-693-9937, by email at [email protected], or by submitting them directly to their website through their Contact Us link.
Reputation
In general, most information and reviews found on the internet regarding this company have been positive. People enjoy their website, their products, and their prices, for the most part.
However, there is one complaint that seems to be repeated across a variety of different websites, and that is issues with products that will be shipped in the future.
Customers who ordered products that were marked as not being available to be shipped until a future date seemed to have the most upsetting experiences with this company.
The complaints were all similar, in that they said they were immediately charged for the entire purchase – the product and the shipping – even though the item wasn't going to be in stock and available to be shipped until weeks later.
Then, when the estimated shipping date came around, they received an email saying the product had been delayed. Some customers reported delays of months, waiting for a furniture piece they had already paid for.
Obviously, this was a very frustrating experience for these customers, and may make prospective clients think twice about ordering an item with a future availability date.
Competitors and Alternatives?
There are many other similar furniture companies available on the internet today, including Joss & Main, Wayfair.com, Casa.com, and many others, depending on what you are looking for.
If you have any experience with Dot and Bo or their products, please leave your reviews below.
You may also be interested in
Dot and Bo Customer Reviews

Tami E
The bar stools are larger than I thought they would be, also very heavy. Other then that they are nice and sturdy. I will use them at my bar for extra seating.

Bonita M
I am pleased with the curtain, but the material is thinner than I expected. I have changed my bathroom to a National Park theme and this is perfect. The price was very good, however I had to contact the company on delivery. It apparently sat at USPS in California for a long time. The company was quick to handle the problem and I had it in a few days after contact.