Don Fishback Reviews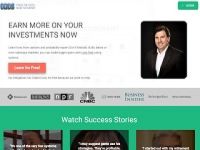 Don Fishback is an experienced financial analyst and former stock broker. He has had a long career in the industry conducting trades, research, and training in various markets. These days Don Fishback operates his own firm, which focuses on volatility research and product development.
Don Fishback's company offers a wealth of educational books, seminars, and web applications to assist traders. He explains that the foundation for his mathematical research stems from the bell curve analysis of the market.
Simplistically, it means that even though the prices on the market appear random over a period of time they settle into a normal distribution known as the bell curve.
The actual math behind Don Fishback's ODDS theory is complex but it's based off this principal. Consequently he has applied his results into a high probability strategy called credit spread.
Even though Don Fishback has an "Options for Beginners" book the majority of his products carry a degree of complexity to them. For someone to benefit from his materials they need to have an understanding of options trading and the ability to perform certain calculations.
The reason for this is that Don Fishback's materials show you how to compute the statistical probability that a price will reach a given target. Using this method, one can ultimately calculate an option's statistical probability of expiring "in the money".
The reason that his courses require a level of financial competence is that you are supposed to apply these results accordingly.
Don Fishback does not give you a step-by-step system to follow that tells you everything to do; you are trained in performing this function and advised on how to use it.
If you have any experience with Don Fishback or their products, please leave your reviews below.
You may also be interested in
Don Fishback Customer Reviews